The 2008 Leadership and Learning Center reported on the importance of note-taking in the classroom:
In schools where writing and note-taking were rarely implemented in science classes, approximately 25 percent of students scored proficient or higher on state assessments. But in schools where writing and note-taking were consistently implemented by science teachers, 79 percent scored at the proficient level.
Starting in fourth grade, Common Core expects students to use books, periodicals, websites, and other digital sources to conduct research projects. That means they not only read, but research, review, distill knowledge, and catalogue. The Standards assume students will accomplish this by taking notes—
Gather relevant information from multiple print and digital sources; assess the credibility of each source; and quote or paraphrase the data and conclusions of others … (from Common Core)
But don't sharpen the pencils and refresh the classroom supply of lined paper. Consider a digital approach to note-taking. Why? Let's do an experiment. Ask students to develop a pro and con list for note-taking with paper and pencil. Make a deal with them: If they can provide sufficient evidence that pencil-and-paper notes are better than alternatives, you'll let them continue in that way. I'll get you started:
| | | |
| --- | --- | --- |
|   | Pros | Cons |
| 1 | It's fast—typing takes longer | Pencils aren't always around  |
| 2 | I'm more comfortable using pencil and paper | Pencils aren't always sharpened  |
| 3 | | Paper isn't always available  |
| 4 | | Difficult to share with others—without a copy machine |
| 5 | | Once submitted, student no longer has the notes (unless they copied them) |
| 6 | | Sometimes student wants notes that are located where student isn't. Not always easy to access them |
| 7 | | ??? |
If you're students are like mine, they will finish this evaluative analysis with a new respect for the shortfalls of paper and pencil. Now discuss taking notes digitally:
It's collaborative—more than one student can develop notes at a time. This is perfect for group projects.
It's not dependent on tools that are often somewhere the student isn't—pencils, paper, notebooks
It's saved in a folder easily accessible from multiple locations—home, school, library, more.
It's easily shared with others.
They can be taken and opened on most digital devices–iPad, Chromebook, laptop, desktop.
At the most basic level, digital note-taking uses word processing programs like MS Word, Open Office, Notes, and Text.  To use this approach, simply:
Open word processing program
Type notes into blank document during research, class, lectures
Save document to digital portfolio or device hard drive
Word processing programs are easy to learn, quick to access, but more difficult to share with others and access from a variety of locations. Here are five methods that improve on this approach:
Google Apps
If your school uses Google Apps for Education (GAFE), you'll find it great for note-taking. With Google Docs, students can take notes from wherever they are—home, library, friend's house, the park. They can collaborate, share, find citations and primary sources, edit and format. Students create a folder in their personal GAFE account where they collect all notes on a topic—video, audio, images, text, other.
Using Google Sheets, students enter their notes into a spreadsheet that is then shared with all classmates:

This is great in a flipped classroom where it's especially important students comprehend information that will be used in the next-day project. The teacher can quickly look through the spreadsheet and see if all students participated and understand the goals (meaning they will be prepared for the day's project).
This works particularly well for short notes—maybe on a movie or video students are watching, or a homework topic–to be sure students captured relevant information.
For many schools, (free) Evernote is the student Digital Notebook.  Much like GAFE, Evernote makes note-taking easy to organize, share, and collaborate with group members. Notes can be synchronized across a PC, Mac, iPad, smartphone—almost any digital device—from class, the library, grocery store, bedroom, a friend's house. It is always available with a toolbar widget.
Evernote started as a digital way to take notes, bookmark sites , and share with interested parties–and quickly grew into much more. Now, through an Evernote Ed account, students can record text, images, and audio directly into Evernote.  Notes can be shared directly from the platform. For those pesky paper items, use a scanner app and add the image to Evernote.
Here's how easily webpage clips can be saved to student accounts. The top image is a user dashboard—with categorized notebooks, notes, attachments, more. The bottom image is the Evernote tool that lives on your internet toolbar and is available to clip information from a website to your Evernote account:
Twitter
Twitter enables students to collect links, notes and images that are easily and quickly shared among a group. It does not allow the range of media available with GAFE and Evernote, but encourages the truncated notes students love to read.
Set up a class Twitter stream. Make the class 'Private' so no one except students and those you accept (such as teachers and parents) can view the stream. Students log into this account to post. Establish a #hashtag for each topic which students use to categorize their notes. At only 140 characters per entry, it's quick and pithy. Be aware of (lack of ) age-limits for setting up Twitter accounts.
Flipboard is a clever way to collect notes into a magazine format. One student or a group can copy-paste, add headings, notes, and then share with group members and/or teacher. Pages turn like a book. Flipboard is for iPads only.
The image below shows the cover of a Flipboard magazine on the Civil War. It lists all clipped articles inside the magazine called Civil War Notes and is easy to collaborate on and share with classmates: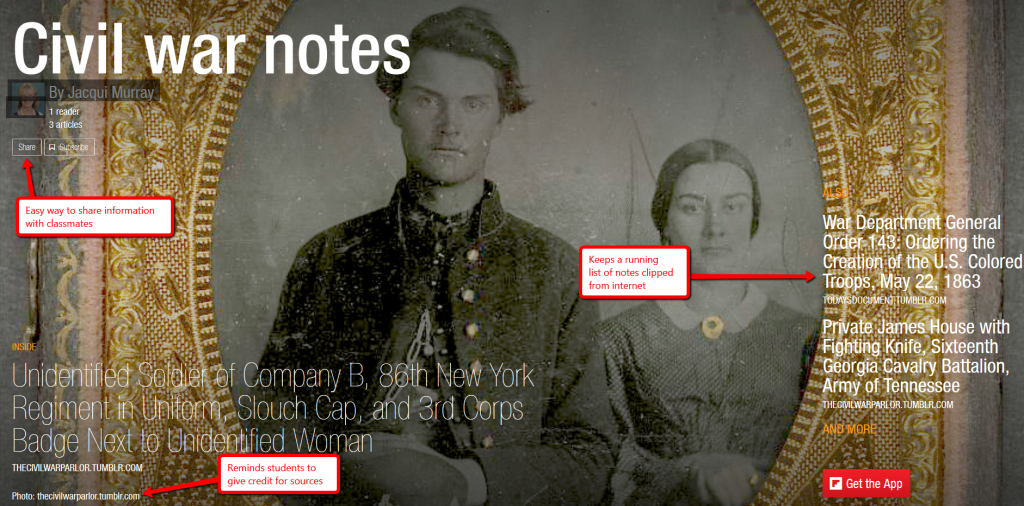 This is my current favorite note-taking app. This powerful, inexpensive app does it all: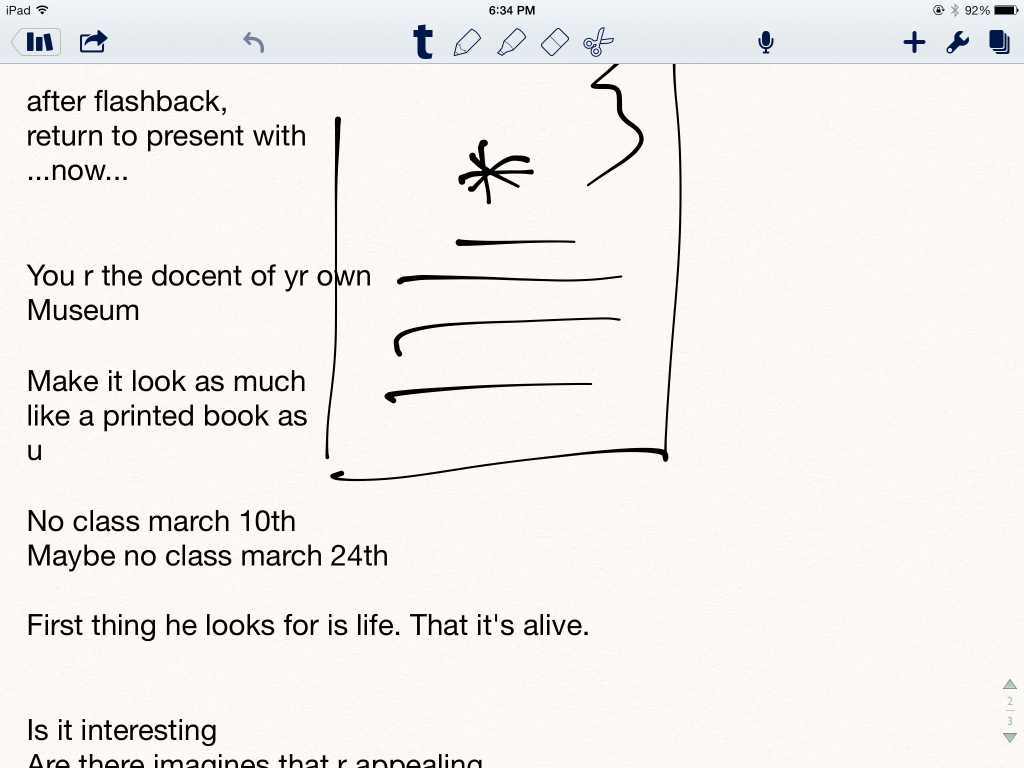 take notes by tapping the screen. Wherever you tap is where you type. No waiting for a cursor or working from top down. In this case, I type right next to the image.
quickly change from typing to drawing by accessing the short, ever-present toolbar at the top of the screen. Width and color is easily changed with another tap.

open an image or PDF from your Google Drive, DropBox or another location and write directly on it–or just take a picture of the speaker's work and insert it into your notes.
give up note-taking and tape the presentation. One click and you're recording. Another click and you're back to typing.
I have used Evernote faithfully and will still use it for collecting websites, data, images, and more, but for quick notes, I now use Notability and then share with Evernote.
When you introduce these note-taking options to students, don't teach them! Show students how to access the programs, then let them teach themselves–and each other. If you'd like, break the class into groups, assign one option to each, and give them ten minutes to decode the program before they present to their classmates. This not only makes the tools easy to use, time-savers, but reinforces the student attitude of themselves as problem-solvers and tech-masters.
I'd love to hear what you use for note-taking in class. Do you have a clever approach your students love?
–published first on TeachHUB
More on note-taking:

10 Strategies to Assist in Developing the Soft Skill of Note Taking
4 Subjects Every Teacher Must Teach and How
13 Reasons For and 3 Against Technology in the Classroom
---
Jacqui Murray has been teaching K-18 technology for 30 years. She is the editor/author of over a hundred tech ed resources including a K-12 technology curriculum, K-8 keyboard curriculum, K-8 Digital Citizenship curriculum. She is an adjunct professor in tech ed, Master Teacher, webmaster for four blogs, an Amazon Vine Voice, CSTA presentation reviewer, freelance journalist on tech ed topics, contributor to NEA Today, and author of the tech thrillers, To Hunt a Sub and Twenty-four Days. You can find her resources at Structured Learning.