Websites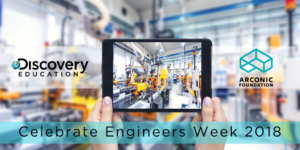 Next week, February 17-23, 2019, is DiscoverE's Engineers Week. Their tagline:
"A week-long event, a year-long commitment"
Do you wonder why anyone would be passionate about engineering? Forbes published three good reasons:
The U.S. has approximately 1.6 million engineering jobs that pay $42 per hour in median.
Job growth from 2010 to 2014 was in the double digits in several engineering occupations.
Since 2007, the number of engineering grads nationwide has shot up 33%.
What is Engineers Week?
For those not familiar with DiscoverE, sponsors of Engineers Week, they are a volunteer-driven online coalition of over one-hundred organizations committed to promoting engineering to the K-16 community. This includes the provision of resources, programs, in-person presentations, classroom assistance, training, activities, videos, books, technology programs, and more. The purpose of Engineers Week is as much to celebrate engineers as to increase public dialogue, in that way bringing them to life for kids, educators, and parents. With the national call for STEM resources and the popularity of programs such as Hour of Code, the talented professionals of DiscoverE are more in-demand than ever.
"93% of DiscoverE educators think an engineer's presence helps STEM students."