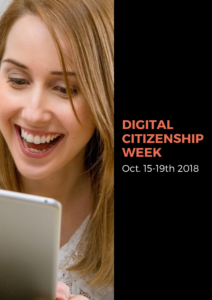 The California Department of Education encourages you to recognize October 15-19, 2018 as Digital Citizenship Week. Here are resources from Ask a Tech Teacher and Structured Learning that will help you learn how to teach digital citizenship to your students. Below, you'll find everything from a full year-long curriculum to professional development for teachers:
Resources:
Digital Citizenship: What to Teach When (a video)
Curricula:
K-8 Digital Citizenship Curriculum
Professional Development:
Building Digital Citizens (a self-paced certificate class); this month, October 15-19th, this is available for free (with the code Free Digcit training through Google Classroom)–but without the certificate.
Building Digital Citizens (a grad school class, through UC and CSU)