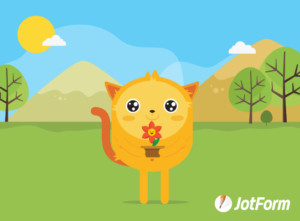 Everywhere outside of the education industry (which seems to focus on Google Forms), JotForm is the gold standard for creation of forms whether on PCs, Macs, or mobile devices. It can be used to sign up volunteers, get feedback on events, enroll people into classes, ask for donations, or collect payments. A JotForm can even show different questions based on what a user answered in prior questions. Its drag-and-drop interface makes building it intuitive, quick, and easy. With a wide variety of themed templates, it's easily adaptable to any need. Once the form is completed, it can be shared via a link or social media, or integrated into DropBox, Google Docs, and many other popular platforms.
Check this link. to see if you qualify for an education account that awards you a 50% discount on pricing.
How to use it
Set up an account and then decide if you want to start with a blank page or a template. Follow the simple drag-drop directions to build your form using predesigned name/email fields, text answers, multiple choice selections, drop-down lists, an image, an upload field (where students can send their work to you), or an input table. Format the form to meet your school theme or other design criteria using predesigned themes or one you upload from your computer. Collaborate with colleagues if desired. Share the completed form via a link or embed. Responses can be collected in a spreadsheet, the form itself, or other third-party integrations.