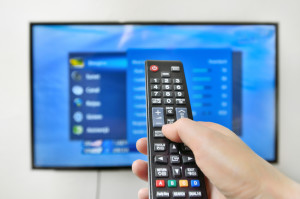 Well-used, television has traditionally been important in the classroom. It informs students in emergencies, updates them on historic events, and now–with extensions like Apple TV–connects them on a granular level to what they learn in their textbooks.
I haven't written about this learning tool in a long time so I was excited when AATT contributor, Sara Stringer, came up with this great article:
Even though some people feel that there is too much on TV that does nothing to educate people, or children, for that matter, there is actually plenty on television to help with education. Educational shows can be a great asset to a classroom, no matter what age the children are.
Educational Shows For Elementary
Television in the classroom is a great help for younger students. It can help them find more interest and fun in learning. One reason schools should have televisions in each room, and a great satellite or cable package, is that it can be a great tool for teaching. Those teaching elementary age children can find a lot of shows that teach everything from math to vocabulary, and even health topics. These shows make learning fun and entertain children. While kids two and under aren't recommended to watch TV, once your child is in preschool, TV can be an excellent learning tool. Nick Jr and Disney Junior are two great outlets for educational kids shows that can work well within the classroom. Base some curriculum around what happens in the shows. Have discussions about the shows topics. Children are more likely to remember what they learn when learning is fun.
Educational Shows For High School
There is probably an educational show for every classroom subject in high school. From learning about history to animal husbandry, television can be a great learning asset in every high school classroom. From shows about space to shows about aliens, this educational tool can make the classroom a completely different learning experience. Even watching the news in class can help with the learning experience.
Not only can you watch in class, but you can assign your students to watch at home as an innovative approach to studying for pop quizzes and writing reports. Teach them about living in another place by having them watch shows on the people living off the grid in Alaska. Have them learn about running a business by watching shows like Pawn Stars. There are so many options.
Teaching Reading With Book-based Movies
When working with kids that aren't fans of reading, you can find a way, using TV and movies, to get them more interested in reading. One way to do this is to have them read books based on movies, then have them watch the movie as a class assignment. You can then have them write a report about how the book and movie differ. This would be fun and interesting even for those that aren't fans of reading. There are so many teen novels-turned-movies that there would be an unending choice of subjects. Maybe even let the kids pick different titles to teach them how to make comparisons.
Sports Television And The Game
TV isn't just a great deal in the classroom. Coach's can use it to their advantage as well. There are a couple ways that TV can help a coach with their team. One way is to use fitness channels to help come up with new workout routines. You'd be amazed at how well team members will respond to trying something a little different when it comes to staying in shape.
In addition, watching the game can help them learn the professional way of doing things on the field, on the court or even on the ice. A great TV package that includes sports channels is ideal for a well-rounded selection of educational and entertainment options. A package like NFL Sunday Ticket offers the best Sunday games in full HD so that young football fans won't miss a play.
Obviously, not all of the kids will have these packages available at home, so it helps to have a classroom DVR so that Monday night practice can be spent looking over the recorded Sunday night game. Coaches can use these games to help students come up with plays of their own and more.
Don't let all of the nonsense about TV being bad for kids fool you. If you make the right viewing choices, and teach your kids to, you can find a great educational tool for students of any age.
---
Jacqui Murray has been teaching K-18 technology for 30 years. She is the editor/author of over a hundred tech ed resources including a K-12 technology curriculum, K-8 keyboard curriculum, K-8 Digital Citizenship curriculum. She is an adjunct professor in tech ed, Master Teacher, webmaster for four blogs, an Amazon Vine Voice, CSTA presentation reviewer, freelance journalist on tech ed topics, contributor to NEA Today, and author of the tech thrillers, To Hunt a Sub and Twenty-four Days. You can find her resources at Structured Learning.