Guest post
All around the country, schools are turning around education through the use of technology. Here are two, one in Hawaii and one in California that show you steps that might work for you:
[caption id="attachment_59609" align="alignright" width="300"]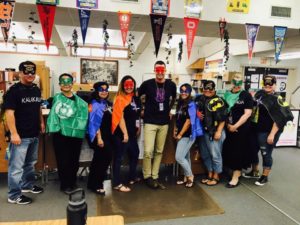 Kalakaua Middle School leadership team gets into the spirit to boost positive behavior.
[/caption]
King David Kalakaua MS, Hawaii
When innovative school leaders decided to try a new technology program at King David Kalakaua Middle School this year, they hoped recognizing students' good behavior would lessen their bad behavior. Their goal was to improve school climate and build positive relationships with everyone on campus by focusing on the positive. In less than six months, not only have they met that goal, but they also changed their peer's perception of "trouble" students and helped boost grades.
"We feel like it's had a major impact on students," says MTSS Coordinator, Tiana Kamiko. She spearheaded the program with her fellow Behavioral Health Specialist Kristen Shimabukuro. "The campus itself feels happier. The kids are smiling more. Just the other day, we had a student telling Kristen that we're part of the reason he likes to come to school now."
The idea of rewarding students for positive behavior has a long history in schools, and numerous studies have shown the practice can improve student behavior, reduce suspensions, and even boost student achievement. It is, however, unusual for a school to see such a large jump in so many categories so quickly.