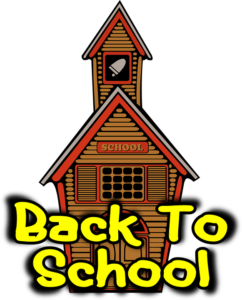 The first week of school is different from all others. During this week, teachers and students alike spend time getting to know each other, become comfortable in the classroom where they'll spend countless hours for the next nine months, and take time to reach a comfort level with leaving summer behind. I've gathered suggestions below from some of the leading education folks, those who are all about project-based learning rather than the application of pedagogy, to share with you. I've also included a few general back-to-school activities with a digital spin to get you back into school quickly and agilely.
Activities include:
Authentically use forms
Build a puzzle to decorate class walls for Back to School night
Let students prepare how-tos to share with classmates
Prepare English Language Learners to participate fully in class
Review class tech tools so students are comfortable with them and not surprised when they pop up
Review the class LMS
Set individual goals
Share back-to-school thoughts with a #hashtag
Take class selfies
Write a Back-to-school story
Authentically use Forms
Digital forms have become a go-to activity for polls, bell-ringers, exit tickets, quizzes, and more. When used early in the school year, they become an easy way to show students how technology can update classroom activities. Catlin Tucker suggests using forms the first week of school to collect student background information that is not only useful for you as the teacher but helps students get to know each other. Click her link and check out the complete lesson plan. She includes a video and a template you can use of her survey.
@Catlin_Tucker
Back to school story
Back to school stories are a tried-and-true favorite among both students and teachers. And why not? Students get to talk about their memories from summer and teachers get to catch up on what the rest of the world did while they were in summer training, webinars, and virtual meetings. You may simply use pencil and paper for this, but tech-infused options allow students to express themselves with not just text but colors, audio, video, or whatever is their communication method of choice.
Here are two activities from sources you know:
Richard Byrne at Free Tech for Teachers suggests using the popular Adobe Spark to write multimedia stories that include text, images, glitzy layout, and more.  Because Adobe Spark is easy to learn and intuitive to use, students can share their thoughts without the stress of needing advanced tech skills to do that.
Book Creator, one of the hottest tech apps from last year, has a great lesson plan for turning summer memories into storybooks everyone will want to read. This particular project uses HyperDocs but if you don't have that digital tool, replace it with any number of other presentation tools or simply use Book Creator's built-in presentation option.
Class Selfie
I'm a fan of Beneylu's minimalist LMS that makes it easy and fast for students to find what they must for their classes (see my review of Beneylu). I am not surprised they posted four awesome back-to-school icebreaker activities. My favorite is the "All about me" selfie project. Who doesn't like selfies? While this project suggests drawing selfies, my classes use pictures taken with their digital device (or a smartphone). What better way to teach students how to use their new school iPad or Chromebook than by taking a selfie, embedding it into an art program, and then sharing it with new classmates.
Click on the link to get more details on the Selfie project (with pictures) as well as three others you'll like.
Prepare English Language Learners
Eric Curts has become one of my go-to edtech professionals for quick activities that accomplish an abundance of tasks. In this post on Google tools for English Language Learners, you'll find resources not just for ELL students but for everyone who wants better ways to communicate their knowledge. At this link, Eric discusses Google's translation tools, speech-to-text (and vice versa), dictionary, summarization, screencasting and more. Each of these could be critical to students for whom the school's language is not their primary but also provides an excellent checklist for all students. Introduce these the first week of school so they become habits that help students thrive throughout the school year and beyond.
Create a student-designed puzzle
Puzzle pieces have long been a favorite of mine because they illustrate connectedness in so many different subjects, ideas, and attitudes. Book Widget shares a great first-week-of-school project that uses these to introduce students to everyone in the school community. Using a puzzle template, students add text and images, print, trim, and then connect the pieces to build a picture on the classroom wall or ceiling. Or, simply string them around the classroom. Click the link for Book Widget for more detail and for fourteen other back-to-school activities that revolve around books.
Review class tech tools
No better time to do a thorough review of class tech tools than the first week of school when students are eager to get started and excited about the new technology they get to use now that they're older. These tech tools may include:
the school's LMS
the gradebook
the class website or blog
the digital annotation tool for PDFs and websites (like Kami or Lumin)
the class reader (like Kindle)
an avatar creator
the class calendar
the digital notetaking tool (like Google Keep or Notable)
Take time to review those that will immediately be used (like the LMS and the gradebook) and introduce others that will become important at a later time (like the digital notetaking and annotation tools).
Set Individual Goals
Arguably the most important activity to complete as early as possible is to set individual and classroom goals. If students don't know expectations and don't know how this eight-hours-a-day, five days a week will benefit them, they are much less likely to enthusiastically join classroom activities. Monica Burns shares a great way to do this with Buncee in a lesson plan she calls "New Year New Goals". Click the link for more detail and a template.
While you're there, check out four more back-to-school activities she recommends.
Student How-tos
One of the most challenging pieces of returning to school is teaching students all the bits and pieces of knowledge that make school move smoothly. This could include how the class bells work, where to eat lunch, how to find your way around campus, the best way to buy lunch, what happens during a fire drill, or where to find the afterschool homework club. Rather than you answering these questions (probably many times), let students pick one and answer it using a screencast, podcast, audio file, or whatever their favorite communication tool is. Then post this collection to the school or class webpage where everyone can access them.
When answers are in the language of students, you'll be surprised how much simpler it is to get acquainted with the school.
#firstday Thoughts
This one is from Alice Keeler and I love it. She answers the question:
What do we do the #firstday to have kids running to class the second day?
For older students, ask them to post suggestions to Twitter about 1) how to energetically return to school, 2) what happened their first day of school that they loved, or 3) anything else that fits your classroom group. Of course, this activity is only for students old enough to responsibly use Twitter.
***
There you are, a plethora of activities to start your school year. In the comments below, tell me what you're planning for your first week of school.
–published first on TeachHUB
More about back to school
3 Organizational Apps to Start the School Year
5 Top Ways to Integrate Technology into the New School Year
---
Jacqui Murray has been teaching K-18 technology for 30 years. She is the editor/author of over a hundred tech ed resources including a K-12 technology curriculum, K-8 keyboard curriculum, K-8 Digital Citizenship curriculum. She is an adjunct professor in tech ed, Master Teacher, webmaster for four blogs, an Amazon Vine Voice, CSTA presentation reviewer, freelance journalist on tech ed topics, contributor to NEA Today, and author of the tech thrillers, To Hunt a Sub and Twenty-four Days. You can find her resources at Structured Learning.