Category:
Games/Simulations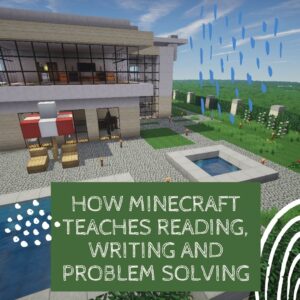 A while ago, Scientific American declared "…"not only is Minecraft immersive and creative, but it is an excellent platform for making almost any subject area more engaging." A nod from a top science magazine to the game many parents wish their kids had never heard of should catch the attention of teachers. This follows Common Sense Media's seal of approval.  On the surface, it's not so surprising. Something like 80% of five-to-eight year-olds play games and 97% of teens. Early simulations like Reader Rabbit are still used in classrooms to drill reading and math skills.
But Minecraft, a blocky retro role-playing simulation that's more Lego than svelte hi-tech wizardry, isn't just the game du jour. Kids would skip dinner to play it if parents allowed. Minecraft is role playing and so much more.
Let me back up a moment. Most simulation games–where players role-play life in a pretend world–aren't so much Make Your Own Adventure as See If You Survive Ours. Players are a passenger in a hero's journey, solving riddles, advancing through levels and unlocking prizes. That's not Minecraft. Here, they create the world. Nothing happens without their decision–not surroundings or characters or buildings rising or holes being dug. There isn't a right or wrong answer. There's merely what You decide and where those decisions land You. Players have one goal: To survive. Prevail. They solve problems or cease to exist. If the teacher wants to use games to learn history, Minecraft won't throw students into a fully fleshed simulation of the American Revolution. It'll start with a plot of land and students will write the story, cast the characters, create the entire 1776 world. Again, think Legos.
My students hang my picture in the Teacher Hall of Fame every time I let them play Minecraft–which I do regularly. Of course, I provide guidelines. Which they love. It's fascinating that today's game playing youth want a set of rules they must beat, parameters they must meet, levels (read: standards) they must achieve, and a Big Goal (think: graduation) they can only reach after a lot of hard work, intense thinking, and mountains of problems. Look into the eyes of a fifth grader who just solved the unsolvable–something most adults s/he knows can't do. You'll remember why you're a teacher.
A note: Any time students use the internet, start with a discussion on how to use it safely. This is especially important with multi-player games like Minecraft (you will close the system at school, but that may not be the case in the student's home). It is fairly easy for students to create their own servers (requires no hardware, just a bit of coding) and invite friends into their Minecraft world. Encourage this rather than entering an unknown server-world.
In case you must 'sell' this idea to your administration, here are three great reasons why students should use Minecraft in school: Reading, Writing, and Problem Solving.