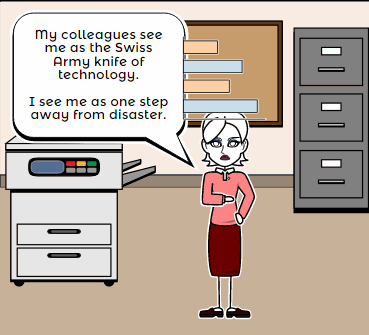 Storyboard That is a leader among online digital storytelling tools thanks to its comic-based themes, clean layout, vast collection of story pieces, varied strip options, and intuitive drag-and-drop interface. Students can map out ideas, write stories, or relay events in a comic format using Storyboard That's huge library of backgrounds, characters, text boxes, shapes, and images.  When you sign up as a teacher, you get a dashboard to manage students and support for Google sign-in. You also get teacher guides and lesson plans on subjects like English (Of Mice and Men), school social skills (like bullying), World History, US History, Special Education, and languages (like Teaching Spanish). Lesson plans include how-to steps, Common Core alignment, sample storyboard layouts, synopsis, and Essential Questions. 
Here's how it works: Log into your account from any device (laptop, desktop–Mac or Windows–Chromebook, iPad, or even a smartphone) and Storyboard That automatically adapts to your device using its HTML5 responsive web design. Students can join with an access key supplied by the teacher–no email required–or be bulk-added by the administrator. Select the frame layout you'd like with any number of scenes, then add a background, characters, one or more props, and speech bubbles from Storyboard That's image banks (of over 325 characters, 225 scenes, and over 45,000 images). Each element can be resized, rotated, and repositioned. Characters can be posed with flexibility at all joints, and adjusted for appearance and emotion. You can even upload images to use in the strip, add photos from the millions available through Photos for Class (including citations), and record a voice overlay (premium only) to narrate the story. Once finished, storyboards can be saved as PDFs, storyboard cells, PowerPoint presentations, and/or emailed out.
Beyond the traditional strip layout, Storyboard That offers graphic organizers such as a T-chart, a Grid, a Frayer Model, a Spider Map and a Timeline (premium and education account).This is great for visual learners who thrive on color and images.
No flash required. No fees charged. No fuss. This is a great approach to learning, meeting students smack in the center of their love of comics (think: the comification of education).
Education applications
Storyboard That blends authentically into most academic subjects and higher order thinking-based curricula. As students create their comic strip, they plan out actions, hone their creativity, practice writing skills, and sequence ideas.
I love using Storyboard That to create avatars as part of a discussion on digital citizenship. While students have fun designing their alter ego, they learn about online worlds and how to protect their privacy:
Teachers can push out a template made in Storyboard That to students, asking them to complete it using evidence from a book they read or class discussion.
***
As a teacher, there's a certain peace to finding a tool that is free, easy to use, relevant to most academic topics, supports critical thinking, and students will love. I've found it with Storyboard That.
–Thanks to Storyboard That for contributing to my donation drive!
---
Jacqui Murray has been teaching K-8 technology for 15 years. She is the editor/author of over a hundred tech ed resources including a K-8 technology curriculum, K-8 keyboard curriculum, K-8 Digital Citizenship curriculum. She is an adjunct professor in tech ed, CSG Master Teacher, webmaster for six blogs, an Amazon Vine Voice book reviewer, Editorial Review Board member for Journal for Computing Teachers, CAEP reviewer, CSTA presentation reviewer, freelance journalist on tech ed topics, and a weekly contributor to TeachHUB. You can find her resources at Structured Learning.