Reviews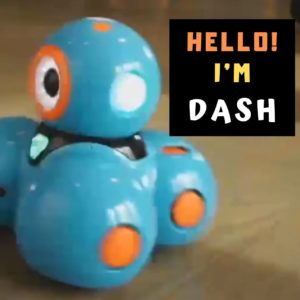 Education has many disruptors–3D Printing, AR and VR, 1:1 technology, STEM, and STEAM–but a recent and wildly popular one is robotics. These automated humanoid bots often interact with users, require critical thinking and problem-solving, and grab the imagination of students in ways that makes everyone want to learn. One I discovered this summer is Wonder Workshop's collection of three robots — Cue, Dash, and Dot. I'd love to review all of them but that post would be way too long so today, I'll focus on my current favorite: Dash.
Before I dig into Dash, let me tell you about his creator, Wonder Workshop.
What is Wonder Workshop?
Wonder Workshop is a STEM-based interactive early learning experience that introduces coding to K-5 learners and provides everything teachers require to teach coding and robotics (see below under How to Use Dash in Your Classroom). Every day, classrooms around the world demonstrate the collaboration and hands-on learning that the Wonder Workshop robots–Dash, Dot, and Cue–inspire in students. Through these robots, students learn what to many is intimidating and abstract and impossible to learn: coding,
What is Dash?
Dash is a squatty, friendly critter designed for ages six and up. It is a pyramid of spheres on wheels with a head that turns, a voice that responds to you, lights that flash, and sensors that interact with the environment. He is charged via USB and programmed via an app (iOS or Android) to move, spin circles, dance, sing, draw, or any number of other actions. It all depends upon what its child handler wants it to do.