If you're not familiar with Kiddom, you should be, especially in the changing environment of today's classroom. Kiddom is an all-in-one education platform for remote or in-person learning or a hybrid of the two that provides a high-quality digital curriculum capable of integrating curriculum management, instruction, assessment, and communication tools into one location. It is easily personalized to the needs of a classroom meaning it saves teachers valuable time, resources and money, and simplifies technology for students who may be new to it or not quite comfortable. Because it is internet-based, it works well on any platform, any device, and seamlessly syncs between work started at school and finished at home.
In the past, I've written about many of Kiddom's features–the Content Library, SEL Rubrics, its partnership with OUR Curricula Resources to name a few, One quality that has always stood out to me as I explore each of their new features is this company listens to customers and responds to their needs.
Kiddom's newest feature, Lesson Launch, does it again.

What is Lesson Launch
Until now, teachers must manage multiple technology platforms to incorporate disparate lesson elements and then separately manage student interaction. This complexity takes time and attention away from what matters–a positive and engaging in-class learning experience. Kiddom's Lesson Launch consolidates these key elements and gives teachers myriad tools to plan, build, schedule, deliver and engage in real-time anywhere.

With Kiddom Lesson Launch, lessons can be pushed out to students individually, in small groups, or an entire class and then monitored in real time through a teacher dashboard. Students are alerted as soon as the lesson is available and the teacher tracks their progress through the lesson. Teachers see which students have begun the lesson, their progress (by percent completed), and who has submitted the assignment. Teachers can check student work by hovering their mouse over a student's avatar.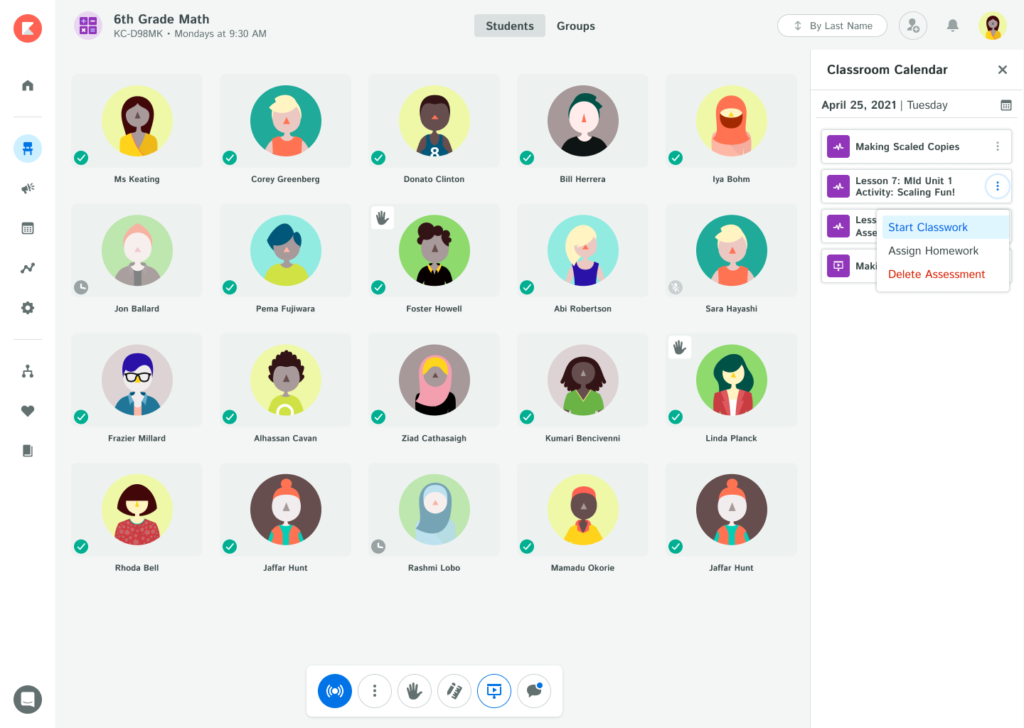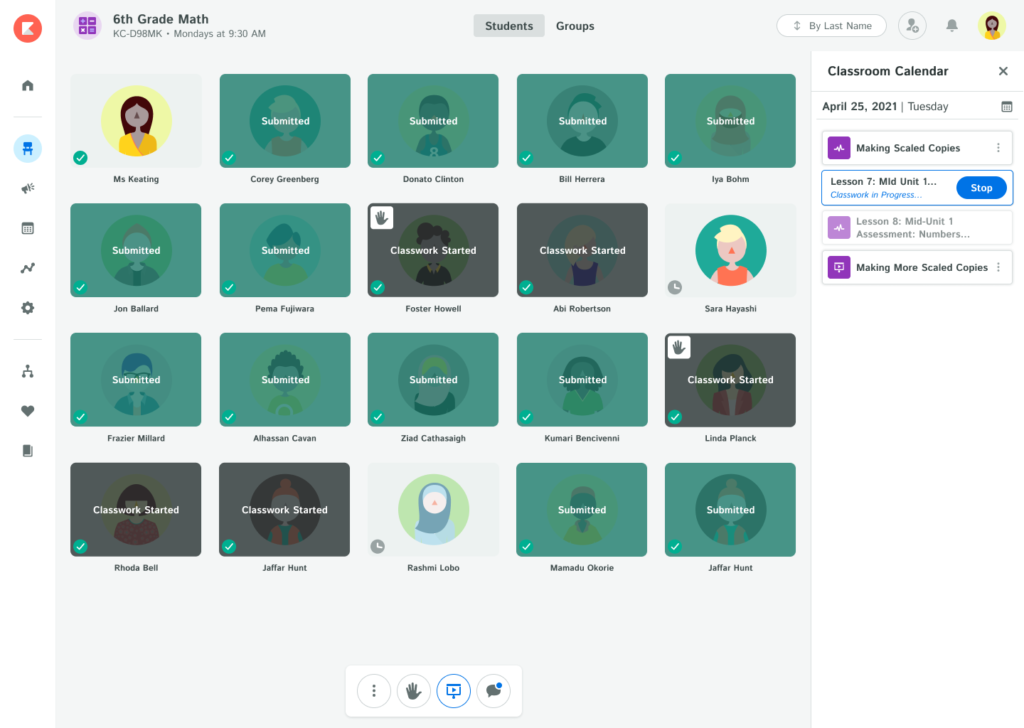 Teachers can also see class progress which allows them to make lesson pacing decisions, reteach portions students don't understand, and/or offer more advanced material.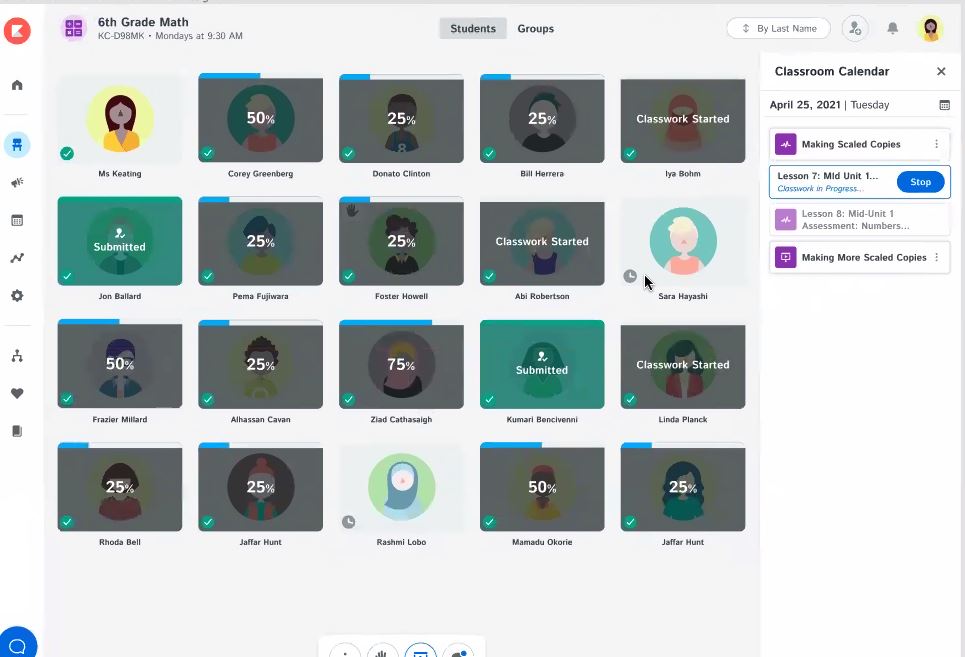 With Lesson Launch, teachers can schedule and administer interactive assignments, launch a presentation, and deploy assignments and other media in real-time during instruction. When enough time has passed, the teacher can close the assignment and continue with the lesson.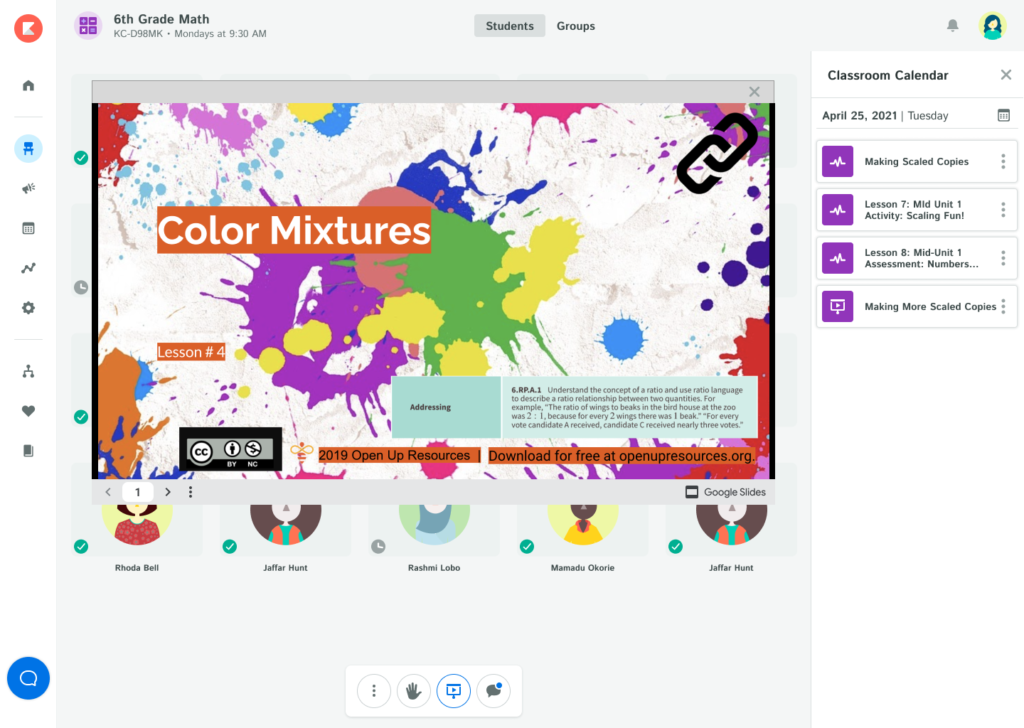 Lesson Launch's key benefits are:
It save significant time and hassle normally spent preparing and delivering customized lessons that include videos, articles, and interactive elements
It launches presentations and pushes activities to students in real-time
Teachers can monitor student progress in real-time and move on when the work is completed
Teachers can plan lessons in advance
Teachers can check for understanding and pace lessons based on the class' progress
It consolidates resources and materials, helping to prevent teacher burnout
It maps lesson materials to the curriculum and assignments

For teachers:
Kiddom's Lesson Launch is available to all new and existing Kiddom users. Current customers can reach out to their Customer Success Manager. Anyone else can request a Kiddom demo at this link.
For students:
Students simply sign in to Kiddom and go to their Kiddom classroom. When the teacher launches an activity, students get a pop up notification. They click to begin. Once their work is completed, they click 'submit' on the activity and they are done.

Here are ten reasons why this digital tool might become your favorite way to push out work to students, track progress, and provide help where needed:
Differentiates for student needs and learning–assign work to individual students, small/large groups, or an entire class
Blends all teaching environments–in-class, remote, or hybrid–into one synchronous lesson
Schedule activities–for automatic delivery at a specific time and alert students about a new activity assigned
Monitor progress–as a class or individually
Ensure accountability–easily see that students are logged in and working on their lessons
Provides great ideas for warmups and Exit Tickets–these two activities are arguably the most popular and sought-after among teachers. Lesson Launch makes it easy to administer and follow up on both
Spotlights engagement and interaction–thanks to Lesson Launch's myriad of engagement and interaction tools. There's even a function that allows the teacher to talk directly to the student through the Kiddom app.
Parent involvement–Kiddom for Parents & Guardians provides an overview to parents or guardians of their child's projects and a place where they can view grades and assignments. Read more about it here.
Maybe the best reason: Lesson Launch is a flexible platform that blends synchronous and asynchronous environments to the benefit of students and teachers.
Here's what one teacher loves about Lesson Launch:
"With Lesson Launch, you are going through your lesson and if you want to see your students and what they are working on, you just click on the assignment and the kids have access to it and they can start working on it, like you would hand out a worksheet." (Wanda Reinke, a teacher at Sumner-Fredericksburg in Iowa –piloting Lesson Launch for Kiddom)
Want a little more? Check out this three-minute video. Discover all the basics of Lesson Launch in the time it takes to drink a cuppa:
Ready to start? Reach out to your Kiddom representative for a demo.
---
Jacqui Murray has been teaching K-18 technology for 30 years. She is the editor/author of over a hundred tech ed resources including a K-12 technology curriculum, K-8 keyboard curriculum, K-8 Digital Citizenship curriculum. She is an adjunct professor in tech ed, Master Teacher, webmaster for four blogs, an Amazon Vine Voice, CSTA presentation reviewer, freelance journalist on tech ed topics, contributor to NEA Today, and author of the tech thrillers, To Hunt a Sub and Twenty-four Days. You can find her resources at Structured Learning.