You may know Jotform as one of the most popular tools in the form builder category, recognized for its simplicity and sophistication in what could otherwise be the complicated process of collecting and analyzing data. It works on all platforms, can be shared via a link or embed (as well as other options), and supports multiple languages. Over the past several years, Jotform has released many features designed to simplify and automate teaching's more mundane tasks, such as Smart PDF Forms, a PDF Editor, Jotform Cards, Tables, and Jotform Reports, Approvals, Mobile Forms, and more. (Click the links for my reviews).
Today, we'll talk about Jotform Sign, a great way to save time collecting and managing signatures:
What is Jotform Sign?
How does it work?
Popular features
Why educators love it

Jotform Sign is an alternative to clunky and pricey e-signature software. It streamlines your workflow, making it easy for users to sign documents and you to collect responses. Built into the platform are many features like advanced field detection, limitless customization options, and popular integrations. Jotform Sign is perfect for any public or private school looking for a way to easily and automatically create legally binding documents with signatures.
Best of all, Sign is free with any Jotform account.

Here's what you do:
Go to your Jotform dashboard and click My Forms, My Sign Documents
Either select a document already in your Jotform account or select Create Sign Document (in the upper left corner)
Drag-drop a document into the box, upload one you'd like to use, or use a Jotform template.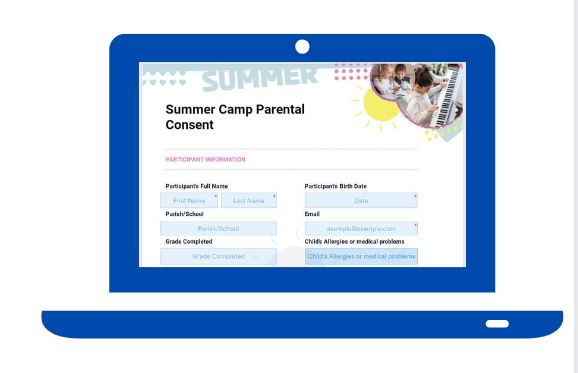 If you choose Template, you can select by Type or Industry, and then choose from hundreds available, options like Letter, Scholarship Application, Employment Application, Confirmation Letter, and more.
As with most Jotform tools, completing the form is intuitive, based on drag-and-drop fields that you choose from as you build your document. Fields include name, contact information, signature, optional text, dropdown lists, and more.

Still have questions? Here's a great video from Kimberly that explains it all in about seven minutes:

Jotform Sign supports schools by streamlining documentation, collecting sensitive information securely, and automating workflows. With Jotform Sign, it's simple to collect important e-signatures from parents, teachers, and students. Here are some of my favorite features:
Drag-and-drop  

Customizations to fit your document to your school or District

Easily manage documents out for signature or signed 

600+ templates to choose from
Collect legally-binding signatures for new teachers, resignations, student field trips, and more.
Automate sharing
Embed the signable document onto your website
Educational Uses for Sign
Education applications for Jotform Sign are endless. Here are a few:
Onboard teachers to your school quickly with a Sign document customized to your specific needs.
Sign makes it quick and professional to sign up to teach or take summer, after school, enrichment, or other classes.
Streamline the usually tedious process of re-signing teachers for their next teaching term. Provide all the details both parties need and send a copy of the document to everyone involved.
For those students who learn best in a home environment, make the process easy by including all relevant information in one document, including signatures
Summer Camp Parental Consent
Embed the forms in the school website so parents can review and sign at their convenience.
For students matriculating to a private high school or college or seeking placement in a summer program, generate these recommendations in a timely manner.
Create personalized student behavior contracts in a fraction of the time usually required by starting with a template personalized to each unique student's needs and teacher requirements.
Part of an ongoing effort within your school to go paperless
Jotform Sign means all documents can be signed online, collected into the school's digital files, and managed without the mess and fuss of paper.
Include all the requirements, rules, and AUP details that are part of loaning students their school digital device.
Want more detail? Here's an excellent webinar that will likely answer all of your questions:
Jotform's many features–like Sign–make it one of the most sought-after one-stop tools available for managing school needs. Give it a try. Let me know your thoughts in the comments.

This post is sponsored by Jotform but all opinions are my own.
Copyright ©2022 askatechteacher.com – All rights reserved.
---
Jacqui Murray has been teaching K-18 technology for 30 years. She is the editor/author of over a hundred tech ed resources including a K-12 technology curriculum, K-8 keyboard curriculum, K-8 Digital Citizenship curriculum. She is an adjunct professor in tech ed, Master Teacher, webmaster for four blogs, an Amazon Vine Voice, CSTA presentation reviewer, freelance journalist on tech ed topics, and author of the tech thrillers, To Hunt a Sub and Twenty-four Days. You can find her resources at Structured Learning.