Thousands of teachers every year take education classes to renew their license, move up to the next salary range at their school (I did that–often), or learn teaching skills they didn't get in their degree program (like remote teaching or in-depth technology). This used to mean enrolling at your local college or online institution. Now, the right classes may not be available, or available but at the wrong time, or the class is full before you get a chance to enroll. You may find a program that meets some of your requirements but not all and wonder if you should settle. What you need–and want–is one program that fulfills your needs, not what they think you need.
I recently received an email from the folks at Model Teaching. They have a huge catalog of K-12 education training classes that are offered online, on open schedules, and at affordable rates. Enrollment includes all required materials–no extra charges for books or subscriptions–as well as templates that can be immediately applied to your teaching.
I realized this program was what lots of my colleagues were looking for but couldn't find. Until now.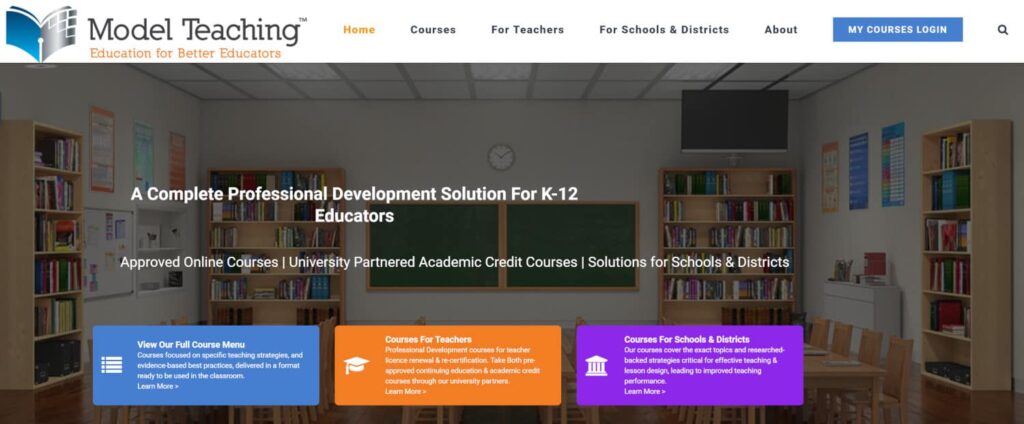 What is Model Teaching?
Model Teaching is an online educator training program with a goal not only to provide teaching knowledge but to improve overall student performance. Classes are designed to help new and experienced K-12 teachers master concepts and immediately apply them to their lessons. The catalog include topics relevant to today's K-12 education offered in a variety of approaches that meet  teacher needs. Some are a short introduction to a concept (what they call Quick Classes–usually about an hour). Others, offer a certificate (multi-week deep dive into a topic) or grad school credit with official transcripts through one of their partner Universities (such as University of Massachusetts and the University of the Pacific).
All classes follow an easy-to-use course design:
establish goals–what students will learn by the end of the class
provide a clear module-based learning path culminating in a ready to use action plan
include resources for both teachers and students in a variety of modalities–text, video, and downloadable resources
assess success at completion
How to get started
Model Teaching makes it easy to get started:
Set up an account–quick and easy; nothing tricky
All accounts include a dashboard to track courses taken/being taken, certificates earned, modules completed in each class, which classes in your overall plan are completed, how long you've spent working on the class, and more. Here's my dashboard: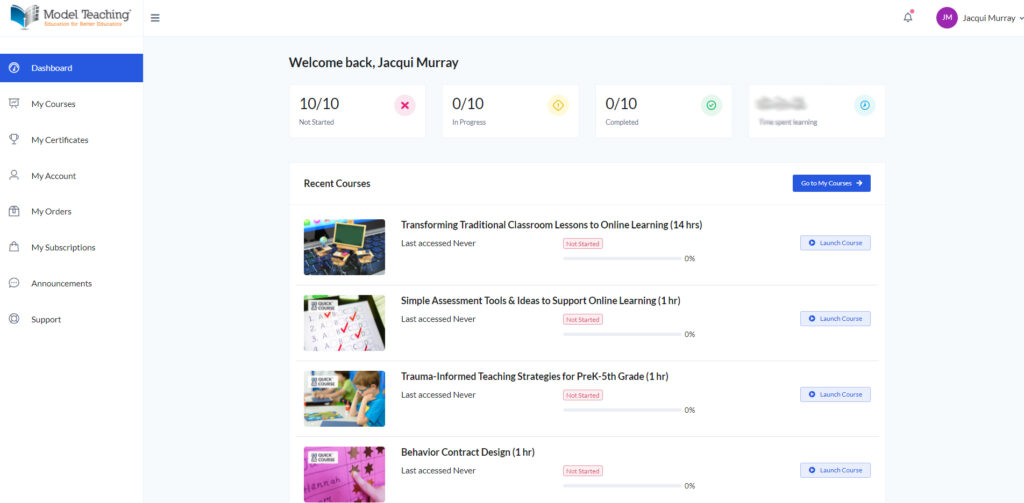 As you proceed through your personal program, check this often to track progress.
Search the course catalogue by 1) credit type (Quick Classes, PD, or grad school credit), 2) content, 3) Academic partner (the college or University you are sending credits to), or 4) grade level. Topics include but not limited to:

Flipped Classrooms
Student-led Classroom Management
Elementary Math
Writing Prompts
Blended Learning
Transforming Traditional Classroom Lessons to Online Learning
Academic Intervention for Students with Disabilities and Special Needs
UDL
Bloom's Taxonomy
Effective Writing Prompts for All Students

Click the class you're interested in for more detail. Here are two examples. The top one is a professional development class, the bottom one for grad school credits:


If you aren't sure what classes to take, Model Teaching provides an interactive map. Select your state and then read about the requirements:
Once you start a class, proceed at your own pace, as fast or slow as works for you. You can watch the video, rewatch, submit assignments and assessments when you're ready. Your dashboard tells you how much time you've spent and how much remains before you must complete the course.
At completion, students receive a certificate (or grad school credit) and feedback from certified instructors.
What I really like about Model Teaching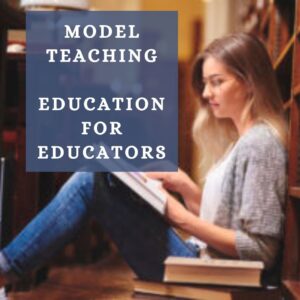 There are many pieces to this learning platform that are unique in the education industry. I can't list them all, but here are a few I particularly liked:
Though online, classes require only basic tech knowledge. Participation is compatible with all platforms (Mac, PC, Chromebooks, smart phones, tablets) and all browsers (Chrome, Firefox, Edge, and others). A PDF program (like Adobe Reader) and Microsoft Word or Google Docs will satisfy most (all?) course requirements.
I can sign up for one class or build my own PD bundle at a discounted price.
At any time, I can view my gradebook to see how I'm progressing. I never wonder if I'm passing.
Learning is presented in a variety of modalities, such as text and audio. I can also download the video as a PDF.
Courses follow a standardized format so I always know what to expect.
Classes include lesson templates that I can immediately apply to my classes, during or after the class is taken.
Courses start as low as $10 and there are discounts for multiple courses and for schools/districts. There is also a free trial, to be sure this approach fits my way of learning.
If you are an administrator signed up for a school subscription, you can assign classes to teachers based on individual needs, build learning plans for a team, assign a subscription of all courses to every teacher on campus and let them pick courses for their professional development (PD). Administrators can monitor progress of everyone enrolled in courses, and more from their dashboards.
Still curious? Check out this three-minute overview of Model Teaching:
Professional Development Courses – Model Teaching from Adam Pond on Vimeo.
Easy to get started, flexible plans, relevant teaching topics–Model Teaching is an excellent choice for great teachers.
–Note: Model Teaching partnered with Ask a Tech Teacher for this overview, but opinions are my own.
–For more information, visit their website or their Facebook page
---
Jacqui Murray has been teaching K-18 technology for 30 years. She is the editor/author of over a hundred tech ed resources including a K-12 technology curriculum, K-8 keyboard curriculum, K-8 Digital Citizenship curriculum. She is an adjunct professor in tech ed, Master Teacher, webmaster for four blogs, an Amazon Vine Voice, CSTA presentation reviewer, freelance journalist on tech ed topics, and author of the tech thrillers, To Hunt a Sub and Twenty-four Days. You can find her resources at Structured Learning.