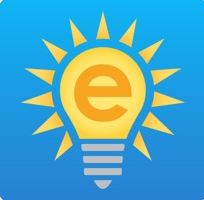 If you've heard the buzz about eSpark this summer at conferences or training sessions, you already know it's more than "just another math and reading learning platform". Sure, it is that but what sets it apart is eSpark's clever blend of learning tools that encourage students to progress at their own pace in their own way, to review when needed and move ahead when they get it. Each targeted quest curates a collection of third-party apps, webtools, videos, games, and other resources that focus on particular math or reading skills identified by the teacher or from the student's earlier work as an area of academic need.
eSpark works on all devices–desktops, Chromebooks, iPads (with the free app)–pretty much whatever digital device you use in your classroom. In fact, some students can be working on Chromebooks while others use iPads. Because students log in, the program syncs between devices, starting students where they ended on their last visit.
Let me dig deeper. eSpark is a student-centered series of self-guided, self-paced PK-5 math and reading lessons that are based on class goals, teacher input, and individual academic need Students work independently, taking the time they need. Teachers monitor individual progress, see what each student completed on their last visit as well as when that was and how long it lasted, view students' self-described moods, assess their pre- and post-quiz scores, and view their summative synthesis videos that provide evidence of their knowledge as they teach others what they just learned.
Right now, eSpark is only available for schools, not individual sign-ups (such as homeschoolers).
How to get started
ESpark makes it easy to get started for both teachers and students:
Teachers
Set up your class. This can be incorporated into Google Classroom or another LMS that you use.
If preferred, print log-in cards for students with their username and password picture.
If preferred, send letters to parents letting them know about this new learning platform their children will engage in at school and maybe at home as homework.
Review the teacher resources on the educator dashboard. This includes introductory videos, learning tools, and more to assist you in finding the best way to blend eSpark into your class.
Create assignments from scratch or from an on-demand library where teachers select skills, grade level, and students to be targeted. eSpark will collect all the third-party apps required to teach these skills and post them all in one spot. You don't have to search the internet for the right app and wonder if the one you picked really works.
Receive weekly emails from eSpark to summarize that week's class data including opportunities for targeted instruction, feedback, and accomplishments.
The teacher dashboard is clean and easy to understand. Here's a screenshot: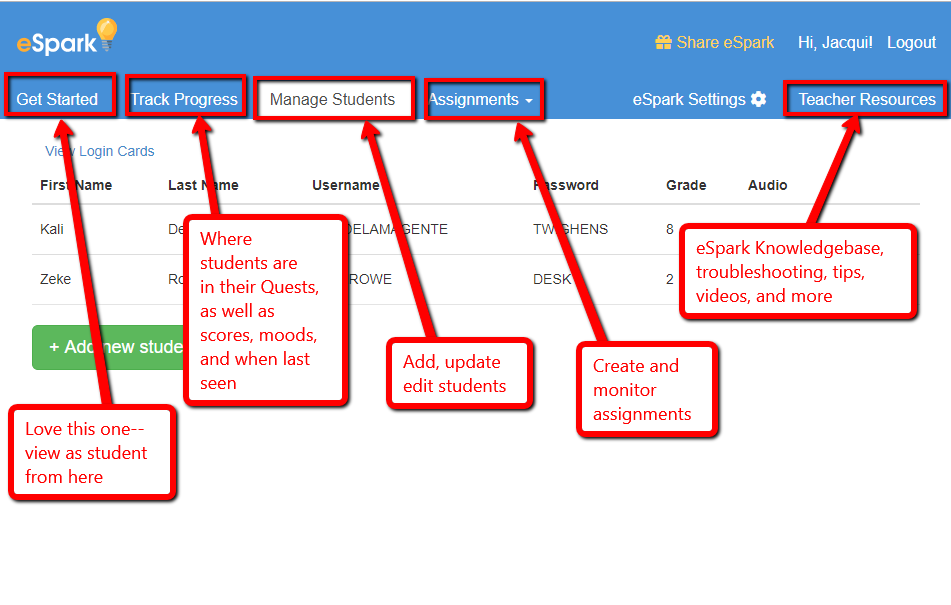 Students
The first time students open the program, eSpark takes time to get to their base skill level. That done, it develops a differentiated and personalized learning plan. This keeps students challenged with math and reading material that meets them where they are in their journey and progresses at their pace, slower for difficult material and faster for the skills they intuitively grasp.
Here's what students do:
Log into the eSpark app with the username and password picture provided by the teacher.
Access the assignment provided by the teacher. Start by telling eSpark how you're feeling. This helps teachers monitor the highs and lows of daily progress.
If this is your first time, take the Getting Started Quest to learn about eSpark and help eSpark get to know you. Based on the results, eSpark will target your individual needs with the most relevant instruction.
Begin the first quest. It usually starts with a video that introduces and contextualizes the skills included in the quest. Once that is completed, access other challenges via online apps (usually third party, outside of the eSpark app), new videos, or something else.
Play/view assignments as often as needed until you understand the skills.
When finished, return to the eSpark app and finish the rest of the challenges.
When all the challenges are completed, take a post-test. You must answer 80% of the questions correctly to move on.
Finish up by recording a synthesis video teaching what you just learned (see the video below for an example).
What I really like about eSpark
There are a lot of pieces to this unique learning platform that I liked but here are my favorites:
The eSpark website includes lots of teacher resources to facilitate both the roll out of the program and its ongoing success. These include parent letters, how to use eSpark in centers or as a split or whole class activity, best practices, and more.
Learning is aligned not just with Common Core and Next Generation Learning Standards, but with many state standards like Ohio's Learning Standards, Michigan Academic Standards, and Illinois Learning Standards.
It works with Google Classroom–now that's exciting.
Social-emotional growth is seamlessly integrated by starting eSpark lessons with a well-being check-in from students.
Based on the results of the quest's pre-quiz, students either skip ahead or work through the lesson.
Skills are cleverly taught with a mixture of games, drills, quizzes, and multimedia. This not only makes learning more fun, it differentiates for varied learning styles.
Because eSpark curates skill-specific resources, teachers don't have to test new webtools, try them out on their students, or evaluate their effectiveness. Here's what Tracy Feeney, a 1st grade teacher, says:
"Each week eSpark saves me about 3 hours because it is individualized for each student." 
4 Great Education Applications
Here are a few ways to apply eSpark immediately to your classroom ecosystem:
Access the eSpark free 30-day guide to a happier classroom, especially designed for back-to-school.
Use eSpark in centers for youngers while other students learn other subjects, to reinforce past learning, fill in gaps for some learners while enriching learning for others.
Take advantage of eSpark's ability to work just as well with small groups or individuals as an entire class.
Record student-driven videos as evidence of learning to not only confirm that students understand the lesson but experience the joy of appearing on camera, teaching fellow students, and sharing their knowledge. Here's how this works:
***
Overall, teachers like the targeted learning, students love the engagement, and parents appreciate that their child is learning while having fun. If this sounds like what you need, I have great news: eSpark has a free, one-year trial. Click and sign up. The 'free' button is in the upper right corner.
–while this is a sponsored post, all opinions are my own.
@esparklearning
#eSparkClassroom
---
Jacqui Murray has been teaching K-18 technology for 30 years. She is the editor/author of over a hundred tech ed resources including a K-12 technology curriculum, K-8 keyboard curriculum, K-8 Digital Citizenship curriculum. She is an adjunct professor in tech ed, Master Teacher, webmaster for four blogs, an Amazon Vine Voice, CSTA presentation reviewer, freelance journalist on tech ed topics, contributor to NEA Today, and author of the tech thrillers, To Hunt a Sub and Twenty-four Days. You can find her resources at Structured Learning.