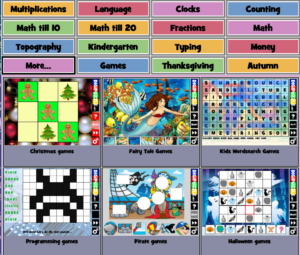 Netherlands-based Digipuzzle is an online educational resource that offers hundreds of G-rated learning games for younger audiences, many in both Spanish and English.  Topics include math, animals, typing, geography, spelling, letter recognition, holidays, seasons, dinosaurs, USA, other games, and more.  Many of these are divided into subcategories — for example: Math includes games and counting, fractions, addition, subtraction, and multiplication. Digipuzzle even offers holiday games.  The site is easy to navigate, fun to use, and completely free. It is the labor of love from Marcel van de Wouw. It includes not only lots of themed puzzles, but Sudoku, line puzzles, search puzzles, dot-to-dot, tangrams, mosaics, and more.
You can use Digipuzzle on the web or as a mobile app.
Pros
Each game includes a sidebar with easy-to-understand icons that answer questions, access settings, and click you through available games.
Each game can be played at the level a student is comfortable — easy, normal, or hard — and can include audio or silent.
Cons
This isn't really a con — I didn't find anything negative about these games — but enter the site knowing you are on the Substitution or Augmentation level of the SAMR Model. It replaces traditional puzzles and paper-pencil games with digital versions that are arguably easier to use, quicker to play, and less problematic (no lost puzzle pieces, no broken pencils — that sort), but don't expect it to Modify or Redefine your tasks through the use of technology. Well, depending upon how you define "task", it could do that.
Insider knowledge
Here are a few quirks (I say that not unkindly) that you'll want to know about Digipuzzle to use it most effectively:
some of the links don't show as the little hand we-all are used to. They remain an arrow. You still click, but you have to make the leap of faith that the word is a link and move onward. This includes the buttons for 'Home', 'Contact', and 'Aprende' at the bottom of the page.
the website name isn't prominent on the homepage. The creators must figure the educational tools are more important to highlight than their website name. I get that.
Education applications
link to varied themes (such as math, clocks, or programming) available to students during center time.
make themed puzzles and games available during sponge time — right before lunch or at the end of the day.
use the puzzles to practice mouse skills for clicking, double-clicking, and drag-dropping.
use the themes as quick topical reviews to support inquiry.
if you're just getting into game-based learning, this is a great starting point. Students play traditional games digitally, as a formative assessment of their knowledge on a subject or to prepare for fact-based exams.
***
Bring the joy of puzzles to youngers with one of the web's biggest and most varied collections: Digipuzzles.
–published first on TeachHUB
More games and simulations:
C-STEM Studio — A Great Way to Blend Math and Robotics
---
Jacqui Murray has been teaching K-18 technology for 30 years. She is the editor/author of over a hundred tech ed resources including a K-12 technology curriculum, K-8 keyboard curriculum, K-8 Digital Citizenship curriculum. She is an adjunct professor in tech ed, Master Teacher, webmaster for four blogs, an Amazon Vine Voice, CSTA presentation reviewer, freelance journalist on tech ed topics, contributor to NEA Today, and author of the tech thrillers, To Hunt a Sub and Twenty-four Days. You can find her resources at Structured Learning.