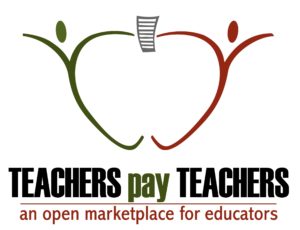 One of the largest online marketplace for teachers is Teachers Pay Teachers. If you haven't heard of this estore, you are either new to teaching or long since retired. This vibrant educator community hosts teacher-authors who wish to sell their original lessons and ideas to other teachers, district administrators, homeschoolers, and unschoolers. Since its start in 2006 by a former teacher, it's grown to over 3.4 million teachers buying or selling over 2.7 million education-oriented Pre-K through High School lesson plans, curricula, videos, classroom activities, assessments, books, bulletin board ideas, classroom decorations, interactive notebooks, task cards, Common Core resources, and more. Teacher-authors have earned more than $330 million since TpT opened its doors with about a dozen making over $1 million dollars and nearly 300 earning more than $100,000. There's no set-up charge, no cost to join, and no annual fee unless you choose to become what's called a Premium seller.
TpT 2017 Conference Observations
Every year, TpT holds a conference to share ideas with teacher-authors on how to build their stores, develop their platform, and make money off of their passion. It's more like an Amway convention than an IBM shareholder meeting. Or, if you're a football fan, think Pete Carroll's amazing college football success attributed in no small part to his high-energy positive way of motivating players, an approach that earned him the nickname "the poodle" from arch-rival Notre Dame.
This year, I trundled my way up to Anaheim, California, home of Disneyland and the National Hockey League's Anaheim Ducks, ready to be wowed by the expertise of fellow teachers and eager to make a whole lot of new connections. I wasn't disappointed. From start to finish, this event was a rowdy affair filled with energy and enthusiasm, networking and new friends. The first day, as we rode up the elevator to the Welcome event, the TPT folks cheered and high fived all of us teacher-authors. Buzzwords like "shout out", "ecosystem", "safe space", "self-publishing", "data analysis" were part of every conversation. A favorite phrase was "That's OK". Rarely was Common Core mentioned and never did politics come up (thank goodness!).  Teachers raved about their "unicorn husbands", unbelievable spouses who did the housework, childcare, and cooking so their entrepreneurial wives (90% of the teachers I saw in attendance were female) could work on their TpT store.