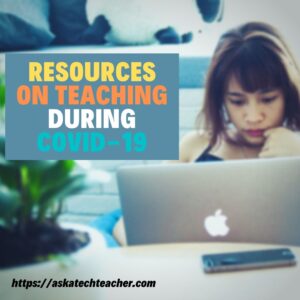 My inbox–probably yours, too–is flooded with suggestions, how-tos, and don't-do's, on teaching online as a strategy for dealing with Covid-19. Though I'm not happy about the reason, I'm thrilled at the interest in online classes. I'm an adjunct professor – online only–for a variety of major universities (CSU for one). I've taught many years in both environments and love online teaching because it is flexible, diversified, self-directed, and self-paced. I agree with many studies—that online is more effective (one from IBM).
As I received the onslaught of teach-online resources, I collected those that made the most sense. Below is a short curation of the most useful articles, links, resources, and webinars to help you through this challenging environment:
Online articles:
Online webinars:
One of the best I've watched in the last few weeks (as I dig into this subject) is Rushton Hurley's (here's the link). Here are some great suggestions for teachers who have to start fast with little preparation: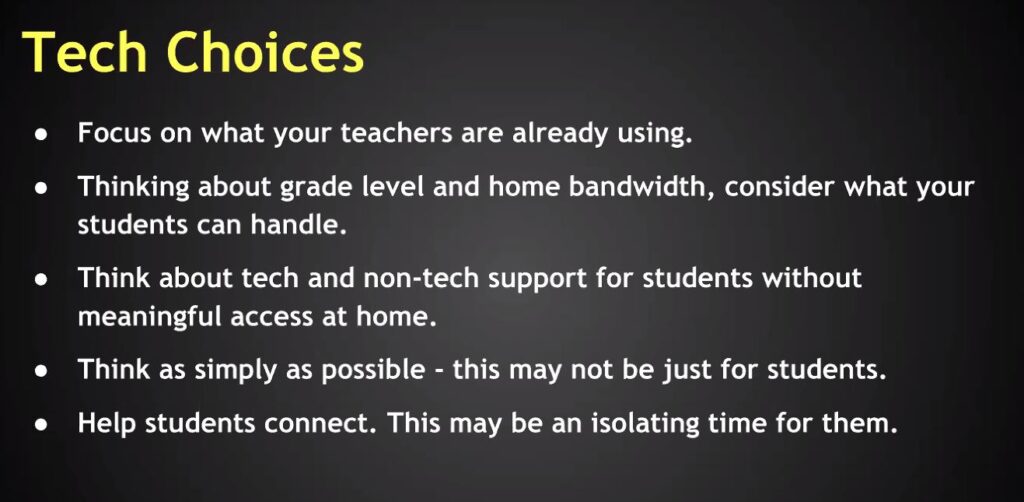 Here are three webinars from the knowledgeable Richard Byrne: Three Free Webinars About Transitioning to Teaching Online 
Distance Learning Strategies for Education Leaders, Part 1
Date: March 17th, 2020
Distance Learning Strategies for Education Leaders, Part 2
Date: March 20th, 2020
A short curated list of resources for teaching online:
How-to
Distance Learning with Google Slides–from Alice Keeler
Resources for Teaching Online–from Edublog
Online chats
Online course sites
Virtual Classrooms/Meetings
Big Questions
If you're still with me, here are quick notes on questions I've gotten from fellow educators over the past week or so:
What can you as a parent do in advance?
Be positive, upbeat about these changes. They are good—you will grow to like them. Know the pros and cons—they are balanced, maybe even skewed in favor of online.
Assume the teacher will be flexible with students as they adapt to online learning.
Don't give up—try, try again, and come up with a solution that works even if it isn't perfect.
Let your child try to solve their problems but be there to help if they get stuck. Most online classes aren't a virtual meeting. They're a list of assignments, discussion boards, forums, and projects that are accomplished at the students own pace. While you're at work, you can help your child with your own virtual meeting (via free programs like Google Hangouts, Zoom, and Webroom.net) by screen-sharing their assignment page. You can even remote in without nearly as much trouble as that used to be. Your child is not in the same room as the teacher. Don't think you must be in the same room as your child to help.
Know how to get in touch with the teacher (since you can't walk in and visit their classroom). FB? Messaging? Email? What's the best way?
What are the biggest problems I face moving my teaching online?
Tech knowledge–don't give up; there are only so many problems. Once they're solved, most of the rest of the experience will go smoothly.
Problems—solve these together, you and the parents. Don't try to be perfect, just a problem-solver.
Many students don't have a home computer or access to the internet. What do I do?
These are difficult issues and have caused many schools to resist online teaching. To meet the suddenness of the Corona-19 pandemic, some schools are lending out their extra Chromebooks and purchasing more with newly-available Federal and State funds. Many Districts are deploying mobile hotspots to help students with internet access. Where that isn't practical, teachers send work to students as PDF files that can be viewed and annotated on a computer and then printed with student input (this is the choice made by some New Jersey schools with a high percentage of students without computers or internet connectivity).
What should students and families know before their first online session?
Don't be afraid.
Get help if you're stuck.
Be a risk-taker—boldly go where few have gone before.
***
In the end, it comes down to flexibility. We as educators must be mindful of the students without access to technology and provide alternative-but-equal options that adapt lessons to their circumstances. The issue of equity is one of the most important as schools move to online teaching. NEA Today will cover this in upcoming issues as this evolves.
#coronavirus #remotelearning
–also published on NEA Today
---
Jacqui Murray has been teaching K-18 technology for 30 years. She is the editor/author of over a hundred tech ed resources including a K-12 technology curriculum, K-8 keyboard curriculum, K-8 Digital Citizenship curriculum. She is an adjunct professor in tech ed, Master Teacher, webmaster for four blogs, an Amazon Vine Voice, CSTA presentation reviewer, freelance journalist on tech ed topics, contributor to NEA Today, and author of the tech thrillers, To Hunt a Sub and Twenty-four Days. You can find her resources at Structured Learning.