We know technology is a challenge for veteran teachers. It wasn't part of their teacher training program so they rely on school PD to fill the many holes in blending tech with education. What is surprising is that many teacher programs don't prepare their graduates well for the rigors of using technology to meet current educational requirements. That is made worse by the demands of a post-pandemic classroom that often operates online, remotely, or a hybrid. Ask a Tech Teacher contributor, Christian Miraglia, 35 years as a teacher and now an educational consultant for T4Edtech, has a good discussion on that: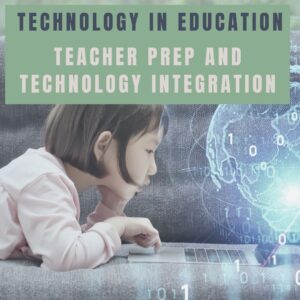 For many years I served as a master-teacher for prospective teachers from various universities in my area. In my interactions with the candidates, I found that although their coursework focused on methodology and practice, it invariably lacked a technology integration component. It was clear that as I  worked with these up-and-coming teachers, their first exposure to the integration of technology was in my classroom. I can only imagine a teacher entering the workforce now who has to contend with the basics of teaching and then realizes that there is a whole other component of the equation that they were inadequately prepared. 
In the report, Reimagining the Role of Technology in Education, published in 2017,  the Office of Technology Education recommended that:
"Institutions responsible for pre-service and in-service professional development for educators should focus explicitly on ensuring all educators are capable of selecting, evaluating, and using appropriate technologies and resources to create experiences that advance student engagement and learning. They also should pay special care to ensure that educators understand the privacy and security concerns associated with technology. Institutions cannot achieve the goal without incorporating technology-based learning into the programs themselves."
And here lies the problem. The pandemic affected every school district in the nation, yet many of the university programs still lack the technology component in their programs three years later. Exposed now are deficiencies of utilizing online learning management systems that school districts face. There should be a concerted effort to focus on this area.
Moreover, sending teachers into the workforce without adequate training is equivalent to sending doctors out to practice without learning to treat specific ailments. The student today learns much differently than students did five years ago. Moreover, the general use of technology has changed. There is an increased movement towards personalizing the educational experience, practiced with student agency and choice on assessments. For a teacher, this translates into knowing what students use and understanding these platforms themselves.