Online education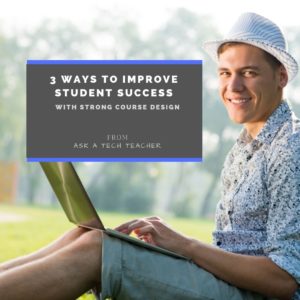 I teach a lot of online classes and as such, have used many different platforms. It's clear to me that the course design–how I lay out the mix of resources, homework, classwork, and more–affects how students absorb and share knowledge. One of our Ask a Tech Teacher contributors knows a lot about how course design impacts learning. He's boiled it down to three suggestions. I think you'll like them:
3 Ways To Improve Student Success With Strong Course Design
In the traditional classroom setting, there is not much we could do to ramp up students prior to the start of the course. Some students inevitably drop out as their expectations from the course were different from what the course was actually designed to deliver. Some underestimate the intensity of the course and complain after.
Ensuring that the students have a clearer picture of what your course is designed to do and what it'll require is critical to student success, both in tangible results as well as their perception (perception is reality!). It may also be worth considering providing some prerequisite requirements or light learning so that students in your class are relatively on the same level from the start. All of this starts with a good course design.
According to an extensive survey of UK students, on average about 72.5% of learners (higher education and further education) believed that digital skills were crucial in their career but only about 50% believed that their course prepares them for it.
Many now expect some form of digital technology and personalisation to be a part of any learning programme. So what are some key factors you should consider to maximise student success in your digital classroom? (more…)