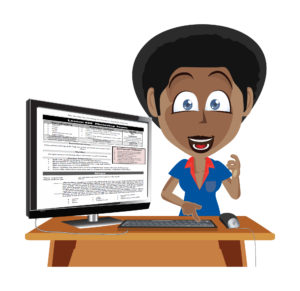 Anyone who attends online classes or any sort of remote learning knows it's different from traditional classes. To thrive in this environment requires a mindset that appreciates the pros and adapts to the challenges. The folks over at  San Diego Virtual School (SDVS) have put together a list of quick productivity tips on how to excel in this increasingly-popular learning environment:
Remote Learning Productivity Tips
Studying and working from home will share a lot of overlap when it comes to staying productive. It's a completely different environment than being in a traditional school and it will require a much different (and stronger) level of discipline to stay successful in your studies.
So what can you do to stay on top of your lessons and ensure that you'll be productive throughout your years of education when going remote?
Use a Clean and Organized Study Space
Studying remotely means you get to customize your study space in any way you want. It's important to have a space that you're comfortable in, but you also want it to be as clean, organized and clutter-free as possible. This helps keep your mind clear, and allows you to avoid unwanted distractions.
If at all possible, try not to have anything on your desk that isn't related to your studies.
Set a Consistent Schedule
Learning remotely has a lot of benefits, like having the flexibility to learn and complete assignments on your schedule. This is especially important for some families that have to move around. However, if it's possible within your lifestyle, it can be a tremendous boost to your productivity to have a consistent schedule at all times whenever possible.
Knowing what time you'll be learning, doing educational activities, and studying can help you to be more effective with how you spend your time. You'll notice beneficial productivity improvements when you have and stick to a schedule for your school work.
There's no perfect schedule: you and your family have to pick a study schedule that fits your lifestyle. Some students may find it beneficial to study as early as possible in the day; others prefer later; others yet may have to mix their study sessions throughout different times of the day. It has less to do about the specific time you do your studying and more about having a level of consistency with it.
Establish Your Study Priorities
Once you have your schedule in place, the next thing you need to do is set your personal study priorities. There's a great way to prioritize tasks and activities, known as the Eisenhower Box. Rank each task that you need to complete based on:
Is it "urgent" or "not urgent"?
Is it "important" or "not important"?
Ideally, you want to prioritize anything that's both important and urgent and do that immediately. After that, focus on doing what's important (but maybe not urgent) by scheduling it into your daily plan. If something is urgent, but not important, you may still have to make time for it if you can't get someone else to handle it. For any situation that's both not important and not urgent, it might be worth getting rid of it completely.
Eliminate Distractions from Your Study Space
Getting rid of distractions (like the internet, a phone, toys in the room, unscheduled activities, etc.) is one of the fastest ways to improve your productivity, whether you're reading new material, studying, or doing an educational activity. Make sure that you are able to focus exclusively on the task at hand in order to drive the best results.
Try a few of these productivity tips this week! Which ones have you already implemented? Which ones are you going to try to improve your productivity with?
Here's a great visual on remote learning:

More on online classes:
15 Takeaways from Online Grad School Classes
Studying for Finals: 5 Collaborative Online Methods to Try in Your Classroom
---
Jacqui Murray has been teaching K-18 technology for 30 years. She is the editor/author of over a hundred tech ed resources including a K-12 technology curriculum, K-8 keyboard curriculum, K-8 Digital Citizenship curriculum. She is an adjunct professor in tech ed, Master Teacher, webmaster for four blogs, an Amazon Vine Voice, CSTA presentation reviewer, freelance journalist on tech ed topics, contributor to NEA Today, and author of the tech thrillers, To Hunt a Sub and Twenty-four Days. You can find her resources at Structured Learning.