Many thanks to Larry Jacobs for inviting me to join him on EduTalk Radio, to talk about my recent Editor's Choice Award from SmartBrief Education. We had a great time talking about technology in education, blending games like Minecraft into curriculum, and using technology to meet students where they want to learn.
Here's the link:
http://www.blogtalkradio.com/edutalk/2015/12/22/the-power-of-minecraft-ed-tech-with-your-students
…and here's a summary of some of the conversation:
Kids are baptized in technology. To move education to the next level, we need to meet them where they're ready to learn.
But, like any food that tastes good must be bad for you—same with MC. If kids love it, it must be a waste of time. But it isn't.
Minecraft can be used for any topic
Kids inspire it. Teachers probably wouldn't even be aware of Minecraft if not for student interest. That makes it authentic.
Minecraft teaches critical thinking, problem solving , collaboration, many of the 8 Habits of Mind—authentically (persist, remain open to continuous learning), writing (pre-post game writing), history (build an ancient city and have kids explore)
Preparing students for end-of-year testing?
First and foremost: Teachers must be comfortable with technology if they expect their students to be. That is the teacher's North Star, your guiding principle to helping students to a successful testing season. If you aren't comfortable, students won't be.
It takes several months—maybe all year.
Prepare them for web-based testing by using web-based assessments. Anything that requires they fill in blanks, use online drawing/mindmapping tools, fill in online rubrics. Khan Academy is good. This doesn't include passive consumptions like watching videos, playing many games. Choose interactive tools that require students to think and problem solve. Make these authentic—spread throughout the year in a relevant fashion.
Make sure it includes:
Drag-drop
Compare-contrast
Write a letter
Watch a video
Fill in boxes on table
Mouse manipulation
Keyboarding
Know keyboard layout—delete, arrows, space bar
Drop-down menus
Highlighting
Unselect
Scroll
Use calculator, protractor, ruler
Use video player
Use multiple windows/tabs
Use online dictionaries, thesauruses
Plot points
Read and comprehend online
And Stamina. Students must learn to use technology over longer stretches of time for academic purposes. CC touches on that with KB skills (1-3 pages in a sitting)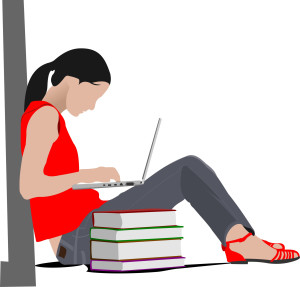 How to teach technology when teachers already have too much on their plate
That is the most common problem I hear from teachers. I get it, but as Ashton Kucher famously said, "Opportunity looks a lot like work." If you discard the conventional wisdom that technology means more work for the teacher, it's amazing how quickly the picture comes into focus. Embrace technology as you would the other tools of your trade. It has become the coin of the realm in education. Integrate it into what they already do. Don't teach it as a stand-alone "today we're going to learn Tellagami". Rather: "Today, we're going to explore MLK." Then offer a variety of tools to students that might serve their communication style.
How to teach tech tools a teacher barely knows how to use
Here's my advice—from Douglas Adams: "Flying is learning how to throw yourself at the ground and miss."
Just do it. Even if you consider it Hell's Tilt-a-wheel. Do it. Test it out. Here's how:
First: Learn it with students
Second: Compare it to other tools students know how to use
Third: Embrace mistakes. That's how humans learn.
Fourth: Provide strategies for learning tools, like a list of how-to videos or website help files.
The interview is about 25 minutes. Check it out and then leave me a comment. I'd love to hear your thoughts on the comments.
---
Jacqui Murray has been teaching K-8 technology for 15 years. She is the editor/author of over a hundred tech ed resources including a K-8 technology curriculum, K-8 keyboard curriculum, K-8 Digital Citizenship curriculum. She is an adjunct professor in tech ed, CSG Master Teacher, webmaster for six blogs, an Amazon Vine Voice book reviewer, Editorial Review Board member for Journal for Computing Teachers, CAEP reviewer, CSTA presentation reviewer, freelance journalist on tech ed topics, and a weekly contributor to TeachHUB. You can find her resources at Structured Learning.