Category:
Classroom management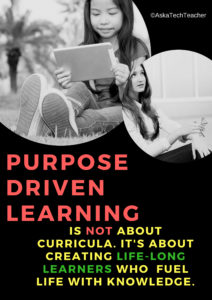 Purpose Driven Learning (or PDL) is a concept coined by Michael Matera and Adam Moreno to summarize the philosophy that each learner's inner strengths can be unlocked by focusing with purpose and drive. By following the guidelines for Purpose Driven Learning, teachers avoid the biggest pitfall in many lesson plans  — that they are theoretic without meaning in the real world. With PDL, resources are relevant, lessons are personalized, and real-life connections are placed under a bright light. In the end, learning is changed from pedantic to powerful and students learn to reliably connect academic studies to the world outside the schoolhouse.
The Goal of PDL
In a phrase:
…the goal of Purpose Driven Learning is NOT about a curriculum that lasts a year. It's about creating life-long learners who fuel their future passionately with knowledge.
This applies to both 1) education pursued with the goal of college or career, and 2) the critical preparation of students to succeed in life. Purpose Driven Learning, faithfully delivered with buy-in from students, will result in students willingly participating in even the boring lesson pieces (like worksheets or podcasts) as well as exciting applications like simulations and student-devised projects.
Problems implementing Purpose Driven Learning
Engaging PDL in your classroom is seen by some as teaching students what they want to learn at the expense of what they need to learn but this isn't true. Done right, students come to understand that real knowledge relies on a solid foundation of data upon which they build their personal interests. For example, students who want to join America's proposed Space Force must first be grounded in the basics of science and math.
Educators who wish to use PDL often run into three roadblocks:
School Standards. Because state and national standards are often devised to serve the majority of students, they may not well-serve your students. But they do provide a necessary foundation without which the goals of your particular group can't be met. That means that standards are taught first and additional learning is scaffolded afterward. Standards are in fact the foundation that underpins your students' ability to achieve their PDL goals.