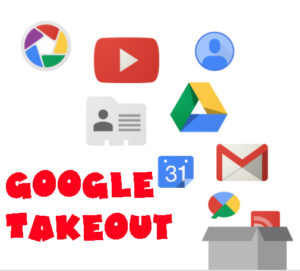 One of the most difficult chores teachers perform at the end of the school year is not final grades, saying goodbye to students, or wondering how to fill their summer free time. It's preserving the digital files that made up their school year. Be it to close out one school year in preparation for the next, transfer student files to the next class, or the need to safely and effectively transfer teacher files to a new job, handling digital files for use later is stressful. In fact, teachers self-report that this task is one of the most stressful of their end-of-year chores.
There are a lot of products to address this nerve-wracking activity. That's not the purpose of this article. Here, I'll concentrate on schools that use Google products. That includes Google  Classroom as an LMS, Google cloud as a digital portfolio, Gmail as an email program, YouTube to deliver videos, and other apps (like Google Sites and Blogger) included in the Google ecosystem. If this applies to you, you're in luck. Google's free product, Google Takeout, is one of the simplest available. It requires no installation, no new hardware, and is already part of the Google you already use. Google Takeout automates the download of your Google data across all Google services, making it ready to be uploaded to new accounts or preserved as a back-up. This includes but is not limited to:
Gmail
Google Apps (but not all of them)
Google+
Google Calendar
Google Contacts
Google Drive files
Google Keep
Google Voice
YouTube
How does it work
Whether you use Google at your school or as an individual, you'll be pleased to learn that the Takeout process is intuitive. Here's what you do:
Log into Google Takeout through your Google account (if you have Gmail, you have Google Takeout). Either find it at the Google Takeout website or through the nine dots in the upper right corner of your Google page.
If you've archived Google data in the past, that event appears at the top of the first screen. If this is your initial use, select the data you'd like to archive from the list provided.
On the next screen, select the file type you'd like or accept the defaults.
Next, select how you'd like the data delivered — a download link delivered to your Gmail or added to your Drive, Dropbox, or MS OneDrive account.
Get started!
All data is exported as a ZIP file that can later be uploaded or exploded. The download may take a while depending on how much data you have. If you prefer, you can transfer rather than export. This takes longer and the action will notify you via email when it is completed.
Things I like
All files are collected into one ZIP file making storage and identification easy in preparation for future use.
Because Google Takeout makes a copy of files, this can also be used to backup files in any of the listed Google products.
Things to be aware of
When you run Google Takeout, make sure you're signed into the account you want to copy and no other Google accounts. Double check this by clicking your profile picture in the top right corner of the website and verify it shows only the account you want to archive — no others.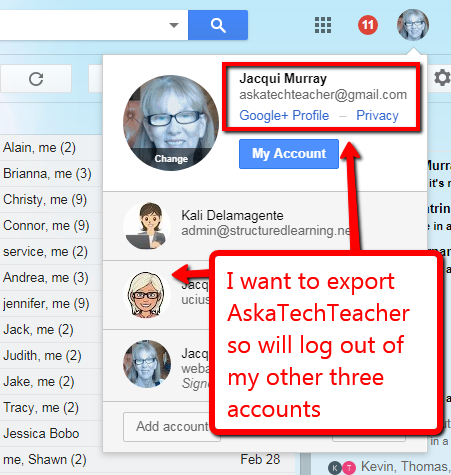 Files are collected in multiple file formats, depending upon the application they serve, and will only open in that program.
If you are archiving a school account, your IT folks will have to enable permissions on the Admin side to allow you to do this but once that's done, it's easy!
Google Forms and Sites may not be transferred, depending upon your setup. Instead, simply share them with your new account.
There are some differences to transferring data from a school Google account and a personal Google account. If this is the first time you are using Google Takeout, follow directions carefully so you have no difficulties.
5 reasons to use Google Takeout in your classroom
A student is moving to a new school.
This is the most popular reason and the original purpose of Google Takeout. Seniors who are graduating or students who are transferring to a new school want the files they created at your school. Takeout is an easy way to make that happen.
You are changing jobs to a different school district.
With your school's permission, you can move all of the files to your new school's Google or MS account.
You want to move your files to a new Google account.
This can be a new school account or a personal account — doesn't matter.
You're closing a Google account.
With Takeout, you can get copies of all data before that happens
Your school is switching from Google to Microsoft.
You can transfer the contents of your Google Drive (with some exceptions — like Google Forms) into a format that can be opened in MS applications. 
A long-term sub is leaving.
Subs often are in place over the long term for teachers out on disability, on pregnancy leave, or any number of other reasons that ultimately require that the sub creates extensive files they most likely don't want to lose. Takeout is the perfect way to let subs take their files with them when they move on.
***
Overall, this is hands down the best way to close a Google Account without losing data.  For those who prefer visual to verbiage, here's a YT (from Google) on how to do it:
More on end-of-year activities
5 Favorite Activities to End the School Year
12 Tech Tasks to End the School Year
How to Use Tech to Help Graduating Students Find Jobs
What's a good End-of-year Tech Show?
---
Jacqui Murray has been teaching K-18 technology for 30 years. She is the editor/author of over a hundred tech ed resources including a K-12 technology curriculum, K-8 keyboard curriculum, K-8 Digital Citizenship curriculum. She is an adjunct professor in tech ed, Master Teacher, webmaster for four blogs, an Amazon Vine Voice, CSTA presentation reviewer, freelance journalist on tech ed topics, contributor to NEA Today, and author of the tech thrillers, To Hunt a Sub and Twenty-four Days. You can find her resources at Structured Learning.