The first time I read about Unschooling, I ignored it. Surely, it was a fad that would go away.
When I read about it a thousand more times, I dug into it.
Inspired by the teachings of John Holt (1923–1985), this free range branch of homeschooling promotes learning through nonstructured, child-led exploration. There's no set curriculum or schedule; students learn what interests them with guidance from involved adults. There are no worksheets, tests, or structure to provide evidence of learning or templates for teaching. The children pick what to learn, when, at what pace. The result — according to unschoolers, is a love of learning, tenacity to a task, and independent thought that prepares them for college and career better than traditional methods. In fact, if you look at the list of traits valued in popular education programs such as Habits of Mind and Depth of Knowledge, the reasons why parents unschool their children mirror the traits included in these lists.
What is it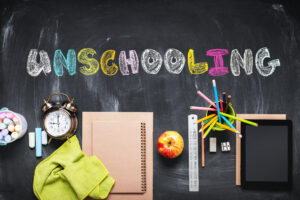 According to  Dr. Peter Gray of Freedom to Learn:
"Unschooling parents do not … do at home the kinds of things that are done at school. More specifically, they do not establish a curriculum for their children, do not require their children to do particular assignments for the purpose of education, and do not test their children to measure progress. Instead, they allow their children freedom to pursue their own interests and to learn, in their own ways, what they need to know to follow those interests. They may, in various ways, provide an environmental context and environmental support for the child's learning. In general, unschoolers see life and learning as one."
If you use Genius Hour in your classroom, you have a sense of how inspiring, motivating, and addicting learning for the love of learning can be. Another popular example of unschooling is Sugata Mitra's 1999 Hole in the Wall experiment where a computer was placed in a kiosk in an Indian slum. Children were allowed to use it freely. The experiment successfully proved that children could learn to use computers without any formal training. This was extended to be a method called Minimally Invasive Education (MIE) where students were encouraged to learn what interests them without adult direction —  much as what is expected from unschooling.
How to start Unschooling
The first thing you do: Throw out classroom routine and lesson plans. Let curiosity guide the day. It's OK to have goals or a curriculum or teachers — if that's what motivates the day — but be prepared to drop all of those to follow a child's interest, to extend a particular learning endeavor.
Oh — and don't worry about following rules.
If you're still wondering how to unschool, you might want to try one of the many online options that help your students explore their interests and make connections. A good option is Tracy Hanson's Matrix of a Learner (click link for an image), called by some the Montessori of Online Education. Hanson, CEO of Next General Global Education (NGGE) and creator of the Matrix, presents to international audiences on how to use the Matrix to allow curiosity to drive education content. For parents interested in starting a home-based unschooling program, Hanson suggests:
don't make subject mastery the goal; make it the joy of learning
crowd-source learning by turning to the child's family, friends, community, and world
let children ask questions from what is happening in the world, seek answers from readily-available resources
Why people love Unschooling
In these times when government dictates what must be taught even if it is contrary to a family's values, unschooling allows parents to provide a healthy, meaty educational experience that is just as likely — or more — to prepare students for college and career.
Students have the time and freedom to discover and pursue personal interests, giving them a head start on figuring out career preferences and developing expertise in relevant areas.
Parents report benefits to children's psychological and physical wellbeing, improved social lives, and improved efficiency of learning and attitudes about learning.
Parents must be patient, highly-involved and always available. It's not an 8-4 school event, five days a week. To respond to student interest, it must be always on.
Myths about Unschooling
Myth: When students can flit from subject to subject with no firm learning goals, they don't choose subjects that will make them a successful adult.
Truth: There's no evidence this is true. As many unschooled students are successful in life as schooled students.
——–
Myth: Because students can leave any topic anytime they want, they don't learn the value of struggling through the hard times.
Truth: The few surveys available of unschooled adults show no evidence that this is true.
——–
Myth: Students who are unschooled will be woefully unprepared for the structure and rigor required on jobs and college.
Truth: Again, there is no evidence that this is true. In fact, as many unschooled students find jobs after high school as traditionally-schooled kids.
Education applications
Ease into an unschool mentality by offering a Genius Hour program in your traditional classroom. Let students select a topic they're passionate about, then give them 20% of the class week to research, study, enjoy the topic, and culminating with sharing their excitement with classmates.
Another way to provide student-paced programs that allow students to work as fast or slow as they want to through online programs such as Khan Academy. With this revolutionary online math program, students study math at their own pace, receiving guidance when needed, without the limits of units or grade level. They start where their knowledge begins and work through to completion.
Two more great options for inspiring curiosity and empowering students to pursue their passion are TED Talks and sites like Learners TV where students browse topics and pick one that sparks their interest.
***
Unschooling is a great option to differentiate for varied student needs, where curiosity and love of learning are of primary importance. It may be exactly the right approach for your children.
More about unschooling:
–photos from Deposit Photo
Copyright ©2022 askatechteacher.com – All rights reserved.
---
Jacqui Murray has been teaching K-18 technology for 30 years. She is the editor/author of over a hundred tech ed resources including a K-12 technology curriculum, K-8 keyboard curriculum, K-8 Digital Citizenship curriculum. She is an adjunct professor in tech ed, Master Teacher, webmaster for four blogs, an Amazon Vine Voice, CSTA presentation reviewer, freelance journalist on tech ed topics, and author of the tech thrillers, To Hunt a Sub and Twenty-four Days. You can find her resources at Structured Learning.