The first time I read about Unschooling, I ignored it. Surely, it was a fad that would go away.
When I read about it a thousand more times, I dug into it.
Inspired by the teachings of John Holt (1923–1985), this free range branch of homeschooling promotes learning through nonstructured, child-led exploration. There's no set curriculum or schedule; students learn what interests them with guidance from involved adults. There are no worksheets, tests, or structure to provide evidence of learning or templates for teaching. The children pick what to learn, when, at what pace. The result — according to unschoolers, is a love of learning, tenacity to a task, and independent thought that prepares them for college and career better than traditional methods. In fact, if you look at the list of traits valued in popular education programs such as Habits of Mind and Depth of Knowledge, the reasons why parents unschool their children mirror the traits included in these lists.
What is it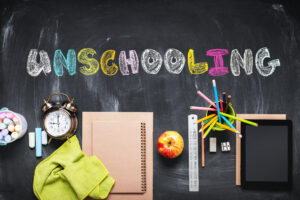 According to  Dr. Peter Gray of Freedom to Learn:
"Unschooling parents do not … do at home the kinds of things that are done at school. More specifically, they do not establish a curriculum for their children, do not require their children to do particular assignments for the purpose of education, and do not test their children to measure progress. Instead, they allow their children freedom to pursue their own interests and to learn, in their own ways, what they need to know to follow those interests. They may, in various ways, provide an environmental context and environmental support for the child's learning. In general, unschoolers see life and learning as one."
If you use Genius Hour in your classroom, you have a sense of how inspiring, motivating, and addicting learning for the love of learning can be. Another popular example of unschooling is Sugata Mitra's 1999 Hole in the Wall experiment where a computer was placed in a kiosk in an Indian slum. Children were allowed to use it freely. The experiment successfully proved that children could learn to use computers without any formal training. This was extended to be a method called Minimally Invasive Education (MIE) where students were encouraged to learn what interests them without adult direction —  much as what is expected from unschooling.