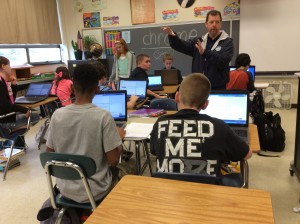 English teachers know the key to writing is rewriting, but getting students to do that has always been a challenge. That is, until I found Turnitin's Revision Assistant. Revision Assistant makes rewriting easy to understand, self-directed,  and believe it or not–more fun. In fact, it uses features from the gamified classroom to encourage students to maximize the strength of their writing 'signals' by revising and editing. Geared for grades 6-12, it builds writing skill with suggestions that are formative in nature, well-explained, and based on tips from actual students who completed the same exercise.
The learning curve is shallow for both teachers and students–easily accomplished with minimal guidance, though Turnitin offers a variety of instructional videos to cover salient points. The goal is to aid students in recognizing their weaknesses and build on their strengths.
Here's how it works:
The teacher sets up their class dashboard and invites students to join via a Join code.
The teacher shares one of the many grade- and topic-specific prompts (divided into three categories: argumentative, narrative, and informative) with students, including any required resources and special instructions. These prompts are aligned with Common Core and/or a variety of state standards.
The student signs in to their Revision Assistant dashboard and locates the required writing assignment. They can pre-write their response if desired before moving into the first draft. A rubric is provided so students are clear about expectations.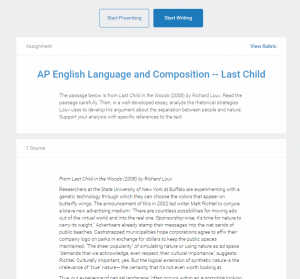 When ready, students request a 'signal check' to see how they're doing. This provides color-coded feedback on language, focus, organization, and evidence with suggestions on how to improve what they have written. Students can request as many signal checks as they wish during the rewrite process. Improvement is reflected in an increased signal strength from a low of one bar to a high of four bars in each category.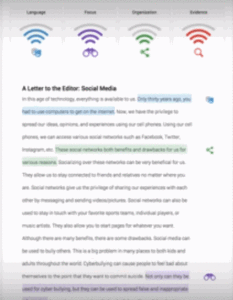 When students have completed the assignment, they submit it to the teacher (with an optional comment) who then reviews and grades it as fits the class environment (Revision Assistant does not assign a grade).
The teacher can track each student submittal and download a spreadsheet of area-specific progress for the class.
Revision Assistant has an intuitive interface, a clean non-cluttered canvas, easy-to-use dashboards for both teachers and students, and no advertising. It is also part of the Turnitin family, a trusted name in student writing.
Pros
Revision Assistant targets the student's areas of accomplishment and need and then guides them through the revision process with constructive and informed suggestions, as though the teacher were there at their side. Studies show that this works wonderfully. In fact, 94% of students using Revision Assistant revised their essay at least once compared to a baseline of 29% in prior research. Not surprisingly, there also was a significant improvement in students' scores (Click for details on the data and then scroll down to download the report).
Revision Assistant works on any device that includes a browser and can be incorporated into any Learning Management System that supports LTI.
Cons
Revision Assistant doesn't check grammar and spelling. It checks quality of writing. This is easily solved by a browser-based grammar-spelling checker (like Grammarly).
This next is less 'con' than clarification: Revision Assistant suggestions are specific to the selected topic. Because of this, students must write to the prompt provided. Rather than serving as a copy proofreader, it acts as an add-on to whatever curriculum teachers are using–and becomes a powerful tool for students as they learn how to write.
Education applications
Most importantly, student writing improves the more they use Revision Assistant. The lessons they learn from the rewriting process transfer to all classes, not just literacy. Here's what one teacher said:
"[With Revision Assistant], … not a student crumpled up the paper, threw it into the desk, and walked out. Everybody went back and tried to change something, and that was a huge victory."
Secondly: Revision Assistant makes writing improvement more visual than it's ever been thanks to the colorful 'signals' associated with different writing competencies:

This makes the process self-guided rather than teacher-directed.
Finally, the Revision Assistant website offers a variety of lesson plans on how to use this formative tool in the classroom.
Recently, Revision Assistant, in collaboration with the College Board  Advanced Placement Program©, added writing prompts from the 2013 AP© exams designed to help students prepare for that exam.
Turnitin Revision Assistant's tag line is perfect–Write. Get feedback. Improve. Concise, pithy, and accurate.
---
Jacqui Murray has been teaching K-18 technology for 30 years. She is the editor/author of over a hundred tech ed resources including a K-12 technology curriculum, K-8 keyboard curriculum, K-8 Digital Citizenship curriculum. She is an adjunct professor in tech ed, Master Teacher, webmaster for four blogs, an Amazon Vine Voice, CSTA presentation reviewer, freelance journalist on tech ed topics, contributor to NEA Today, and author of the tech thrillers, To Hunt a Sub and Twenty-four Days. You can find her resources at Structured Learning.