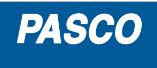 Data collection and analysis are cornerstones for many STEM and STEAM programs but they're not just about math. They teach students how to think critically and solve evidence-based problems. Unfortunately, data collection hardware is expensive and setup is complicated–intimidating for many non-tech-minded teachers.
Enter award-winning PASCO Scientific with a commitment to providing innovative, affordable tools for K-12 science and math programs.
What is PASCO Scientific
PASCO Scientific is the global leader in developing technology-based solutions for hands-on science. They provide a wealth of rugged, inquiry-based products to educators in more than 100 countries around the world. Their products are wireless, Bluetooth- and/or USB-connectable, and their SPARKvue software runs on Mac and Windows platforms, Chromebooks, iPads, iPhones, and Android. No matter the technology mix in the classroom, everyone shares the same user experience, with learning focused on the subject matter not the hardware, thus simplifying classroom management for the teacher. They are NGSS-aligned as well as correlated with International Baccalaureate (IB) standards.
Among PASCO Scientific's many devices, you'll find:
a wireless weather station
a wide variety of sensors and probes
the Ergobot to teach both Forces & Motion and Programming & Robotics.
a wireless blood pressure and heart rate sensor
curricula for Chemistry and Physics that are NGSS-aligned
bridge building kits
STEM modules
lab equipment
hundreds of free labs for download from their website
Most of these are simple enough for young learners with robust features for advanced applications and many come with K-12 curricular resources and support materials.
If you've used probes and sensors in your classes before, maybe have older ones that you struggle to set up and run, do yourself a favor and look at PASCO's collection. I can't review all of them in this post (it's already long!) so let me spotlight one I particularly like: the PASCO Wireless Motion Sensor.
What is the PASCO Wireless Motion Sensor
The PASCO Wireless Motion Sensor is small enough to fit in the palm of your hand, as light as a 6-oz. can of soda, and smart enough to automatically sync with your desktop, smartphone, or iPad. Being wireless, there are no cables to get in the way of the echolocation it uses to measure position, velocity, and acceleration of objects. It can detect movement within a range of 15 cm to 4 m.
Special Features include:
ability to report position, velocity, and acceleration
False Target Rejection Technology for clean data
ability to clip directly to PASCO dynamics tracks
a rod clamp for mounting with 180° pivoting head
a long-lasting rechargeable lithium-ion battery
Recommended for Wireless Motion Sensor users: PASCO's free MatchGraph! software.
What is MatchGraph
MatchGraph! free software is an intuitive way to graph motion, rate of change, and slope. In MatchGraph!, students attempt to match one of the nine provided graphs and are given a score to reflect their accuracy. When used with PASCO Motion Sensor, students learn:
fundamental graphing skills
basic concepts of position and velocity
the concept of slope
the relationship between position and velocity
How to get started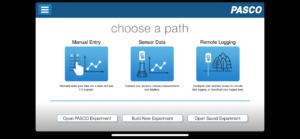 When I unpacked my new PASCO Wireless Motion Sensor, I admit, I was concerned. The included one-page manual when spread out, barely covered my hand. Could PASCO really fit everything I needed to know on that (large) postage stamp? Turns out they could. Even for those of us who aren't scientists, the device is intuitive. In fact, it took me less than five minutes to unbox, setup, find the power button, and sync to the free app/software on my laptop and my iPhone.
Here's what you do to get started:
Unpack the device. Plug it in to charge. You'll know that has happened when the yellow light on the back turns green.
While you're waiting, download the free software to your phone or laptop (or iPad).
Tap the Bluetooth button to pair the device.
Play around with it to see how the sensor works and how changing the position affects the appearance of the graph.
Ready? Collect data.
If you are in the middle of a project, you can open saved data or open an existing project.
How to use PASCO devices in your classroom
When I talked to teacher users of PASCO's devices, here are some of the ways they enjoy it in their classrooms:
to for the iconic Egg Drop
for bridge building
in auto safety classes, to mock what happens when cars collide
to measure the motion of moving objects
to discover the relationship between position, velocity, and acceleration
to measure objects in freefall
to investigate frames of reference
to investigate the conservation of energy and momentum of cart collisions
to investigate simple harmonic motion
to model seafloor mapping (a personal favorite)
for projects that require probes for pH, conductivity, light, voltage, current, acceleration, pressure, and temperature
for projects that require the ability to track velocity, position, force, and acceleration
in a robotics and programming application (with PASCO's ErgoBot)
These can be applied to any number of subjects including agriculture science, biology, chemistry, Earth, engineering, environmental, Life Sciences, Physical Science, and physics. For ideas on how, check out their YouTube channel. Scroll below the top screen and find dozens of videos on subjects like Ohm's Law, acid-base titration, and the physics of bridges. You can also visit PASCO website's Digital Library for hundreds of free labs and experiments that can be sorted by age group (elementary, MS, HS, AP, or University) or subject.
Training and Workshops
PASCO offers a wide variety of training options through their resource page. This includes videos, free live online training, customized webinars, and onsite workshops. Some are free while others are for a fee. Something I don't often see in equipment providers is curricula. PASCO offers curricula in Chemistry and Physics, complete with textbooks, eBooks, and their own award-winning equipment. They meet NGSS standards and work within Google Classroom and most LMSs.
***
If you're a science teacher, you can't find a better selection of hands-on science products with a history of reliability and fulfilling dreams than PASCO Scientific. Do yourself a favor and visit their website.
This slideshow requires JavaScript.
–This is a sponsored post but opinions are my own. Know that I only recommend products or services I believe will be good for my readers and are from companies I can recommend. 
---
Jacqui Murray has been teaching K-18 technology for 30 years. She is the editor/author of over a hundred tech ed resources including a K-8 technology curriculum, K-8 keyboard curriculum, K-8 Digital Citizenship curriculum. She is an adjunct professor in tech ed, Master Teacher, webmaster for four blogs, an Amazon Vine Voice reviewer, CAEP reviewer, CSTA presentation reviewer, freelance journalist on tech ed topics, contributor to NEA Today and TeachHUB, and author of the tech thrillers, To Hunt a Sub and Twenty-four Days. You can find her resources at Structured Learning.