Science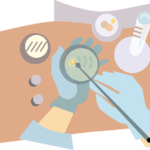 Finding webtools for high school classes requires a different set of metrics than those that apply to lower and middle school searches. Teachers who specialize in preparing students for college and career instinctively want tools that extend learning, support lesson plans, and simplify concepts taught in the curriculum. Of course they do! By high school, the pressure to prepare students for their future is immense. This is the final chance to provide students with the knowledge they require to succeed in the game called life.
Let me put that in pedagogic terms. If you're familiar with the SAMR Model, you know it refers to the way technology tools can be used to enrich classrooms. This starts at a basic level of replacing traditional tools (like an atlas) and ends where technology provides experiences students couldn't get without technology. Here's how it works:
S (Substitution) — use technology in place of a traditional tool. For example, take notes digitally rather than with paper and pencil
A (Augmentation) — technology functionally improves the traditional learning approach. For example, notetaking may include audio and images as well as text
M (Modification) — use technology to enhance learning in ways that weren't possible before. For example, students can share their notes and comments with each other creating a collaborative and energized learning environment
R (redefinition) — students use tech tools to accomplish learning that wasn't possible with the traditional approach. For example, students use interactive maps to explore a geographic environment as though they were there.
The high school teachers I know want tools that contribute significantly to a student-centered learning ecosystem and that enrich learning with experiences they couldn't have without the technology (modification and redefinition). They aren't interested in replacing the usual tools or facilitating rote drills. Time is too short and the consequences too significant. To that end, here are six worthy websites and digital tools that will make high school classes more engaging, more effective, and more student-centered than ever: