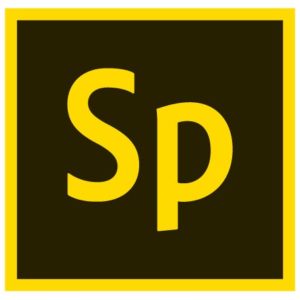 Adobe Spark is a free graphic design app that allows students and teachers with no design experience to create impactful graphics, web stories, and animated videos. With a goal of encouraging creativity and meaningful communication without requiring a degree in graphic design, Adobe Spark allows users to integrate text, photos, original fonts, video, audio, professional themes, and icons into simple but professional projects that communicate ideas cohesively and quickly. Project templates include social memes, mini websites, narrated tutorials, presentations, reports, posters, how-to videos, and more. You can access files in Dropbox, Google Photos, YouTube, Vimeo, or upload them from your local computer.
Spark, Adobe's replacement for Adobe Slate and Adobe Voice, is actually three apps in one — Spark Page, Post, and Video — providing three ways to tell a story. Just pick the one best suited to your communication style. The desktop app gives access to all three in one spot while a mobile device requires the download of three different free apps. It works equally well on your desktop, laptop, Chromebook, Mac, iOS device, and mobile device and syncs between all with ease. That means, you can start a project at school, work on it while waiting for a sibling (or a child) at soccer practice, and finish it at home. Projects can require as little or much typing as you want, making this app perfect for youngers as well as high schoolers. Because it plays well with the many other Adobe products (once you log into your universal Adobe account), you can access your personal collections in applications such as Creative Cloud, Photoshop, and Lightroom.
If you're struggling to move away from Microsoft Publisher because of cost or accessibility, this may be exactly what you're looking for.
How to get started
Set up an Adobe account. In this way, your work will be automatically saved to your file and synced across all of your digital devices. Adobe accounts cannot be created by children under the age of 13. To use it with K-8, the account is created and supervised by a teacher or parent. Older students can log in via Facebook, Google, or with Gmail credentials.
If you're working on a desktop or Chromebook, simply access Spark.Adobe.com, log in via Facebook, Google, or email, and get started. There's nothing to download or install, no fees to pay. If you're using iOS like an iPad, download the three Adobe Spark apps from the App Store.
Select whether you want to create a Page, Post, or Video. These are three different project options that align with either the three options on your desktop Adobe Spark website or the three different apps you downloaded to your mobile device.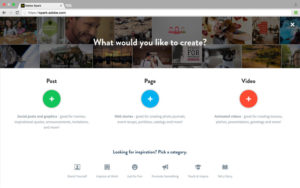 Once you're logged in, access My Projects and either continue work on a project or start a new one. If you're starting from scratch, there are helpful templates that address a wide variety of projects such as fliers, explainers, photo journals, teach a lesson, and more.

When you finish your project, it can be directly uploaded to Twitter and Facebook (for olders), downloaded as a JPG, accessed via link (for Spark Video), or downloaded as an MP4 (for Spark Video).
Pros
Where lots of programs differ significantly depending upon whether you access them via the desktop or an app, that's not true for Adobe Spark. It looks and acts the same (for the most part) however you get there.
Spark includes a variety of beautiful fonts, many more than the traditional choices included in most word processing applications.
Adobe Spark videos can be downloaded to an iOS Camera Roll or saved as an MP4.
Spark provides tactical tips for increasing the impact of your creations on Twitter, Facebook, Instagram, Pinterest, and other social media sites with training hints from experts to help you learn as you work. Spark also offers professional development resources so you can teach colleagues how to use it. Just access the free Spark PD Kit for ideas.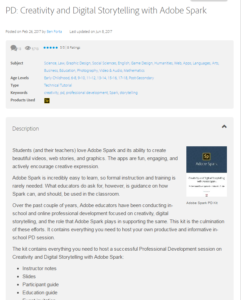 I like that Spark focuses on image sites like Flikr and Pixabay where access requires Creative Commons licensing.  This is an authentic application of digital citizenship rights and responsibilities and reminds students that these legalities are an integrated part of their education workflow.
I am becoming jaded by the amazing webtools that are free just long enough to get me committed and then they charge for those same free services (I have one in mind that starts with a V, but I won't name names). Spark at present has no premium options to confuse what you get for free and no charge for hosting content.  I've used Adobe products for decades and believe if I can trust anyone to be "forever free", it'll be them.
Cautions
While all types of projects can be completed on the desktop version of Spark, you must have three separate apps to do the same variety of work on mobile devices. This means I need to be organized enough to know whether I want to create a website or video, a poster or an explainer video. OK, I can do that. I just need to do a bit more planning at the beginning!
Spark Post is intended for students old enough for a presence on social media. That's fine.
I didn't find any shortkeys. I rely on these to speed up the production process. I miss them.
I also didn't find options for collaborating on a project. You can share folders and libraries and according to Adobe, "Collaborators can view, edit, rename, move, or delete contents…" But, this doesn't include multiple students working together on a project in real-time.
8 Ways to use Spark in your classroom
Here are eight ways to energize your use of Spark in the classroom:
Quick annotated photos
Pick a photo and add quick text. Then, publish to your social media or save it as a file or a screenshot. Easy.
Background for a presentation
Switch from PowerPoint to a quick-to-create, professional-looking, all-inclusive Spark video. Pick a goal (such as "explain a concept"), add a background, follow the prompts for what is included in a successful presentation, add your voice, video, text, icons, and more. When done, save it as a video (not a slideshow file) that can be played anywhere.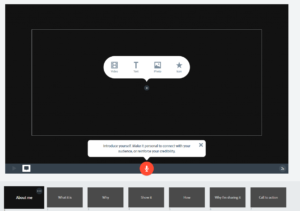 Web stories
Collect images from a field trip or class event into one scrolling slideshow-like file. Add text, videos, icons, and more to each slide. Then, publish.
Animated videos
Start with a photo. Add your voice, icons, a professional soundtrack (included in the Spark library), and turn your pictures into an inspiring video.
Book report
Instead of the boring conventional word processor-based book report, mix visual pieces with narrative, images, icons, videos, and other multimedia to better communicate knowledge and excite other students about reading the book.
Student portfolios
Replace uninviting file folders that you click-click-click through with one Spark document that displays all student work for a grading period or a year. Students select a theme, add a Table of Contents that they update with each new project, provide a brief Author Bio, and then display each project on a separate page. These are fun to view, reflect the pride students have in their work, and are easily shared with teachers and classmates.
Class newsletter
Where these used to take hours to create, now you can build one quickly from a Spark Page. Create a cover, add as many slides as you need mixing text, images, video, and more. Before publishing and sharing (as a link or QR code), try out different easy-to-use themes to see what fits your topic best.
Fliers for class events
These are colorful one-page posters that share important information in a highly consumable, visual way. Select a template and a theme, add the pieces you want to communicate your message (text, images, icons, videos, and more), and then distribute digitally.
***
If you use a boatload of different webtools to create videos, posters, explainers, infographics, cover pages, and more, you'll be excited about this one-stop-shop tool. Next time, just open Spark and start. You won't be sorry.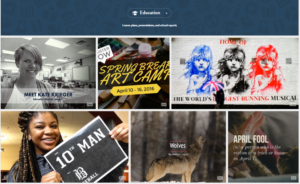 –published first on TeachHUB
More on Adobe Spark
How-tos for Spark Video, Page, and Post
Adobe Spark overview by a teacher
---
Jacqui Murray has been teaching K-8 technology for 20 years. She is the editor/author of over a hundred tech ed resources including a K-8 technology curriculum, K-8 keyboard curriculum, K-8 Digital Citizenship curriculum. She is an adjunct professor in tech ed, CSG Master Teacher, webmaster for four blogs, an Amazon Vine Voice reviewer, CAEP reviewer, CSTA presentation reviewer, freelance journalist on tech ed topics, and a weekly contributor to TeachHUB. You can find her resources at Structured Learning. Read Jacqui's tech thriller series, To Hunt a Sub and Twenty-four Days.