Drop by every Friday to discover what wonderful website my classes, teachers and parents loved this week. I think you'll find they'll be a favorite of yours as they are of mine.
Age:
Elementary school, Middle school

Topic:
Research

Address:
Review:
I get this question a lot so wanted to repost this review. Well, that was my plan. Then I started editing, so now it's pretty different.
I teach K-8 technology. A constant problem is finding websites that communicate in language safe for elementary school students. I've tried kid browsers, but they are sometimes too limited in their content.
Google's safe search is a better solution. It takes a bit of set-up, but that's what teachers do–we prepare. Here's how you do it:
go to Google.com (or go directly to google.com/preferences)
go to the lower right corner and click 'Settings'
Go through the selections for setting up search settings on your computer.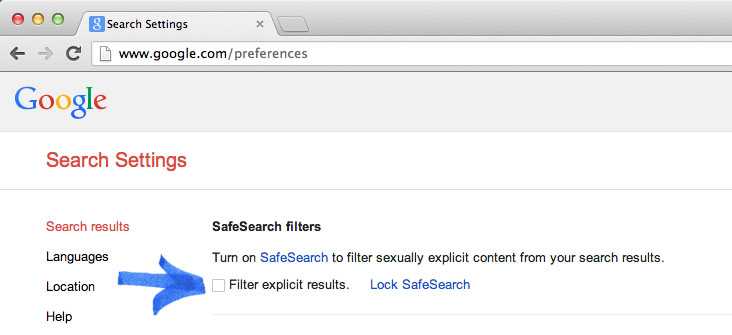 Pros
Easy to accomplish. A few clicks–any teacher in your school can make it part of their internet training for themselves and their students–especially students who have GAFE with a unique Google account log-in. It can be set as the default for all searches, insuring that students are as safe as possible on the internet.
Cons
If your lab is like mine, you get a wide age-grange of students rolling through. Safe Search can be limiting for older students and they'll use a work-around, like search through Yahoo instead.
Second, it's not perfect. Don't expect it to seamlessly eliminate all objectionable content. No search filter can do that. Continue to supervise student internet use and teach them how to protect themselves.
Educational Applications
During your unit on internet search and research (you have one, I'm sure), spend time showing students how to use Google Safe Search. Test it in class with an authentic topic. Ask them to use it at home. Many of the fears surrounding internet searches are related to what kids find while online at home. Educating families about Google Safe Search (and YouTube Safety Mode) can be invaluable to your community. If you have a newsletter, give parents directions for setting Safe Search up on their child's home device. Here's a YT that explains the process–you may have one you created yourself:
---
Jacqui Murray has been teaching K-18 technology for 30 years. She is the editor/author of over a hundred tech ed resources including a K-12 technology curriculum, K-8 keyboard curriculum, K-8 Digital Citizenship curriculum. She is an adjunct professor in tech ed, Master Teacher, webmaster for four blogs, an Amazon Vine Voice, CSTA presentation reviewer, freelance journalist on tech ed topics, contributor to NEA Today, and author of the tech thrillers, To Hunt a Sub and Twenty-four Days. You can find her resources at Structured Learning.