Digital Citizenship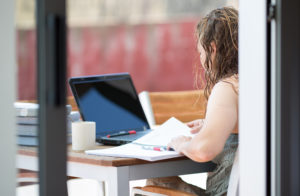 With the rise of online games, web-based education, and smartphones that access everything from house lights to security systems, it's not surprising to read these statistics:
In 2013, 71 percent of the U.S. population age 3 and over used the Internet
94% of youth ages 12-17 who have Internet access say they use the Internet for school research and 78% say they believe the Internet helps them with schoolwork.
41% of online teens say they use email and instant messaging to contact teachers or classmates about schoolwork.
87% of parents of online teens believe that the Internet helps students with their schoolwork and 93% believe the Internet helps students learn new things.
Since so many kids come to school with a working knowledge of the Internet, teachers feel comfortable using it as a teaching tool but just because students use the Internet doesn't mean they do it safely and wisely. In fact, despite that the UN considers access to the Internet a human right, many adults and even more kids don't know how to act as good digital citizens when visiting this sparkly and exciting world. When they first arrive, all of life's rules seem to be upended. Users can be anyone they want, break any cultural norm and even be anonymous if they're careful, hiding behind the billions of people crowding around them.