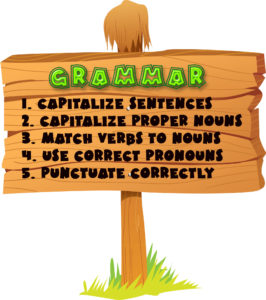 I confess, I cringe when I come across spelling and grammar errors on websites or blogs. To me and many others, that bad first impression creates an authenticity hurdle that's close to impossible to overcome. Then there are homophones — to or too, your or you're, their or there or they're. I know the difference but write them wrong when I'm not paying attention. I am thankful when a well-meaning efriend points it out. And how about those messaging auto-corrections? They turn my words into gibberish.
I started to think hope grammar errors have become so common that readers are immune until I read these statistics curated by Colin Newcomer:
1,003 UK consumers were interviewed about the factors most likely to damage a view of a brand. The number one response (by far) was "poor spelling or grammar."
Global Lingo surveyed 1,029 people and found that 59% "would not use a company that had obvious grammatical or spelling mistakes on its website or marketing material". 74% answered yes when asked whether they noticed spelling or grammar on a company's website.
Studies show that a single spelling mistake on a website can cut a company's online sales in half. 
It seems everyone equates good writing mechanics with quality whether from a teacher, in her/his lesson plans, or on notes to parents. After all, doesn't every word processor include spell-check?
In truth, solving this problem isn't that easy. Consider the difficulty of automating the correction of writing across the globe, with the multitude of cultural spellings, grammar rules, and translations. But perception is reality so it's incumbent upon teachers to turn out error-free written work and teach students to do the same. Start by explaining how to use automated spelling and grammar checkers (with their blue, green, and red squiggled underlines) but add a deeper level of protection by installing a dedicated grammar checker. If you're looking for tools beyond the popular Hemingway App, here are the top five websites and browser apps I recommend:
Websites
Free; best for high school and older
Start using Analyze My Writing by copy-pasting your writing into the box on the website. Analyze My Writing will check for overused common words and phrases, readability, lexical density, passive voice, and even perform a cloze test. It also collects statistics like word/sentence/character count, punctuation marks, and sentence length.
No login is required and there are no document length restrictions. When done, you receive a word cloud and graph reflecting the analysis of your writing.
Free/fee; best for high school and older
Autocrit is a powerful online manuscript editor that checks not only spelling and grammar but word choice, repetition, dialogue, pacing, and momentum. Included are graphs showing the results of the varied tests.
The free version only checks a limited amount of text at a time and doesn't save your copy. An account is required for both the free and fee version.
Fee; best for college age and older
ProWritingAid is a professional writing tool for anyone who does a lot of writing that must be accurate. It checks for grammar, spelling, overused words, cliches, repeated words, sentence length, alliteration, diction, and style. It can be used as a Chrome extension, with Google Docs and MS Word, on the web, and on your desktop. One piece it offers that most writing aids don't is a plagiarism checker to compare the originality of your work to over a billion webpages and published works.
An account is required but login can be through email, Facebook, LinkedIn, or BitBucket.
Free, all ages
Slick Write is a free application that focuses on grammar errors but also checks for potential stylistic mistakes, lack of variety in your writing, use of adverbs, readability index, prepositional phrase index, long sentences, and other features of interest. You can customize settings so it reflects your specific writing needs. When the analysis is completed, it shares results as graphs and reports. It includes non-intrusive ads that can be blocked with an ad blocker.
No account is required. Reports can be saved to your desktop as a .txt file for later review.
Free/fee; all ages
SpellCheckPlus is simple to use. Paste about 250 words of your writing into the screen and it will identify spelling errors, word choice, word form issues, punctuation problems, and help you find synonyms for overused words. It analyzes in multiple languages including English, Spanish, French, and Mandarin. It does include ads but removes these for fee-based pro-users. With the upgrade, you can also analyze unlimited text,
No login is required for the free version.
Read Out Loud
Read out Loud is Adobe's text-to-speech tool built into all of their PDF programs (Reader, Acrobat, and Pro). Text-to-speech tools are popular as a writing review approach because they allow you to hear what you've written and in that way, discover mistakes that weren't obvious when reading it. That is why I include it in this list of grammar/spelling checkers. Simply open the PDF in Adobe and go to View>Read Out Loud. It will read a paragraph, a selected portion, or the entire document using the voice option available on your computer (most computers offer at least two–a male and a female). The default voice is better than some I've paid for and better than most other free options.
Voice, pitch, speed, and other options can be adjusted under your computer's Preferences.
Apps
Free/fee; all ages
Ginger Page is a Chrome add-on (also available in iOS and Android) that checks for contextual grammar, spelling, synonyms, and definitions of words. It includes a personal trainer called The Ginger that will tailor a package of personalized training sessions to help you learn from your mistakes. It will also assist with rephrasing and translations and is equally suited for both native and non-native English speakers.
The mobile apps are free. The Chrome extension is freemium with a weekly limit on corrections.
Free/Pro; all ages
Grammarly is one of the most popular names in spelling/grammar checking with options for desktops, Word-resident, and Chrome. Adding Grammarly to Chrome means that your spelling and grammar will be vetted on Gmail, Facebook, Twitter, Linkedin, Tumblr, and nearly everywhere else you write on the web. It corrects not only grammar but spelling (including typos). The pro version of Grammarly includes a plagiarism detection engine that compares your content to 8 billion webpages though arguably not as thoroughly as dedicated plagiarism checkers like Turnitin or Copyscape.
The Grammarly MS Word add-on and the Mac app are unique to Grammarly and excellent. The only downside of Grammarly is the lack of smartphone apps.
Free; all ages
Chrome add-on Language Tool is an Open Source grammar checker that detects most grammar errors as well as many of the problems a common spellchecker will miss including the mix-ups in words like there/their, a/an, and erroneously repeated words. It will analyze four-six pages at a time and then you'll have to load a new submittal. Its real strength is that it supports more than twenty-five languages including English, Spanish, French, German, Polish, and Russian.
While it works on most platforms, it requires a separate tool for Google Docs and Firefox.
Free/fee; Middle School and older
SAS Writing Reviser is a free suite of tools that provides guidance and support throughout the revision stage of the writing process. This add-on allows students to address a range of potential writing problems beyond grammar such as weak verbs, wordiness, passive voice, run-on sentences, subordinate clause openings, cliches, jargon, excess prepositional phrases, dangling modifiers, and faulty sentence structure. Some options also provide writing lessons for students to teach them to ask questions that ultimately improve their writing skill.  It works on iPads, Chromebooks, PCs, Macs, and the web as well as an add-on for Google Docs and Google Drive.
SAS requires a login.
Free
Read Aloud is an open source text-to-speech reader that allows you to hear as much or little as you want.  You can either enter a web address that Read Aloud will then read to you or paste text into a window. It supports multiple languages and allows you to select a voice (from your computer's available voices).
It can be downloaded as software, implemented on the web, or used as an app.
Online writing tools are many and varied. Each of these offers something different. Review them and select the one best-suited to your student group.
–published first on TeachHUB
More on grammar
3 Apps to Combat Grammar Faux Pas
50 Sites to Add Rigor and Authenticity to Word Study
Monday Freebies #32: Color my Grammar
---
Jacqui Murray has been teaching K-18 technology for 30 years. She is the editor/author of over a hundred tech ed resources including a K-12 technology curriculum, K-8 keyboard curriculum, K-8 Digital Citizenship curriculum. She is an adjunct professor in tech ed, Master Teacher, webmaster for four blogs, an Amazon Vine Voice, CSTA presentation reviewer, freelance journalist on tech ed topics, contributor to NEA Today, and author of the tech thrillers, To Hunt a Sub and Twenty-four Days. You can find her resources at Structured Learning.