March 31st is called World Backup Day. At least once a year, backup your data files to an external drive (like a flash drive). This is one that isn't connected to your local computer so can't be compromised if you get a virus. It's good to always backup data to cloud drives or a different drive on your computer but once a year, do the entire collection of data files to what is called an 'air gap' drive–one that is separated from any internet connection.
How to do this 
There are various ways to back up your data. You can back up your data to an external device or a cloud-based backup service, or to both. You might even make more than one backup to external storage devices and keep the two copies in different places (providing protection and access to your data even if one of the backup devices is destroyed or inaccessible. Preserving your valuable documents and images for future access and use requires planning, as well as the use of automatic backup services.
To back up PC/Windows, use Windows Backup: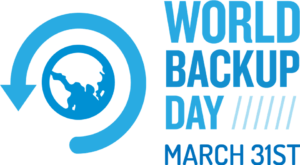 Click the start button.
Go to Control Panel
Select 'Backup and Restore'
Select 'Backup Now'
From there, select a drive with sufficient space and start. Be forewarned: If you have a lot of data, it takes a while. You can work on your computer while it's backing up; it'll just be slower.
Mac: Use the Time Machine tool.
Chromebook: No need. Everything is saved to the cloud. Now if you want to backup your cloud, use a service like Backupify.
Copyright ©2023 Askatechteacher.com– All rights reserved.

---
Jacqui Murray has been teaching K-18 technology for 30 years. She is the editor/author of over a hundred tech ed resources including a K-12 technology curriculum, K-8 keyboard curriculum, K-8 Digital Citizenship curriculum. She is an adjunct professor in tech ed, Master Teacher, webmaster for four blogs, an Amazon Vine Voice, CSTA presentation reviewer, freelance journalist on tech ed topics, and author of the tech thrillers, To Hunt a Sub and Twenty-four Days. You can find her resources at Structured Learning.