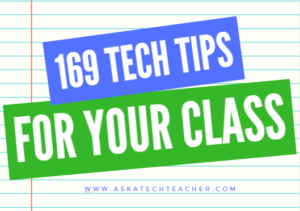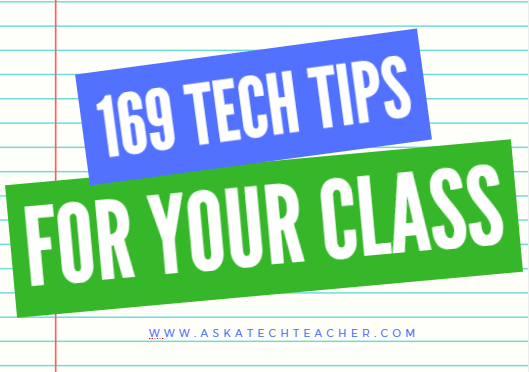 In these 169 tech-centric situations, you get an overview of pedagogy—the tech topics most important to your teaching—as well as practical strategies to address most classroom tech situations, how to scaffold these to learning, and where they provide the subtext to daily tech-infused education.
Today's tip: 11 Great Typing Timesavers on iPads
Category: iPads
Q: Typing on the iPad keyboard is slow. How do I speed that up without buying (and installing) a separate QWERTY keyboard?
A: Here are eleven time-savers students will appreciate (as will colleagues) when using iPads. They make the strangeness of the native iPad keyboard a bit more tolerable:
Double-tap the space bar to add a period.
Double-tap the shift key to turn on CAPS LOCK.
Double-tap the Home button to bring up all open apps.
Place two fingers in the middle of the iPad keyboard and flick them to the side. This will split the keyboard making it easier to 'thumb' the keys (see inset—notice the half-keyboards on either side of the image).

Shake the iPad to undo the last word you typed.
Four-finger swipe in either direction to change apps.
Five-finger pinch to return to the Home screen.
Long-hold the period key to bring up extension options (.com, .net, and more). This doesn't work in all applications.
Long-hold many keys to get additional options. For example, long-hold the $ for other money symbols.
Long-hold the Home button to bring up Siri.
As you type, let the iPad correct your spelling and complete words.
Sign up for a new tip each week or buy the entire 169 Real-world Ways to Put Tech into Your Classroom.
---
Jacqui Murray has been teaching K-18 technology for 30 years. She is the editor/author of over a hundred tech ed resources including a K-12 technology curriculum, K-8 keyboard curriculum, K-8 Digital Citizenship curriculum. She is an adjunct professor in tech ed, Master Teacher, webmaster for four blogs, an Amazon Vine Voice, CSTA presentation reviewer, freelance journalist on tech ed topics, contributor to NEA Today, and author of the tech thrillers, To Hunt a Sub and Twenty-four Days. You can find her resources at Structured Learning.