A question I get a lot from readers is where to go for free, classroom-safe images. Photo sites are either too sparse or poorly vetted. And–while we're on the subject of online images–it needs to be easier to add citations because otherwise, students will just skip that step.
Photos for Class, brought to you by the folks at Storyboard That (a premier digital storytelling site that quickly and easily enables students to mix avatars, backgrounds, and talk bubbles to tell a story) does all of these. It uses proprietary filters to search millions of Creative Commons-licensed photos from the Library of Congress, the British Royal Archives, and Flikr's safe-search setting to curate a classroom-safe collection of topical photos in seconds.  There is no log-in, no registration, no fee or premium plan, and a zero learning curve. All students need to know is how to use a search bar and a download button.
Here's how it works: Go to the Photos for Class website (no registration or log-in required), search your topic: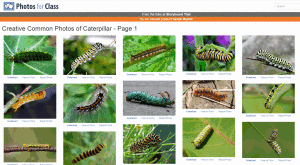 …and then download the selected photo. Each downloaded photo includes an attribution and license detail.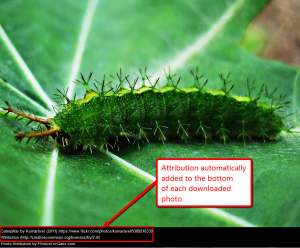 There is no charge, no delay, and lots of choices.
In addition to photos, the site offers suggestions on citing and filtering photos, and a list of the top 250 searches.
Pros
Photos for Class is intuitive, easy-to-navigate, with child-safe content for even the youngest searchers. It makes it easy for students to develop good habits with properly citing online content.
If users find an objectionable image, they can report it to the site with the assurance that–if inappropriate–it will be removed from the site.
Cons
Besides downloading, photos can be saved with a right-click. In this way, they don't include attribution. Definitely point this out to students and then explain how to access Flikr and grab the attribution as most Flikr images require a linkback of some sort prior to use. Here's what the photo detail looks like:
Insider Tips
Storyboard That's premium service includes the ability to add photos from Photos for Class to Storyboard That projects. This is a great way to enrich learning with authentic pictures of many academic topics.
Educational applications
The moment you require students to do online research that includes photos, this will become a favorite resource. The thumbnails are big and bright. The search bar is prominent, and the results are fast.
It's also an excellent tool to teach digital citizenship. [Older] Students are used to Facebook and Instagram and selfies that are shared with the world. Anything to do with privacy is counter-intuitive to their public world. Since Photos for Class images are automatically downloaded with citations, students become accustomed to seeing attribution and understanding that photos aren't free just because they're on the Internet.
Once you experience the slick interface, the vast collection of photos, the quick searches with no log-in or registration, and the attention paid to the legal use of online images, you'll always start student image searches with Photos for Class.
---
Jacqui Murray has been teaching K-18 technology for 30 years. She is the editor/author of over a hundred tech ed resources including a K-12 technology curriculum, K-8 keyboard curriculum, K-8 Digital Citizenship curriculum. She is an adjunct professor in tech ed, Master Teacher, webmaster for four blogs, an Amazon Vine Voice, CSTA presentation reviewer, freelance journalist on tech ed topics, contributor to NEA Today, and author of the tech thrillers, To Hunt a Sub and Twenty-four Days. You can find her resources at Structured Learning.