If your school's digital devices extend beyond Chromebooks and iPads, here's a good discussion about the strengths-weaknesses of Macs and Pcs, from an Ask a Tech Teacher contributor:
Students often decide between PCs and Macs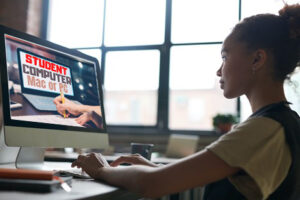 As a teacher, you're probably often asked for advice from students who shop for their first computers: "Should I buy a Mac or a PC?" While the distinctions aren't as straightforward as they used to be, there still are enough differences to make the decision feel quite significant.
PCs Are Cheaper
Price is usually the most critical factor for a student buying their first computer, and undoubtedly, PCs are cheaper. A PC is a cost-effective way for a student to enter the world of computers because it's usually a few hundred dollars lower than a Mac with similar specs.
However, Apple often offers sizable student discounts, decreasing the sticker shock somewhat. Macs also consist of premium components, improving their longevity and long-term cost-effectiveness.
PCs Are More Powerful
A standard PC is usually more powerful than a standard Mac, with a faster processor, more ports, better graphics card, greater memory, and bigger hard drive space. PCs are also more customizable. Anyone can build their PC according to their budget and upgrade them in the future. While Macs are catching up in terms of specs, it's unlikely that they'll ever be customizable.
Macs Are More Secure
Although PCs have become significantly more stable thanks to the improving state of Windows, Macs are still more reliable. Macs are less prone to crashes and more comfortable to troubleshoot because Apple tightly controls the design and manufacturing process.
There's also no doubt that PCs are more likely to get infected with malware such as viruses, worms, spyware, adware, or ransomware because they traditionally have more security loopholes. However, malware attacks against Macs are rising quickly. Fortunately, lean and effective security solutions such as Malwarebytes for Mac help Apple fans beef up their defenses and stay safe from cybersecurity threats.
Macs Have a Stronger Ecosystem
Users who own Apple products such as iPhones, Apple Watches, iPads, and iPods, usually find it more enjoyable to own a Mac for several reasons. For one, all Apple products share a design language, making them more comfortable for fans to use. For the other, they work together in such harmony that diehard Apple users find it unthinkable to switch to PCs.
Macs Are More Stylish
Even people who dislike Macs will admit that they look cool. Macs have a minimalist design language that makes them appear incredibly attractive. On the other hand, designer PCs usually look somewhat garish and are often more expensive.
PCs Are Better for Gaming
If gaming is a priority for a computer buyer, then PCs have a significant advantage. PCs that run Windows are usually the first home for the latest and most interesting games. Digital distribution platforms such as Steam, Origin, and Battle.net carry tens of thousands of gaming titles on Windows. Moreover, PCs can also stream some of the best console games. While there are a growing number of games available on Macs through Steam, the list is smaller than Windows.
These are some of the most significant differences between PCs and Macs. Ultimately, whether someone should buy one or the other depends on their preferences, budget, and needs.
–Comments are closed but feel free to contact me via Twitter (@askatechteacher).
More about digital devices
Faceoff: What Digital Device Should My School Buy?
Chromebooks in the Classrooms–Friend or Foe?
6 Steps to a Successful Tablet Roll-out
---
Jacqui Murray has been teaching K-18 technology for 30 years. She is the editor/author of over a hundred tech ed resources including a K-12 technology curriculum, K-8 keyboard curriculum, K-8 Digital Citizenship curriculum. She is an adjunct professor in tech ed, Master Teacher, webmaster for four blogs, an Amazon Vine Voice, CSTA presentation reviewer, freelance journalist on tech ed topics, contributor to NEA Today and author of the tech thrillers, To Hunt a Sub and Twenty-four Days. You can find her resources at Structured Learning.