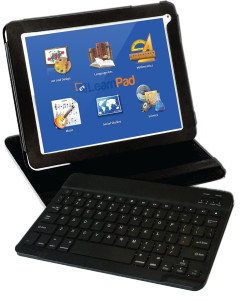 I've posted a few articles on the growing trend in education toward using tablets. I wanted to follow up with the experiences from efriend, Marc Fanaroff on his recent laptop rollout. Does this match your experiences?
The adoption of tablet technology in schools has not always come as positive news. As schools start to mature, moving from the innovator phase into early adopter stage, we are getting increasingly wise about the necessary steps to achieve successful classroom implementation. Having rolled out 40 tablets into our school, I thought I'd share my experience, to offer advice for a successful investment.
1)    The first step is to know from an instructional standpoint what your objectives for the investment are, and how you envisage using the resource. This could have implications for the required functionality of the hardware device. While many tablets are designed for consumer use rather than classroom use, in general, a tablet is a tablet.
2)    Step two in ensuring the technology is effective in the learning environment is to ensure it includes appropriate high quality learning content. The learning content offered on some tablet devices can often described as 'edutainment' rather than high quality curriculum aligned resources. The supplier of your chosen mobile device should be working with publishers to provide high quality, curriculum aligned content pre-installed on the tablet device. Research has indicated that the need to purchase, install and manage new apps is cited by many schools as a significant barrier to adoption. However, tablets should also be easily networkable to allow you to use your pre-existing or purchased content.
3)    The next step is also based on software, rather than hardware. I can't recommend enough that you consider the classroom management tools available for the tablet device. Basic inclusive functionality such as being able to manage the content on the tablet and synchronize this via a simple button click, can save you a significant amount of time.  The truly mobile learning environment that tablet technology facilitates results in the students being spread over a wide area, hopefully engaged in the learning objective. However, the nature of mobile devices means that we can feels we have no control over each child, are unaware of what they are doing and unable to support their learning pathway. Classroom management tools that ensure we can 'see' from our PC a thumbnail image of each student's display, so we can mirror the pupil's device display onto a large screen or interactive whiteboard or freeze any one device,  puts us back in control. Other software tools are available to limit internet access to approved websites and support a personalized learning pathway for each child. Without these tools a tablet is just another piece of hardware.
4)    Another factor affecting the adoption of tablets in schools is the new buzz phrase 'Bring Your Own Device' (BYOD). The majority of schools currently show a willingness to consider this route of tablet adoption with parents covering the cost of the technology. Anyone considering this option must tread carefully. Important legal considerations, such as potential claims for indirect discrimination from students from low income backgrounds, data protection laws, the terms of your school's software licensing and hidden costs such as repair and data roaming charges all have to be carefully considered. However a good inclusive management portal should mean that your learning content can be agnostic of brand; it can work seamlessly on iOs, or Android devices.
5)    An additional cost to factor in is protective covers. We invested in protective covers for the hardware and as a result, despite the children carrying the devices around the school, we haven't experienced any damage to date.
6)    And finally, once you have your devices, don't roll them out all at once. We spent the first few days using the devices, looking at all the free content on the LearnPad website and downloading what was right for each child's specific needs. We then started to roll them out to just one trial class group, one activity, and one day at a time. This meant that we learned what worked with the students and in turn managed any problems that arose on a much smaller scale. Once we knew which problems would occur with one class we could ensure a smoother roll out for the next.
Marc Fanaroff has been a special education administrator for more than 30 years years and currently leads the High Point School of Bergen County, NJ. The school recently implemented 40 LearnPad tablet devices.
---
Jacqui Murray has been teaching K-18 technology for 30 years. She is the editor/author of over a hundred tech ed resources including a K-12 technology curriculum, K-8 keyboard curriculum, K-8 Digital Citizenship curriculum. She is an adjunct professor in tech ed, Master Teacher, webmaster for four blogs, an Amazon Vine Voice, CSTA presentation reviewer, freelance journalist on tech ed topics, contributor to NEA Today, and author of the tech thrillers, To Hunt a Sub and Twenty-four Days. You can find her resources at Structured Learning.