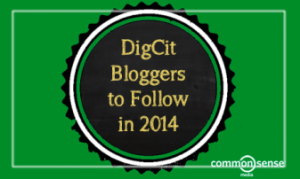 Recently, Common Sense Media named Ask a Tech Teacher as one of the 2014 blogs to watch on the topic of Digital Citizenship. It reminded me what a massive topic this is! To my count, it includes at least 19 topics (check here for updated links):

Cyberbullying–

Harassment that happens on the Internet

Digital citizenship–

Live in the digital world safely, responsibly, and ethically

Digital commerce–

Electronic buying and selling of goods

Digital communications–

Electronic transmission of information including email, IM, SMS, chatrooms, forums, and multi-player games

Digital footprint–

Trail left in cyberspace by the use of digital communication

Digital law–

Legal rights and restrictions governing technology use

Digital privacy–

Protection of citizen information, reputation, and rights   while using digital mediums

Digital rights/ responsibilities–

Privileges and freedoms extended to all digital users and behavioral expectations that come with them. (Ribble & Bailey, 2007)

Digital search and research–

Search and research that relies on online sources

Effective Passwords

–Make these easy to remember but hard to guess

Fair use–

Legal use of copyrighted materials without permission of the owner provided the use is fair and reasonable, does not impair the value of materials, and does not curtail profits expected by owner

Image copyright–

Exclusive legal right to reproduce, publish, sell, or distribute the matter and form of an image

Internet safety–

Security of people and their information when using the Internet

Netiquette–

Electronic 'etiquette' on the net

Online Plagiarism–

Wrongful appropriation of another author's "language, thoughts, ideas, or expressions"

Online presence–

An individual's collective existence online including any activity that takes place on the internet

Public domain–

The realm embracing rights to online material that belong to the community at large, are unprotected by copyright or patent, and can be appropriated by anyone

Social media–

Online platforms like Facebook and Twitter by which individuals and communities create and share content

Stranger Danger–

Perceived danger by strangers
In this article, I talk about the broad strokes I use teaching this topic. Condensed, it goes something like:
Start teaching digital citizenship in kindergarten and include it every year through middle school. Select age-appropriate topics and teach them in an age-appropriate way. For example Stranger Danger is a great way to start Kindergartners/1st Graders on cyberbullying and digital privacy. But, I don't start a discussion of Digital commerce until middle school–they don't really get it until then.

Vary classroom dynamics with the student's age. In Kindergarten, spend a few minutes of every class on some part of the topic, usually revolving around how to use the internet safely. By 4th grade, spend entire classes on individual topics–like digital search and research. By that age, they understand best practices for safe use. Now they need specific skills.
A while ago, I collected ideas from members of my personal learning network on how they teach Digital Citizenship in their classrooms. I think you'll get a lot of good ideas out of this feedback:
Kindergarten (and Pre-K)
1st Grade
2nd Grade
3rd Grade
4th Grade
5th Grade
Middle School
All Grades
For a K-8 digital citizenship curriculum that includes the 14 topics mentioned above, click here. For a general overview on teaching K-8 Digcit, click here.
–published first on TeachHUB
More Digcit posts:
Teach Digital Citizenship with … Minecraft
17 Topics to Teach K-8 About Digital Citizenship
---
Jacqui Murray has been teaching K-18 technology for 30 years. She is the editor/author of over a hundred tech ed resources including a K-12 technology curriculum, K-8 keyboard curriculum, K-8 Digital Citizenship curriculum. She is an adjunct professor in tech ed, Master Teacher, webmaster for four blogs, an Amazon Vine Voice, CSTA presentation reviewer, freelance journalist on tech ed topics, contributor to NEA Today, and author of the tech thrillers, To Hunt a Sub and Twenty-four Days. You can find her resources at Structured Learning.
updated 12-23-18