When preteen kids see parents and older siblings thumbing away at social media accounts, they want to do it. They don't understand when told they are too young. There have been a few efforts to extend social communication tools to younger kids but mostly, kids don't like them so end up on apps designed for teens or adults, like Snapchat or Instagram.
Until the iconic Facebook platform came up with what they call Messenger Kids.
Messenger Kids is a free video calling and messaging app designed for kids under thirteen to connect with others from their tablet or smartphone. These are the kids who love digitally chatting on parent cellphones (or other digital devices) but aren't old enough for the nuances and maturity required of popular 13+ messaging platforms. Messenger Kids provides them with a safe, free environment to chat with friends who have moved away, stay in touch with family who doesn't live nearby, and get questions answered by parents they aren't with at the moment.
Here's what it's not. First and foremost:
Messenger Kids is not a social media app. It is a messaging app.
Here's a peak into the app:
Features you want to know about
Messenger Kids provides an alternative method of digital communication–other than traditional social media platforms–for those  who want to chat with family and friends but in a safe, age-appropriate way. Here are some features you'll love:
Messenger Kids has safety features that give more control to parents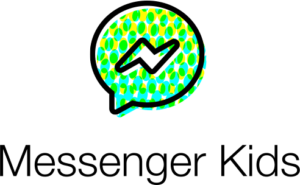 Parents control their child's contact list by approving all contacts.
Unlike other places on the web, kids can only chat with people their parent has approved, making Messenger Kids a safer, more controlled environment.
Messenger Kids empowers kids to have online communications in a safer, controlled space.
Messenger Kids content never disappears and can't be hidden.
Parents and kids can report or block contacts.
Parents and approved adults like grandparents can video chat and message with their kids through their existing Messenger app. No additional app download is needed.
Messenger Kids is kid-appropriate 
Parents can set "off times" for the app to manage their child's screen time.
All stickers, GIFs, and filters are kid-appropriate.
Messenger Kids helps build healthy communications
Kids get to communicate one-on-one via group video chat and messaging.
Kids get to laugh, play, and stay in touch with their friends, classmates, and family.
Messenger Kids is entertaining for kids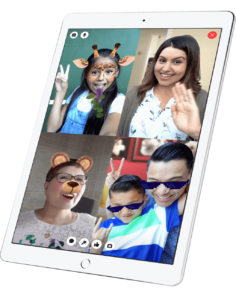 With the feature-filled camera, kids can create fun videos and decorate photos to share moments with loved ones. Age-appropriate masks, frames, stickers and GIFs spark conversation and laughter.
Kids can express themselves using creative and interactive stickers, GIFs, filters, games and drawing tools.
Plus, Messenger Kids is ad-free and includes no in-app purchases.
An important point that sometimes gets lost in the noise: Messenger Kids is not an education app. It is not aimed at the school market. It is a messaging app that has teachable moments related to speaking and listening skills.
How to get started
Parents can get their child started with safe messaging & video chat in four steps.
Download the free Messenger Kids app to your child's Wi-Fi enabled phone or tablet.
Authenticate your child's device using your Facebook login. This will not create a Facebook account for your child.
Create an account for your child by adding their name. Then, hand the phone or tablet to your child to start chatting. That's important: It's not the child's account. It's the parent's.
Parental controls are available in the Parent Portal in your main Facebook app. Through the Parent Portal you can monitor who your kids chat and text with by approving contacts, viewing conversations (that never go away), and setting on and off times through the Sleep Mode feature.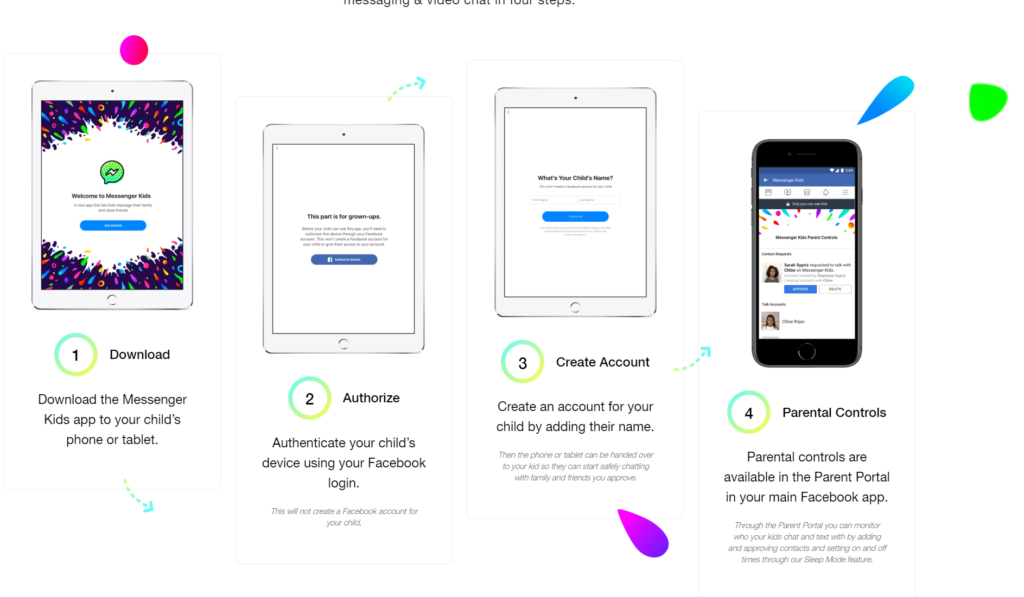 Cautions
As with any app or website that allows kids to go online, they must do so cautiously and safely.  Talk to kids about how to protect their privacy online, what is right and not to upload, about the never-ending life of online data, and about their responsibilities to participate in the online community as they would their neighborhood.
Second, it's always wise to read the app's Terms of Services, privacy policy, and the usage guidelines before getting your child started. Make sure you agree with these and they fit your family profile. Messenger Kids–like any other free app–does collect data on the user and the TOS explain how that is done safely and respectfully.
One more point to consider: Anecdotally, at least 50% of 5th graders admitted to having their own social media accounts, mostly through Snapchat, Instagram, or Musical.ly, all of which require kids be at least 13 to use. A Common Sense Media study shows that about half of kids under twelve use social media in some manner (though thankfully, only about 23% have their own account). It's too late to stop that progression. What we can do is teach kids the right way to use these communication platforms in ways that will keep the child and those they love safe. With the features and protections Messenger Kids has installed, this is a great way to start.
Not surprisingly, Messenger Kids generates varied opinions. I was impressed with the conclusion of a resource I respect, Protect Young Eyes: "… [as an] interim step between SMS texting and a full-blown, unmonitored social media experience, we think Messenger Kids is great.."
***
If you're interested in a video chat and messaging app for your kids where they get to laugh, play, and stay in touch with their classmates and family, Messenger Kids could be exactly what works for you. Download it from the iOS App Store for iPad, iPod touch and iPhone, the Amazon App store for Fire tablets, and Google Play for all other Android devices.
–this is a sponsored post but the opinions are my own
More on social media
Make your LMS a social learning platform
How to Teach Social Media Safety
10 Ways to Use Twitter in Class
---
Jacqui Murray has been teaching K-18 technology for 30 years. She is the editor/author of over a hundred tech ed resources including a K-12 technology curriculum, K-8 keyboard curriculum, K-8 Digital Citizenship curriculum. She is an adjunct professor in tech ed, Master Teacher, webmaster for four blogs, an Amazon Vine Voice, CSTA presentation reviewer, freelance journalist on tech ed topics, contributor to NEA Today, and author of the tech thrillers, To Hunt a Sub and Twenty-four Days. You can find her resources at Structured Learning.