From Ask a Tech Teacher contributor, retired teacher and education consultant, Christian Miraglia:
Instagram: A Student Vehicle for Social Change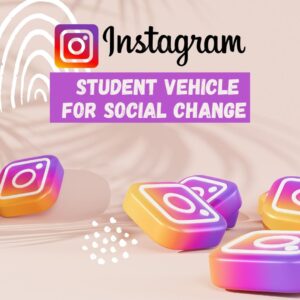 In my last post, I wrote about using Twitter for classroom instruction. Here, the focus is how students use social media to advance their causes and concerns. As a history teacher, I emphasized the concept of taking action on social issues to affect change. Having grown up in the sixties and seventies, I saw the civil rights movements and the anti-war movement at their height. These social movements involved a network of people intent on making a change in a world that was deaf to their concerns. The organizing of the various marches was primarily done by word of mouth and using the latest technology; the phone. Tracing back centuries, we see information being transferred by horse and by foot, which could take days, weeks, and even months. 
Entering the third year of the pandemic, we see students marching out from schools in frustration with the inconsistent policies and the lack of voice in decisions affecting their education.  As these became more prevalent over the last month, I was intrigued by how the students organized their walkouts. The method they used their phones was reminiscent of the Arab Spring in the early 2010s. 
From the Wired feed from January 17, 2022, the headline reads Inside the Student-Led Covid Walkouts US high school students are demanding safer classrooms, and they're mobilizing through group chats, Google Docs, and homespun social media campaigns. In Oakland, students used a shared Google document to start a petition as a vehicle to address inequities and health concerns of their education. Not only did the students use the document, but they also had to manage the settings to assure that it would extend beyond a few students so they could demonstrate a united front. 
Because the students also are pretty adept at using social media, platforms such as Instagram were an easy go-to.  What seemed to be a local movement soon spread across the nation to Boston, New York, and Denver. Just glancing at the Instagram feed organized by New York students, one can see over 4800 followers, some of which were parents. This feed is unique because it has an update button, essential links, Q&A, and a thank you button, all of which are part of the Instagram story feature. Even more remarkable in the nycstudentwalkout2022 feed is how the students organized their resources to make an understandable and navigable platform to spread the word about the walkouts. As a history teacher who demanded the sourcing of claims made in classwork, I felt the nycstudentwalkout2022 group put together an exemplary of sources related to their health concerns.