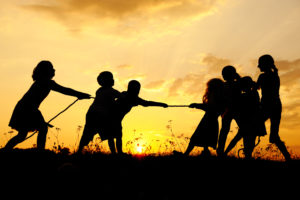 With summer fast approaching all over the Northern Hemisphere, kids are eager for time away from teachers, textbooks, and To-do lists. In Ireland, Italy, Greece, Russia, and other Eurasian nations, summer vacation lasts about three months. In Australia, Britain, The Netherlands, Canada, and Germany, it's six to eight weeks. American students get roughly ten weeks.
While kids celebrate, teachers and parents worry students will lose their academic edge. It turns out that concern is valid. Statistics say over the summer, kids lose over two months of math skills, two months of reading skills, and one month of overall learning. Efforts to prevent summer learning loss propel often-unpopular year-round school initiatives and all manner of summer school and summer camps that focus on cerebral topics.
Worry no more. The cure is much simpler: Disguise learning as play. Using the websites below, kids will think they're playing games while actually engaging in the leading [mostly] free games and simulations in the education field.
A note: some must be downloaded and a few purchased, so the link provided might take you to a website that provides access rather than play.
General
Here are two gamified options that can be tweaked to address any topic:
Digital Breakouts — Players of all ages use teamwork and critical thinking to solve a series of challenging puzzles that ultimately enable them to achieve a goal. Digital Breakouts are an update to the traditional and popular webquests that have students explore the web as they gather content in a particular field — history, math, literacy, or others. A great collection of free, ready-made digital breakouts can be found over at Tom's Digital Breakouts. These don't have to be played online; for a fee, students can play unplugged.
Flash cards — apps like the free Brainscape provide topical flash cards kids can memorize in between the rest of summer stuff. You might even provide badges for the lists students finish.
Financial Literacy
Summer is a great time to learn topics that require dedicated periods of time — like a financial literacy program. These are important for high schoolers, but often not required for graduation. That means many students transition to that almost-adult point in their life where they need to understand credit cards, bank accounts, paying bills, and other financial concepts but have no real knowledge of how these work.
Here are a few sites that gamify financial literacy topics and can be completed over the summer:
Banzai – online free comprehensive financial literacy program
You are here – kids learn to be smart consumers