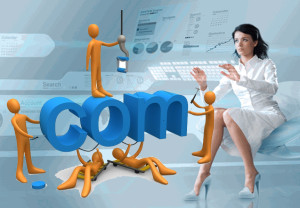 For most teachers I know, life zooms by with few breaks to clean up the clutter and confusion that grows like mold over our everyday online presence. We're like hamsters on a treadmill, trying to climb the every-growing pile of classes, lesson plans, PD, PLNs, school blogs and websites–our own professional activities. Little things like updating our virtual worlds with where we work, what awards we've received, who our latest boss is, get lost like a single snowflake in a snowstorm. Who has the time?
You do. Now.
When my students tell me they couldn't do their homework because they didn't have time, I refer them to the advice of Richard Sloma–Never try to solve all the problems at once — make them line up for you one-by-one.
Line your maintenance issues up. Pick them off like metal ducks in a shooting gallery. One. At. A. Time.
Here's my short list. It can apply to FB, LinkedIn, class wikis, websites, Moodle accounts–anything that you routinely update and share with colleagues, students, parents:
Read the critical parts that make up your online presence. This includes your profile, the About page, anything that refers to 'Contact Me'. Highlight the stuff that embarrasses you, is more than five years out of date, applies to the start of the school year (and hasn't been touched since). Make a (digital) list of those and add them to the bottom of this list. Depending upon how serious they are, you might want to start with them.
Update social media profiles–FB, Twitter, G+, professional groups you belong to. Do they all say the same thing (they should)? Have you changed educational focus? Switched jobs? Adding new material efriends would like to know about? This, btw, should be done regularly, but at least do it at the new year.
Re-read old posts, articles, updates. Voltaire once said, No problem can stand the assault of sustained thinking. The same can be said for grammar and spelling mistakes to the eye of a trained teacher. We don't miss much, and what we do miss shows up like a ringer on a Little League team, especially when they've percolated for a few weeks. I start with the most-visited articles and pages (under Site Stats) and work my way down (in case I run out of time–or energy).
Check individual post tags and categories to see if you can whittle down the options while still clearly cataloging writing. Often, your organizational thinking has changed since you wrote the piece–what used to be a 'math' article, now fits better in 'Common Core'. Relevant and timely categories and tags help those in your PLN, PD, parents and students dig deeper into your pedagogic thinking. Make this easy to do by keeping all your writing organized and searchable.
Check sidebar for out-of-date and no-longer-relevant widgets and links. Here are just a few of the problems I fixed:
crowd sourcing opportunity that was out of date
a Google Calendar that no longer linked to an account
Blogroll links to websites that were no longer in existence
Add new pieces (like awards and links) that add to the site's utility. Move pieces around to give a fresh look.
Check list of 'pages'. Sure, you're on top of the Home page, but are the others still relevant? Up to date? Hmm…
Check the appearance of your virtual presence on a smart phone and iPad to see if they display well. I recently switched my blog theme because my old one didn't show well on iPads and smartphones.
Check site in different browsers to see if you should recommend one over the other for best-viewing.
You're almost done. Do two more important maintenance issues before tucking in for the night:
 create an image of your computer. This is a virtual picture of what your hard drive looks like, including all the programs and extras, that is saved in a secure back-up area. When you reformat, all you have to do is copy the image back to the computer. Mine is on an external drive. Even if my two internal drives explode (and my online cloud-based location can't be reached because, well, the internet is down), I'm good. Here's what you do:
Go to Control Panel
Select 'Backup and Restore'
On the left sidebar, you'll see an option for 'create a system image'. Select that.
Follow directions (it'll ask which drive to use for the image–stuff like that)
Create a back-up of all the data on your computer (which includes files you use for your online presence). There are many ways to do this–and I use all of them because I am truly paranoid:
use a web-based back-up service like Carbonite. It will automatically and continuously backup to the cloud so even if you forget to do this, it won't. Even better, you can access your work from anywhere with an internet connection. I love that.
email copies of your most important writing to yourself. For lesson plans, schedules, scope and sequence, report card comments, I do it every day. If you use Gmail, you can email up to 20 mb. If your file is larger than that (which some of mine are–and my RTFs definitely are) just upload them to the Google Drive associated with your Gmail.
Use Windows Backup function. Here's what you do:
Go to Control Panel
Select 'Backup and Restore
A note: This is the same location you use for back-up.
Do you have any maintenance issues you suggest for the new year? I'd love to hear them.
Want to know more about your online presence? Try this Forbes article, 5 Reasons Why Your Online Presence Will Replace Your Resume in 10 years. Or the Co-op Coach–Helping Students Build Their Online Presence.
---
Jacqui Murray has been teaching K-18 technology for 30 years. She is the editor/author of over a hundred tech ed resources including a K-12 technology curriculum, K-8 keyboard curriculum, K-8 Digital Citizenship curriculum. She is an adjunct professor in tech ed, Master Teacher, webmaster for four blogs, an Amazon Vine Voice, CSTA presentation reviewer, freelance journalist on tech ed topics, contributor to NEA Today, and author of the tech thrillers, To Hunt a Sub and Twenty-four Days. You can find her resources at Structured Learning.