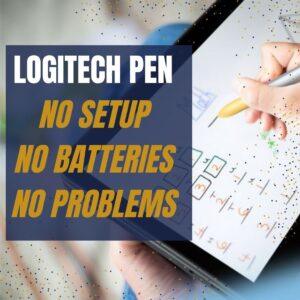 In my classes, there are still a lot of technology skills that are difficult for students. One–developing good enough typing skills that they can find keys without slowing their thinking. Another–all those menus! They want to jot a note on a PDF or a webpage, but don't know where to find the tool for that. Keep in mind, I'm the tech teacher and still, I complain heartily about technology!
Enter the stylus. It's touted to write on a touchscreen as easily as pen on paper. Sure, in its absence, kids–and adults–could use their finger, but there are a lot of reasons why a stylus is better:
It's faster for notetaking and more precise for drawing.
Little hands are dirty, as are big hands, and full of germs. A stylus minimizes those issues.
Users with hand issues–or orthopedic disabilities–can't use fingers well. A stylus makes up for that.
If you're using a digital device outdoors, it may be too cold to take your gloves off. A stylus solves that.
But styluses have problems, too:
Most run on batteries that always seem to be out.
They are typically paired to a particular computer that always seems NOT the one the student (or adult) is using.
Some have to be turned on.
Until Logitech entered the marketplace with their Logitech Pen.