'Close reading' entered the teacher's lexicon with this Common Core literacy anchor standard:
Read closely to determine what the text says explicitly and to make logical inferences from it; cite specific textual evidence when writing or speaking to support conclusions drawn from the text.
Dr. Doug Fischer defines close reading this way:
Close reading is a careful and purposeful re-reading of the text.
If you're looking for a longer definition, the Partnership for Assessment of Readiness for College and Career (PARCC) defines it this way:
Close, analytic reading stresses engaging with a text of sufficient complexity directly and examining meaning thoroughly and methodically, encouraging students to read and reread deliberately. Directing student attention on the text itself empowers students to understand the central ideas and key supporting details. It also enables students to reflect on the meanings of individual words and sentences; the order in which sentences unfold; and the development of ideas over the course of the text, which ultimately leads students to arrive at an understanding of the text as a whole. (PARCC, 2011, p. 7)
…and explains its importance:
A significant body of research links the close reading of complex text—whether the student is a struggling reader or advanced—to significant gains in reading proficiency and finds close reading to be a key component of college and career readiness. (Partnership for Assessment of Readiness for College and Careers, 2011, p. 7)
It's not just getting kids to read that's important; it's getting them to read with understanding and memory that matters. This is not instinctual. Students need to be taught how to read complex texts.
First, don't be intimidated by the word 'complex'. For many, that term conflates with 'complicated' and 'advanced'. It isn't. In fact, complex text is the most beneficial to learners because it's choc full of meaning, evidence, and connections. Close reading is a great approach to turning 'complex' into 'simple' by providing concrete steps to decode material.
Here are three approaches to evaluating whether students have closely-read the complex text:
ask questions that are open-ended and require evidence
ask questions that require students to think and understand what they're reading
ask questions that plumb the depths of the text being read while considering only information contained there, not from outside sources
Three tools make these happen:
iAnnotate
Snap! Learning
Reading A-Z
Fee
IAnnotate enables students to read, mark up, and share PDF, DOC, PPT and image files. It is a feature-rich app (80+ tools including a highlighter, text and notes, images, underline, and cross out) that makes it easy to indicate confusing sections, evidence for a point being made, or specific issues to be covered in more depth. A document can be opened from within the app, an email, or a wide variety of cloud locations like Dropbox and Google Drive.
This app has won a variety of awards from Moxie to Tabby in categories like collaboration and productivity.
IAnnotate has a moderate learning curve because of its large number of robust features, but once accomplished, the app fulfills promises.
Pros
Documents are auto-saved where opened with additional options for emailing–perfect for sending completed work to the teacher.
If you save files locally, you can access them without an internet connection or a wifi.
Files can be flattened, making mark-ups uneditable if students are sharing their work. Or not–whichever approach the user selects. This 'flattened' document is especially important in emailing documents signed in iAnnotate.
Cons
Long documents take a while to open.
PDFs must be opened from a pre-arranged cloud source (DropBox, Google Drive, or another cloud drive) or from an email (as an attachment opened in iAnnotate). There is no web version so you can't open a file by browsing to your 'My Documents' folder or the server that contains the data you're looking for.
Emailed annotated documents don't always match what you had on the screen. Specifically, words get lumped together, losing their spacing. Not always, but occasionally.
I don't see an option for an education account. I hope they plan that for the future.
Insider tips
IAnnotate is intuitive, but robust. Take time to read the tips and review the tool use.
Use custom stamps to create your own personal signature. Then, you can sign student work with two clicks.
Educational Applications
IAnnotate is perfect for these three close reading skills:
Mark up a short passage and note a variety of characteristics, point out evidence, and make comments. Because the program has so many tools, it's easy to differentiate for multiple characteristics using highlighting, underlines, and arrows in a pallet of colors.
Note what is confusing using the above tools
Note patterns
Because iAnnotate can access multiple DropBox and Google Drive accounts, it's easy to view and annotate student work, then return it to them.
This one from Simon McKenzie, an educator for over 33 years, might be the most compelling application of all:
In combination with one or two other apps, iAnnotate has enabled me to establish a paperless classroom. In our rapidly changing digital world, I see no need for schools to be constantly consuming ream after ream of paper.
Conclusion
There are other PDF anotators–Adobe Reader, Goodreader, and SlingNotes–but iAnnotate does the most, easily, with a rich collection of features that accomplish pretty much anything I need. This works well for me as a teacher and for my older students.
Design: 4/5
Functionality: 5/5
Availability: 5/5 (iOS, Android)
Overall: 4/5
This slideshow requires JavaScript.
Free app with yearly membership

Overview
Created by Sullivan Learning Centers, Snap Learning provides a Close Reading Program for grades 2-8 with a series of interactive exercises that guides students in reflecting on the meaning of words and sentences, the sequence in which these sentences are arranged, and how ideas are developed over the course of the text. All content is Common Core-aligned.
Students select a book. This will be read multiple times, concentrating on a different skill each time:

review and explore
first read
second read
third read
reader task
fluency practice
book check
This totals approximately 90 minutes on each book: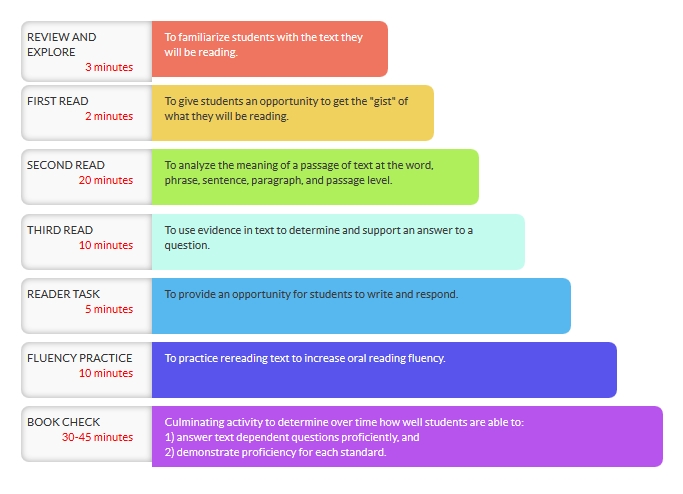 There is a modest learning curve for teachers, from setting up a class to selecting books. For students, it's easy. They log in and access their books.
Grammaropolis is aligned with both national Common Core standards and Texas Expected Knowledge and Skills Objectives for grades K-6. – See more at: http://www.techlearning.com/magazine/0007/grammaropolis/54131#sthash.bauH6spt.dpuf
Pros
It is obvious Sullivan Learning Centers included educators in the preparation of this program. The presentation is student-friendly, clear, and supports important Common Core ELA Standards for each grade level.
The lessons are straight-forward and easy to implement for teachers and students. They clearly call out the four steps with appropriate tools to accomplish required goals.
The Book Check questions are well-constructed and quick. Students will not feel like they're being 'tested'.
Cons
It sounds like a lot of books, but they're spread over grades 2-8, fiction and non-fiction. I'd like to see more books available or a way to import class books.
The reading voice is a bit robotic for me. This, of course, is only an issue when students choose to have the book read to them.
Educational Applications
Students can practice close reading skills that will be required for Common Core testing, college, and career. Teachers can track student progress using their dashboard. Each book portfolio includes:
5-step Teacher Edition Lesson Plan for every portfolio

Reader Tasks and Quick Writes for fluency practice
Conclusion
SNAP! Learning is an excellent add-on to any reading curriculum.  Its reading material, digital elements, and assessment tools are well-constructed and responsive to specific student needs.  Plus, the program is affordable. I recommend SNAP! Learning to anyone looking to improve student reading.
Design: 5/5
Functionality: 5/5
Fun Factor: 4/5
Availability: 3/5 (Web)
Overall: 4/5
This slideshow requires JavaScript.
Free trial
Reading A-Z's 2500+ K-6 books (in English, Spanish and French) provide 27 levels of developmentally appropriate texts for students to practice the skills and strategies of close reading. Close reading materials include:
Pros
Teachers can search by interest, level, or Common Core standard, and find authentic materials that add rigor to student close reading skills.
Reading A-Z has won several education awards including a Parents' Choice Recommended Award, a Global Learning Initiative Award, and a Teachers' Choice Award.
Cons
This program functions more as a library than a student management system. Tracking student progress online requires an upgrade to the RazKids companion program.
Insider tips
Teachers can download free apps and leveled libraries from the iTunes App Store.
A lot of teachers I found online were excited about the ability to print these books. That doesn't appeal to me, but maybe that is just my teaching style. You may think this is the best reason to subscribe. Here's a free sample they make available on the website:
Animal Discoveries Print Sample
Educational Applications
Once you set up your classes, students can access all the reading materials you've marked for their reading level. I was impressed they had the same book available at different levels. Here's a sample from their website: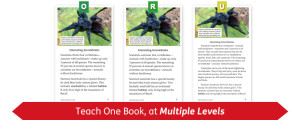 Webinars are available with helpful teacher strategies for using  the site in the classroom.
Single classroom licenses are under $100 with school and district licenses also available.
Conclusion
This site is great for targeted reading instruction with ebooks that effectively differentiate for reading styles and engage students.
Design: 5/5
Functionality: 3/5
Fun Factor: 4/5
Availability: 5/5 (iOS, Android, Web)
Overall: 4/5
This slideshow requires JavaScript.
There are a lot of tools out there to assist with close reading. These three are a great starting point, but whatever you pick, be sure it works well for your unique student group.
---
Jacqui Murray has been teaching K-18 technology for 30 years. She is the editor/author of over a hundred tech ed resources including a K-12 technology curriculum, K-8 keyboard curriculum, K-8 Digital Citizenship curriculum. She is an adjunct professor in tech ed, Master Teacher, webmaster for four blogs, an Amazon Vine Voice, CSTA presentation reviewer, freelance journalist on tech ed topics, contributor to NEA Today, and author of the tech thrillers, To Hunt a Sub and Twenty-four Days. You can find her resources at Structured Learning.