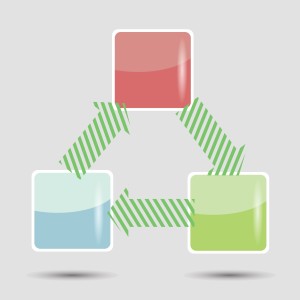 Lesson planning used to mean filling in boxes on a standard form with materials, goals, expectations, assessments–details like that. Certainly this is valuable information, but today's lesson plans–like today's lessons–demand less rote fill-in-the-blanks and more conceptualization, critical thinking, and collaboration. With the increased reliance on online resources, Skype interviews with professionals, and hands-on learning activities, lessons are no longer taught within four walls so they shouldn't be planned that way. They need collaboration with all stakeholders from initial planning stage to revision and rewrite.
And that paper form that was copied in triplicate–now it's an online tool that can be accessed, edited, appended, and viewed by everyone involved. In fact, it can be one of three tools, depending upon how your brain organizes ideas:
mindmap–for those who love to throw everything out there on a canvas and arrange
online planner–for those who fill in boxes with required information and want the lesson plan to appear fully formed from these ideas
spreadsheet–for those who like to build from the ground up and have the lesson plan detailed and scalable–in a structured way
I've tried all of these and have found three favorite tools, one from each category, that work for me. Read through these, try them out, and then add a comment with what you think:
3 free mindmaps

Web-based Mindmeister is from category #1–a no-download-required mind map. Start with a topic (say, the Civil War) and all stakeholders add their ideas as subtopics, bubbles, and connecting nodes. No one needs a clear-eyed view of how the parts fit together. That comes after the canvas is populated with ideas. Then, the bubbles can be dragged, rearranged, and connected to different main topics, until all the pieces are where they belong. Chaos has become order.  The Mindmeister canvas is virtually unlimited, providing ample space to add ideas, adapt to change, and rethink what didn't work.
Mindmeister is easy to use on both computers and iPads, intuitive to understand, but more than that, allows collaboration with unlimited users–a must for those working in teams or building a curriculum map for an entire year. You can add files, pictures, links and notes to your maps, then share via a public mindmap or present them via your iPad and Apple TV.  They can be exported in RTF, PDF and PNG formats
As with any powerful digital tool, there is a learning curve, but nothing that requires a manual or training (though they provide video tutorials to explain the tools). Trial-and-error works fine.
Pros
Mindmeister has a large community of shared mind maps. These include many lesson plans available to download and adapt to your needs.
Cons
Only three maps are free. Then, you must upgrade. Also, there are limited files that can be shared on the free account. For example, I wanted to include a PDF of the lesson plan to share with colleagues. That required an upgrade.
For personal use, it's a bit pricey.
Insider tips
Mindmeister has a Google Apps add-on that will turn bullet lists into mindmaps.
You can playback the history tool, which makes it a video of the mindmap's development, adding one piece at a time.
To run a lesson plan for students, you can play the mindmap in presentation view. This auto-zooms on bubbles, files, whatever you choose in the order you choose. This reminded me of Prezi.
Educational Applications
Use this as a study tool. Ask students to each take a subtopic and add bubbles to share their thinking. By the time everyone has added their information, you have a study aid.
Conclusion
This is a perfect solution for a lesson planning team. The endless canvas enables stakeholders to share ideas, rearrange and expand as needed, adapt to the reality of class time, and have the framework in place to start over the next year. It never feels finished because it isn't.
Created by MicroK12, a well-known name in the tech-in-ed field, Standards Planner is a straight-forward online lesson planner. Each document includes a title, description, Standards (that are dragged into the lesson plan from a drop-down list), a text box for narrative, and as many resources as required. Each step (i.e., creating a schedule, adding resources, planning lessons, and more) is supported by an interactive how-to tour and/or video to walk you through the steps. Once the lesson is built, it's simple to drag it onto your weekly schedule and share with interested stakeholders (grade-level team, substitute teachers, admin, even parents).
Standards Planner loads in an instant. The interface is clean, with no advertising or distractions from the fundamental job of creating Standards-aligned lesson plans.
Pros
If you thrive on less visual and more structural, you'll like this approach. All tools are available on the left side of the canvas, easy to find and access. No more clicking through different tabs, no more reading through fonts that get smaller and harder to find as the nodes populate.
You can make your calendar public–with lesson plans and associated resources–for substitutes, administrators, parents, and students.
The user interface is intuitive and friendly–I was up and running within minutes of creating my account.
Cons
It's not as scalable or flexible as I'd like. While Common Core and NGSS Standards seem fully fleshed out, other state and international standards aren't. It's fairly new and their backend conversation indicates more drag-and-drop tools are coming. Until they arrive, users simply add more resources and detail to the text box included with each lesson plan.
Insider tips
Lesson plans can be printed individually or shared via your public teaching calendar. In that way, a substitute or administrator need only look at your class schedule to find the associated lesson plan.
The rumor is that by end-of-summer 2015, there will be a premium fee-based version with advanced features and more storage to accommodate individual teacher accounts as well as district accounts.
Educational Applications
As its name implies, this program makes it easy to integrate Common Core Standards into your planning. Often, there are quite a few that apply. Standards Planner helps you find them, drag-drop them into the lesson or calendar, and share them with your teaching team.
Conclusion
If you're looking for an online program that can be accessed from anywhere, easily shared, with a shallow learning curve, this is your best choice.
Google Spreadsheet
Free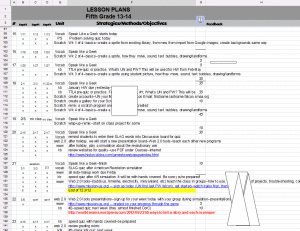 Each purpose built digital tool includes its own unique file extension which means whoever you share with must have that same program to open it. That's fine if your entire District uses the same tool, but what if you're sharing with your PLN? How do you collaborate across the country–or the world?
Or how about this scenario: Your school changes their lesson planning tool, say from Edline to Schoology. How do you get all those lesson plans from one format to another without retyping them all. The thought of that makes you tear your hair out.
This is why a lot of teachers have turned to spreadsheets for their lesson plans. There are two input approaches, one even easier than the other:
use Google Forms to collate information like title, standards, Big Idea, and populate it into a Google Spreadsheet
build the lesson plan in Google Spreadsheet
Once all the data is in the spreadsheet, it's ready to be revised, edited, and shared. It can be exported, downloaded, emailed, and embedded. It can be saved as a spreadsheet, an Excel doc, a PDF or an image. In short it is highly versatile, dramatically scalable, and inherently rigorous.
Pros
Few people have your specific template, but (pretty much) everyone will have access to a spreadsheet.
Cons
Spreadsheets aren't visual–they just aren't. If you need color and images, you might find a spreadsheet hard to work with.
Spreadsheets also are intimidating to many teachers. All they see is boxes and data and formulas that make their teeth ache. I understand that. I feel the same way about mindmaps.
Insider tips
Google has a long list of lesson plan templates you can use.
Educational Applications
If you're in charge of facilitating lesson plans at your school, having teachers complete these via a Google Form with a standard format and layout makes the job of creating, sharing and collating much simpler. Data is automatically collected into the spreadsheet that is then shared with stakeholders.
This document unpacks well, allows for spiraling up or down and linking to other lessons, accepts an unlimited amount of attachments (images, documents, videos–whatever you need), and is adaptive to change year-to-year.
Conclusion
This is by far the simplest approach to lesson planning if you are comfortable with spreadsheets. It never has advertising, has built-in help, and always fulfills your needs (because you add columns and rows to be sure it does).
These three options–MindMeister, Standards Planner, and Google Spreadsheets–address highly-diverse and vastly differentiated native needs. There's not one that's better, more effective, or more normative than the other. The one you like best will depend upon you.
Which do you use at your school?
–published first to TeachHUB
---
---
Jacqui Murray has been teaching K-8 technology for 15 years. She is the editor/author of over a hundred tech ed resources including a K-8 technology curriculum, K-8 keyboard curriculum, K-8 Digital Citizenship curriculum. She is an adjunct professor in tech ed, CSG Master Teacher, webmaster for four blogs, an Amazon Vine Voice book reviewer, Editorial Review Board member for Journal for Computing Teachers, CAEP reviewer, CSTA presentation reviewer, freelance journalist on tech ed topics, and a weekly contributor to TeachHUB. You can find her resources at Structured Learning.