Education reform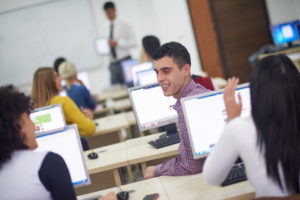 For years, my teaching revolved around textbooks as my resources. When the Internet arrived, I — as did my colleagues — adopted it mostly for two reasons: 1) research — in place of the library, and 2) rote drills, such as supporting math practice. But that has changed. Using the Internet in classrooms has morphed from optional to organic. In fact, it's transformed 21st-century education, offering a normative tool for adapting to varied student needs, a scalable approach to differentiating for student learning styles, and a collaborative must-have with its vast offering of virtual meeting and storage options. It is regularly called the "present and future of education", "one of the central features of modern school reform", and "the newest way to personalize education".
For many teachers, it's fundamental to a style of teaching called "blended learning" (sometimes referred to as "hybrid learning" or even "flipped classroom"). Blended learning occurs when an education program combines Internet-based media with traditional classroom methods. For example, a unit on space is supported by a virtual chat with an astronaut from the space station or his Houston training facility.  What used to require school buses and lots of time now is accomplished more effectively for less money through the Internet.
But blended learning is more than simply replacing lectures and books with web-based technology. If you follow the SAMR model, this type of substitution is the lowest level of the pyramid. When technology is mixed agilely with traditional teaching methods to deliver a more rigorous, more purpose-built program, it moves your class to the top SAMR levels —  Modification and Redefinition — by replacing less-effective approaches (like pictures) with more-authentic methods (like a virtual visit to a zoo).