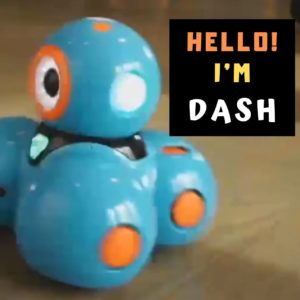 Education has many disruptors–3D Printing, AR and VR, 1:1 technology, STEM, and STEAM–but a recent and wildly popular one is robotics. These automated humanoid bots often interact with users, require critical thinking and problem-solving, and grab the imagination of students in ways that makes everyone want to learn. One I discovered this summer is Wonder Workshop's collection of three robots — Cue, Dash, and Dot. I'd love to review all of them but that post would be way too long so today, I'll focus on my current favorite: Dash.
Before I dig into Dash, let me tell you about his creator, Wonder Workshop.
What is Wonder Workshop?
Wonder Workshop is a STEM-based interactive early learning experience that introduces coding to K-5 learners and provides everything teachers require to teach coding and robotics (see below under How to Use Dash in Your Classroom). Every day, classrooms around the world demonstrate the collaboration and hands-on learning that the Wonder Workshop robots–Dash, Dot, and Cue–inspire in students. Through these robots, students learn what to many is intimidating and abstract and impossible to learn: coding,
What is Dash?
Dash is a squatty, friendly critter designed for ages six and up. It is a pyramid of spheres on wheels with a head that turns, a voice that responds to you, lights that flash, and sensors that interact with the environment. He is charged via USB and programmed via an app (iOS or Android) to move, spin circles, dance, sing, draw, or any number of other actions. It all depends upon what its child handler wants it to do.
Here's the parts of this amazing robot: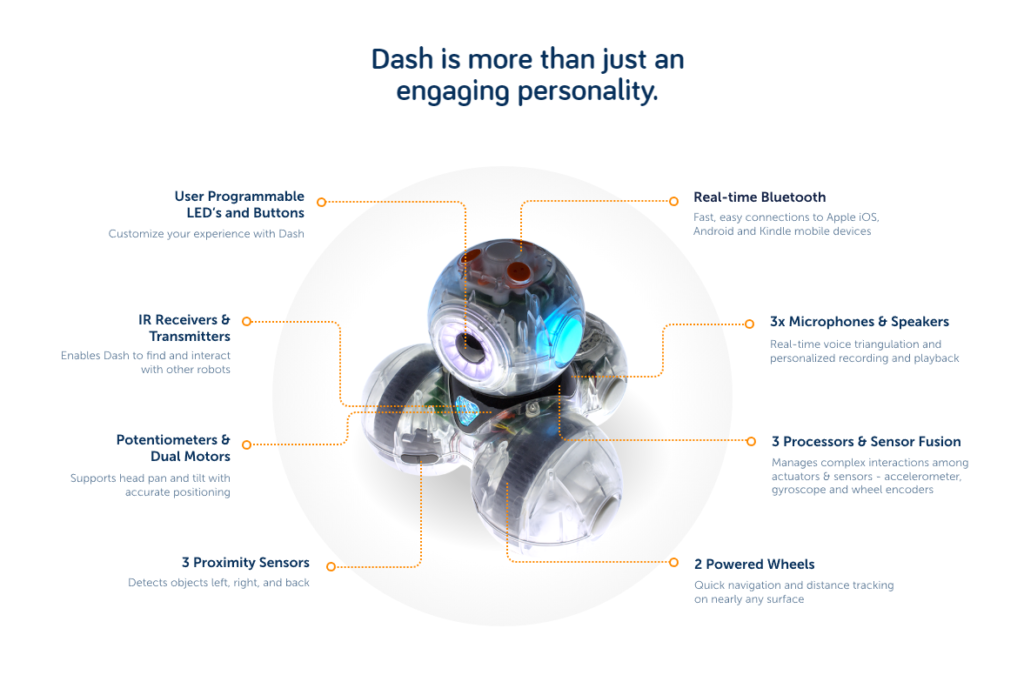 For teachers or parents, here are a few more specs: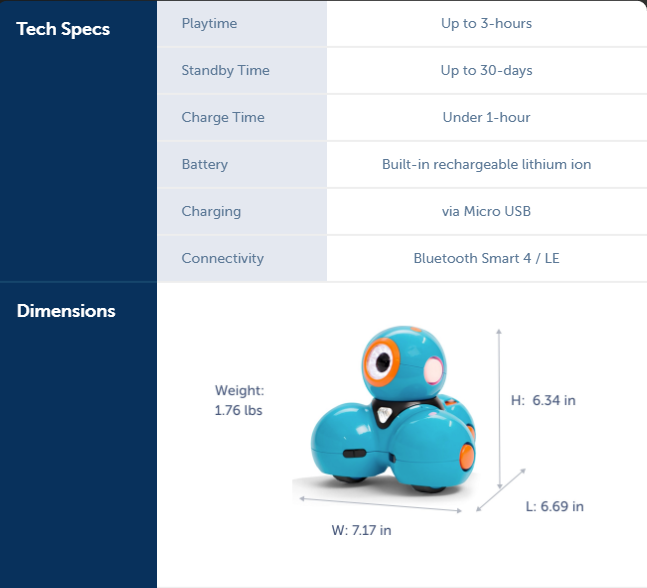 How do you get started?
Dash sounds pretty amazing, doesn't he? This is why I eagerly opened my new robot as soon as he arrived (received free in return for an honest review). According to Wonder Workshop, Dash is
"…ready to go right out of the box."
To test that claim, I simply opened the box, removed Dash, and hoped for the best. I got nervous immediately because, while the box included Dash, a charging cord, two building block connectors, and a Sketch Kit, it didn't include directions.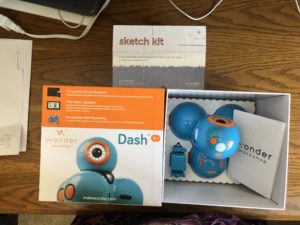 Turns out I didn't need any. I plugged Dash in via a USB port, set him on the ground, and he took care of the rest.
First thing I noticed–besides that the critter talked to me–was that Dash felt durable, sturdy, and kid-proof. After I played around a bit–watching him roll in circles, turn his head, and chatter–I went to the App store (also available for Android) and downloaded the free apps that go with the robot. There are four main apps but I only tried two of them. First, Go, the basic programming app–a primer to discovering what Dash can do. I moved Dash around with the controls and then experimented with changing sounds, colors, even adding my own voice.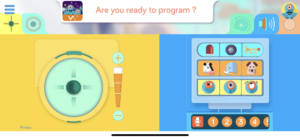 The second app I tried is Blockly. If kids are familiar with Scratch and its fundamental drag-and-drop coding concepts, they'll have no problem with Blockly.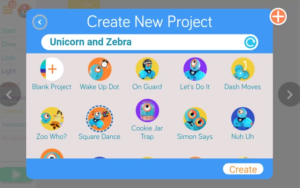 Overall, Dash was easy to setup and quick to start. That, by the way, is one of my favorite parts of this fun little robot. In a room full of students, I can't personally help each child get started. The idea of quick to setup and use is so critical to me that I won't adopt new technology without it. Dash checked that box off.
How do you use Dash in your classroom?
Here are a few ideas for continuing the excitement:
Visit the Wonder Workshop Classroom for ideas on robotic curricula, apps, PD, and robot games. I was amazed how much is included, how differentiated the offerings for varied student learners, and how much of it ties into so many STEM lesson plans. Whatever level you are with robotics and programming, there will be something in Wonder Workshop Classroom for you. Many of the activities below are found here.
A crowd favorite among robotic enthusiasts ages 6-14 is the annual Wonder League Robotics Competition (WLRC). Teams from around the world compete virtually (and for free) to win three $5,000 STEM grant grand prizes. This is a perfect choice for students who excel at learning through games, educators who struggle with blending problem-solving and critical thinking into lessons, and teachers who want to include passion as a motivator in activities. It doesn't get better than challenging students to learn material and then test their knowledge against the world. If I had a favorite, this would be it.
Popular in the Wonder Workshop Classroom are the age-based and standards-based curricula. These inspire students of all ages to dream up new adventures while developing lifelong skills and competencies. The focus is on computational thinking and 21st-century skills so don't worry if you aren't a coding geek. Two general curricula I liked were Learn to Code and Applied Robotics. It's nice that many of the lessons and activities are aligned with the Code.org curriculum and Computer Science Fundamentals.
Also available are a wide variety of lessons and activities. They're child-oriented and high-energy with lots of options to differentiate for varied student needs.
Add-ons
One extra I received with my Dash was the Sketch Kit and a floor mat for drawing. With this add-on, students can create their own works of art by programming Dash from their mobile device to draw on the floor mat — with accuracy and control.
Another add-on that sounds interesting but I didn't try is the Gripper Building Kit, advertised as an easy-to-construct set of functioning arms that teach about gears, ball and socket joints, and more. There is also a fun-looking Launcher tool where Dash will launch balls with precision at targets or into containers. And finally, how about adding a xylophone to your Dash, brick connectors, or Dash Challenge Cards where students learn coding by playing robot games?
If you have everything unpacked and tested but want a bit of help,  Wonder Workshop Professional Development (PD) includes a vast array of ideas designed to help you master the ever-changing technology world as it applies to education  It includes courses, webinars, videos, workshops, events, and blog posts. I tried one of the workshops, "Introduction to Coding and Robotics with Dash & Dot" and found its presentation clear, easy to understand, and comprehensive.  Another one I haven't started yet but fits my teaching needs is "Making Room for the 4 C's". When teachers complete the PD course, they receive a certificate of completion which appears in their Achievements at the top of their home screen.
Besides this comprehensive PD program, Wonder Workshop also offers monthly webinars. Recent topics included "Getting Started with Coding and Robotics in K-8 Classrooms", "Inspiring STEM Learning for Young Girls: Tips from Research and the Classroom", and "Wonder League Robotics Competition: Getting Started". With some limitations, participants can get CE Certificates.
A special gift…
To celebrate Dash, Wonder Workshop is giving away TWO prize packages via their partner, WeAreTeachers. Winners get to choose between two amazing prize options.
The Elementary Wonder Pack: Comes with Wonder's award-winning Dash and Dot robots, accessories, and curriculum guides. Accessories, like a Xylophone, Launcher, Building Brick Connectors, Sketch Kit, and an Accessories Kit, all help students use their imagination and problem solve. Plus, it includes a one-year subscription to Wonder's Digital Activities Library for more project ideas. New and included in the Elementary Pack: The Gripper Building Kit an easy-to-build set of functioning arms that expand your robot's literal reach—and potential!
The Middle School Wonder Pack: This bundle will encourage design thinking with its two (2) award-winning Cue robots and the new Gripper Building Kit. Also, notebooks for creative writing, game design, and innovation. Plus, a one-year subscription to Wonder's Digital Activities Library for more skill building for middle school students. New and included for the Middle School Pack: The Gripper Building Kit and the new Blaster Power for Cue (above) bring the fun as a motorized projectile-launching accessories!
Be sure to enter before the giveaway ends at 11:59 p.m. central standard time on August 14, 2019!
***
Let me sum Dash up with one word: Wow. If you're looking to introduce or extend programming or robotics in your classroom, there isn't a better place to start than the friendly, versatile, intuitive Dash and his family.
More on robotics
C-STEM Studio — A Great Way to Blend Math and Robotics
How AI is Changing Writing: Check out Robot Don
Root Robotics–Great Way to Extend Hour of Code
---
Jacqui Murray has been teaching K-18 technology for 30 years. She is the editor/author of over a hundred tech ed resources including a K-12 technology curriculum, K-8 keyboard curriculum, K-8 Digital Citizenship curriculum. She is an adjunct professor in tech ed, Master Teacher, webmaster for four blogs, an Amazon Vine Voice, CSTA presentation reviewer, freelance journalist on tech ed topics, contributor to NEA Today and TeachHUB, and author of the tech thrillers, To Hunt a Sub and Twenty-four Days. You can find her resources at Structured Learning.