Tagged With:
coding

Now that you've engaged your students with awesome Hour of Code fun, I'm thrilled to introduce the incredible Root Robotics for going far beyond the hour! Root's a versatile, engaging robotics and coding program that grows with students from pre-K up through grade 12. Root comes to us from our friends at Sunburst Digital – who provide engaging STEAM and SafeSchools programs for schools.
This holiday season, you can enter to win a $100 credit applied to a purchase of Root or ANY OTHER STEAM solution from Sunburst here! Sunburst wants to hear about the innovative ways you've engaged your students with Hour of Code – share a few lines about your activities, and you'll be entered to win! Learn more and fill out your entry form here.
Created by learning and robotics experts at Harvard University, Root is a hexagonal-shaped robot that climbs whiteboards and traverses tables. Learners can program Root to move, turn, draw, erase, scan colors, play music, light up, sense touches, feel bumps, detect magnetic surfaces, perceive light, and respond to sensors in a phone or tablet.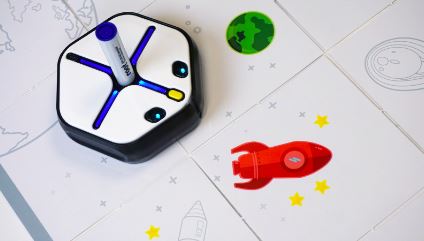 Root's design enables whole class instruction and project-based learning in groups. In addition to exciting, easy-to-implement lessons that teachers can deliver on the classroom whiteboard, each Root comes with a foldable whiteboard mat, perfect for groups to use anywhere.