Tagged With:
Coding-Programming
There are a lot of options if you want to bring programmable robots to your classroom. One I discovered this summer and have fallen in love with is Sunburst's Robo Wunderkind. It is a build-a-robot kit designed to introduce children ages six and up to coding and robotics as well as the fun of problem-solving and creative thinking. The robot starts in about thirty pieces (there are so many, I didn't really count them). You don't use all of them in one robot, just pick those that will make your robot do what you want. The completed robot can move around on wheels, make sounds, light up like a flashlight, sense distance and movement, twist and turn, follow a maze, or whatever else your imagination can conjure up.
But don't be confused. The goal of this kit is as much about building the robot as having fun exploring, experimenting, and tinkering.

What is Robo Wunderkind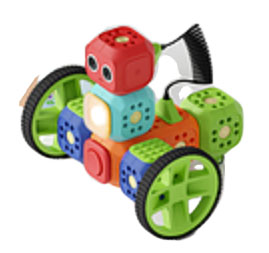 Robo Wunderkind is an award-winning robotics kit that lets young children build an interactive robot and then program it to do what they want. It can be used at home, in school, or as an extracurricular tool for teaching STEAM disciplines (science, technology, engineering, art, and math). The box includes a bunch of color-coded parts, a few instructions, and a whole lot of excitement. The builder's job is to connect the pieces into the robot of their dreams, program it to do what they need, and then start over.
Fair warning: This robot doesn't look like the famous humanoid robots of literature–C3PO or Marvin the Paranoid Android (from The Hitchhiker's Guide to the Galaxy), with arms, legs, and a head. It's more like something you might construct from Lego Mindstorm though easier to set up, build, program, operate, and decode. I've used both and hands down would start my younger students with Robo Wunderkind. I agree with Tech Crunch when they say:
"You won't build a robot as sophisticated as a robot built using Lego Mindstorms. But Robo Wunderkind seems more accessible and a good way to try robotics before switching to Arduino and Raspberry Pi when your kid grows up.
How to get started
If I were to rate myself with robotics, I might be closer to a 5 than a 10. I approach the task of building my own with a small degree of trepidation. I tell you this because, if I can build a robot with this system, any six-year-old (and up) can.