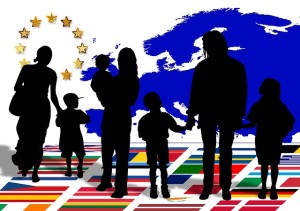 There's a secret to teaching kids how to use the computer. It's called 'delegate'. I don't mean sluff off the teaching to aides or parents. Here, I'm referring toempowering students to be their own problem-solvers, then expect it of them. Here's how you do it:
Let them know that computers aren't difficult. Aw, come on. I see your scrunched faces. Here's the ugly little truth: Computers are only hard to learn if kids are told they're hard to learn. Don't mention it. Compare keyboarding to piano–a skill lots of kids feel good about–or another one that relates to your particular group. Remove the fear. They might not believe you, but you're the teacher so they'll give you a chance
Teach them how to do the twenty most common problems they'll face on a computer (more on that later). Expect them to know these–do pop quizzes if that's your teaching style). Post them on the walls. Do a Problem-solving Board (click the link for details on that–it works well in my classes). Remind them if they know these, they'll have 70% less problems (that's true, too) than the kids who don't know how to solve these. If they raise their hand and ask for help, play Socrates and force them to think through the answer. Sometimes I point to the wall. Sometimes I ask the class for help (without saying who needs assistance. Embarrassing students is counter-productive). Pick the way that works for you. The only solution you can't employ is to do it for them
Teach students keyboard shortcuts. Does that sound like an odd suggestion? It isn't. Students learn in different ways. Some are best with menus, ribbons and mouse clicks. Some like the easy and speed of the keyboard. Give them that choice. If they know both ways, they'll pick the one that works best for them. Once they know these, they'll be twice as likely to remember one of the two methods of doing the skill like exit a program (Alt+F4) or print (Ctrl+P).
Let neighbors help neighbors. I resisted this for several years, thinking they'd end up chatting about other topics than tech. They don't when sufficiently motivated and interested. They are excited to show off their knowledge by helping classmates.
I know I promised in Are you as smart as a Year 6 in technology? to share the twenty tech problems that solve seventy percent of student questions. I will have to save that for next month. For those who want to peek ahead, click to see what readers think is the hardest tech problem they face and and click to see the problems I'll be covering–and their solutions. Next month, I'll provide detail to help you understand them and their solutions better.
If you're interested in technology textbooks for K-5, visit Structured Learning. You'll find the tech curriculum Jacqui Murray and hundreds of schools across the nation use.
---
Jacqui Murray has been teaching K-18 technology for 30 years. She is the editor/author of over a hundred tech ed resources including a K-12 technology curriculum, K-8 keyboard curriculum, K-8 Digital Citizenship curriculum. She is an adjunct professor in tech ed, Master Teacher, webmaster for four blogs, an Amazon Vine Voice, CSTA presentation reviewer, freelance journalist on tech ed topics, contributor to NEA Today, and author of the tech thrillers, To Hunt a Sub and Twenty-four Days. You can find her resources at Structured Learning.