Tagged With:
new year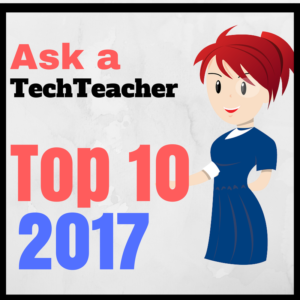 Because AATT is a resource blog, we share lots of tips our group comes across in their daily teaching as well as materials shared by others we think you'd like. Some you agree with; others, not so much. Here's a run-down on what you thought were the most valuable in 2017:
Top 10 Tech Tips
As a working technology teacher, I get hundreds of questions from parents about their home computers, how to do stuff, how to solve problems which I share with you. Here are the Top Ten tech tips from 2017. Between these ten, they had over 174,000 visitors during the year.
What changed this year? The favorite tips were more general in nature than specific. Where last year a lot of 'how-tos' made the top ten, this year there's only one.